Google Translate Kini Terjemahkan Percakapan Informal Secara Lebih Alami
Glenn Kaonang - 1 July 2015
Seberapa sering orang-orang menggunakan Google Translate? Menurut pengakuan Google sendiri, Google Translate menerjemahkan 100 miliar kata setiap harinya. Dan tentu saja, kata-kata tersebut tidak terbatas pada satu topik saja.
Meski demikian, Google sendiri juga mengakui bahwa sebelum ini, Google Translate kurang efektif untuk dipakai menerjemahkan percakapan sehari-hari. Pada kenyataannya, software penerjemah ini lebih relevan ketika dipakai dalam konteks dokumen resmi yang banyak melibatkan istilah-istilah formal.
Info menarik: [Ask the Expert] Panduan Memasang Google Translate ke Blogspot
Belajar dari pengalaman tersebut, tim Google Translate rupanya telah menyiapkan solusi yang cukup jitu. Mereka bekerja sama dengan ribuan orang dari komunitas penggunanya untuk meningkatkan kinerja Google Translate. Atau dengan kata lain, mengoreksi terjemahan-terjemahan yang 'salah'.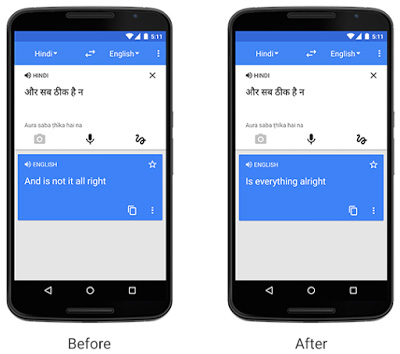 Melalui update terbarunya, Google Translate kini jauh lebih bisa diandalkan dalam menerjemahkan percakapan informal, seperti yang bisa kita lihat pada contoh di atas, dimana sebelumnya Google Translate memberikan terjemahan harafiah yang sama sekali tidak terdengar alami.
Google sendiri berjanji untuk terus meningkatkan kinerja Google Translate dalam menerjemahkan sekitar 90 bahasa yang didukung. Namun jika Anda juga ingin ikut memberikan kontribusi, Anda bebas bergabung dengan Google Translate Community.
Sumber: Google Translate Blog via TheNextWeb. Gambar header: Shutterstock.
Are you sure to continue this transaction?
processing your transaction....