Grab to Expand User Base, Evolving GrabFood Merchant Into GrabMerchant
GrabFood Merchant is refurbished, merchants are redirected to a new app
Marsya Nabila - 12 June 2020
Grab replaced the GrabFood Merchant for culinary merchants with the GrabMerchant application. The objective is for Grab to reach more GrabFood culinary merchants, as well as non-culinary merchants, to join GrabMart.
Grab Indonesia's Managing Director, Neneng Goenadi explained, GrabMerchant is a one-stop solution to take more micro-businesses independently to the digital world. As well as accessing all Grab services which relevant to their business inquiries, starting with the delivery service for food, goods, non-cash payments, and so on.
Moreover, she quoted the data on 13% of Indonesia's small and micro businesses that have just entered the digital world. In other words, there are still 87% of other businesses still uncovered. Meanwhile, looking at the current situation in Southeast Asia, only 34% of businesses have gone digital.
"Covid-19 pandemic causes significant changes in consumer behavior towards online-based services throughout the world. This also triggers the creation of various innovations in Indonesia, on the other hand, creates the risk of widening the digital gap. […] SMEs should start the digital transformation. The Grab Merchant platform is a form of our long-term commitment," she explained in an online press conference on Thursday (11/6).

Further explained, of all GrabFood merchants which joined in Grab, around 80% of them are micro and medium businesses. They have been directed to switch to the latest application. In the Grab consumer application, the merchant marker has switched to a new application visible from the appearance of a blue checkmark.
GrabMart itself is a new feature released by Grab during the pandemic. This feature connects consumers with merchants who sell daily groceries and supply chains. In addition, in Indonesia, Grab collaborates with nine traditional markets for consumers to shop for meat, fish, agricultural products, and others at affordable prices.
GrabMerchant features
GrabMerchant is available in the form of applications and websites, which are equipped with features to help merchants manage daily business operations and access business growth support features.
Meanwhile, the GrabMerchant website provides comprehensive information on business performance throughout the online store network. This site is accessible per July 2020.
The main features of GrabMerchant include:
1. Self registration: merchants can register and sell the fastest within 24 hours. The registration process is fully carried out digitally and merchants can see the registration status in real-time through the application.
2. Profile of the owner, store manager and cashier for extra security: this application included three user profiles. As from the owner who have full access to various GrabMerchant services and features, such as operational management, business performance monitoring and analysis, payment settlement, inventory management, marketing campaigns, to filing financial facilities.
Next, the store manager's profile helps the owner supervise and manage the day-to-day operations of the store, and the cashier profile is only used to use the payment and order management functions.
Grab parties ensure that there is no limit to the number of employees who can access the application, as long as they have an email account and a registered telephone number.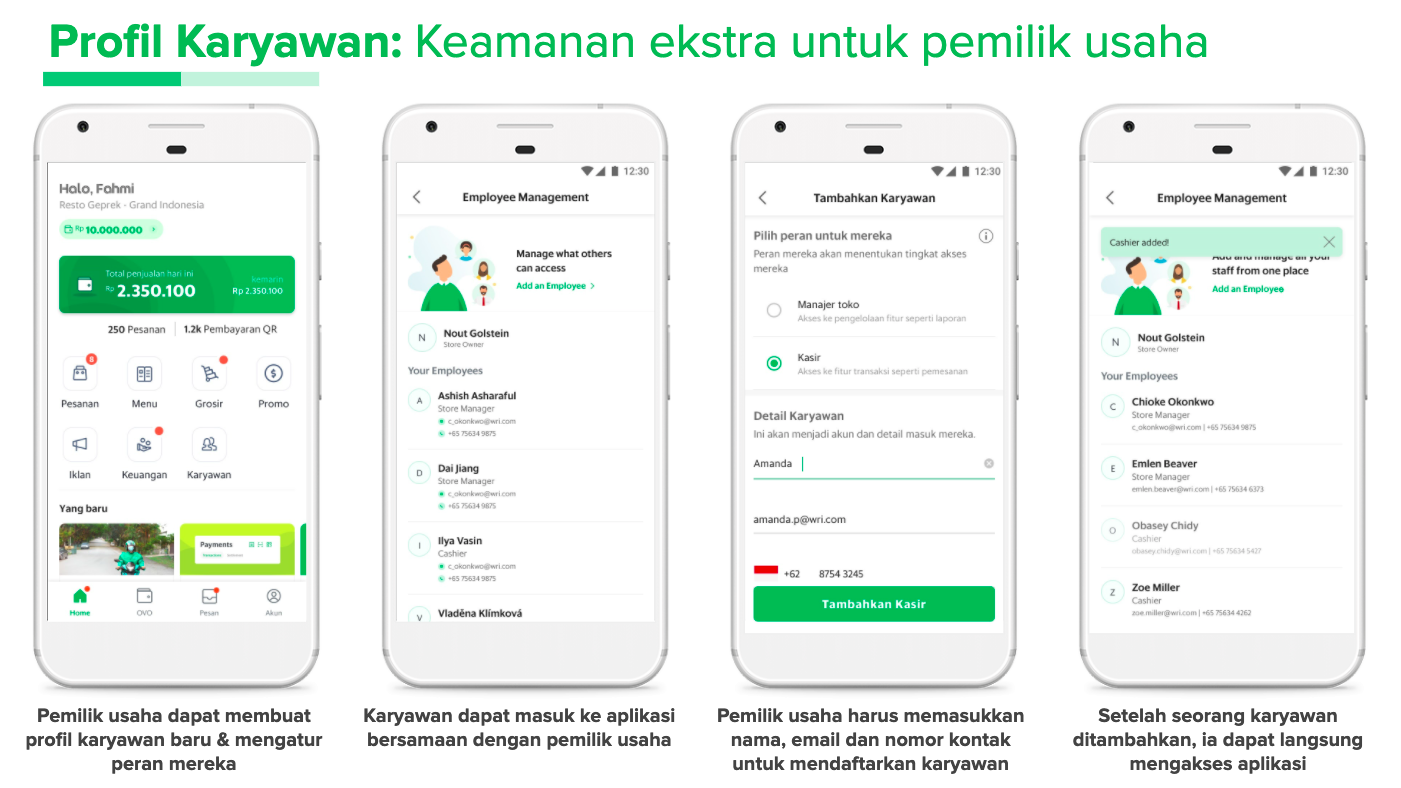 3. Wholesale: Grab works with partners providing basic ingredients such as TaniHub and Sayurbox. Merchants can purchase supplies and materials at wholesale prices, while enjoying the convenience of a one-day delivery service. This feature is available for 100 thousand merchants in several regions in seven cities in Indonesia.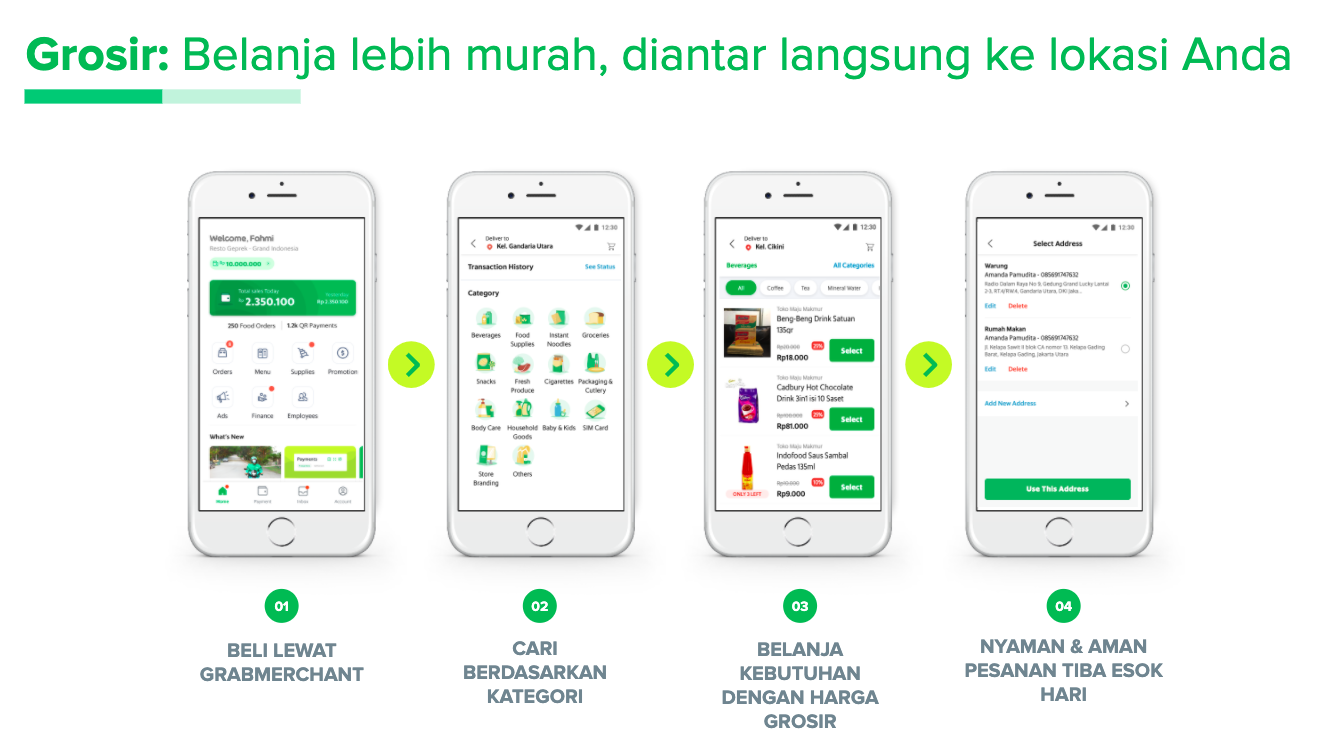 4. Marketing: merchants can advertise to increase customer awareness and increase sales. Here merchants can create banner ads and search ads, choose the target audience, and access real-time ad performance through easy-to-understand reports. In addition, the advertising budget installed can be adjusted to the merchant's pocket, starting at $ 1 per day. This feature was only available in July 2020.
5. Business reports: this feature gives merchants an overview of their business in terms of sales performance, operational efficiency, customer spending habits, and effectiveness of the marketing campaigns conducted. These insights can help them find new business opportunities. Just like the previous feature, this feature will be present in July 2020.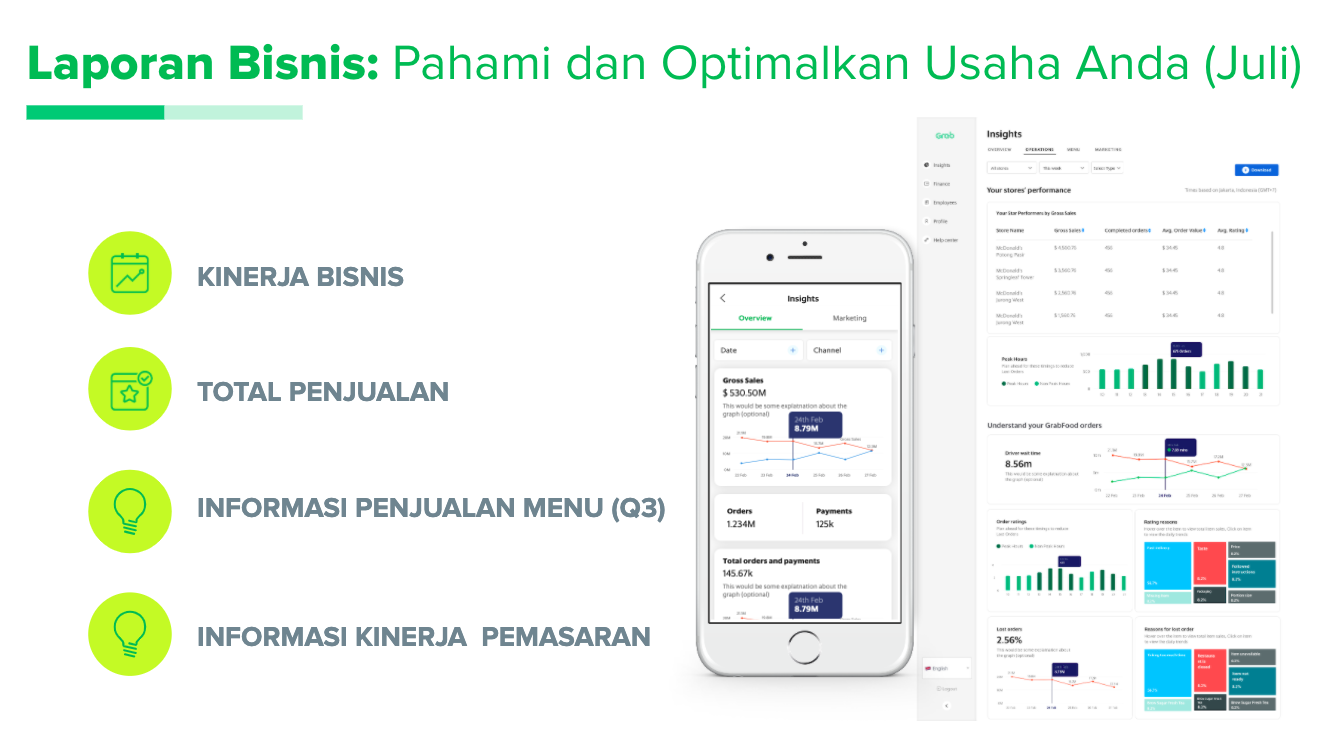 For the record, the closest competitor Grab also has a similar application to target culinary merchants, namely GoBiz, a merchant super-app. Its function is to arrange delivery, payment (at outlets and online), business management (POS and keyboard for online stores).
–
Original article is in Indonesian, translated by Kristin Siagian