Grace Tahir: Healthtech Akan Menjadi Bidang Digital Atraktif
Medico telah membukukan "month-to-month growth rate" di atas 30%
Randi Eka - 19 December 2017
Selain dikenal sebagai angel investor –yang juga tergabung dalam ANGIN—Grace Tahir merupakan Co-Founder dan CEO Medico, sebuah pengembang layanan manajemen klinik dokter/kesehatan berbasis SaaS (Software as a Services). Medico sendiri bukan karya pertama Grace di bidang teknologi kesehatan (healthtech), karena sebelumnya ia juga mendirikan Dokter.id, sebuah kanal online untuk konsultasi kesehatan.
Yang menjadi menarik di sini, sektor kesehatan menjadi fokus dalam pengembangan produk digital. Lantas bagaimana Grace melihat healthtech di Indonesia ke depan? Menurut pengamatannya dengan 30 tahun berpengalaman di industri kesehatan, saat ini industri healhtech secara keseluruhan terus meningkat. Banyak hal yang masih perlu dipelajari, akan tetapi kebutuhan dari sisi pangsa pasar sudah jelas ada.
"Healthcare industry secara keseluruhan terus meningkat, expenditure untuk healthcare pun terus meningkat, maka tidaklah heran jika healthtech akan menjadi salah satu bidang digital yang attractive," ujar Grace kepada DailySocial.
Untuk membuat healthtech bisa menjadi "the next fintech/e-commerce", menurut Grace komponen utamanya pada produk yang dikembangkan itu sendiri.
"Kuncinya adalah product apa yang sebenarnya diperlukan. Banyak healthtech companies yang mengeluarkan produk tetapi tidak banyak adoption rate, maka itu a deep and better understanding atas industri ini adalah kunci. Demand is there but it is a demand for the right product," lanjut Grace.
Menurut data yang pernah dikumpulkan Medico, per tahun 2016 belanja sistem teknologi informasi layanan kesehatan mencapai $2 miliar dan diproyeksikan akan berkembang menjadi lebih dari $6 miliar di tahun 2019. Dari sisi pangsa pasar, layanan kesehatan seperti rumah sakit, klinik, dan apotek kini mencapai hampir 30 ribu unit dan diperkirakan bakal terus naik 10-13% dalam 4 tahun ke depan
Kabar terkini layanan Medico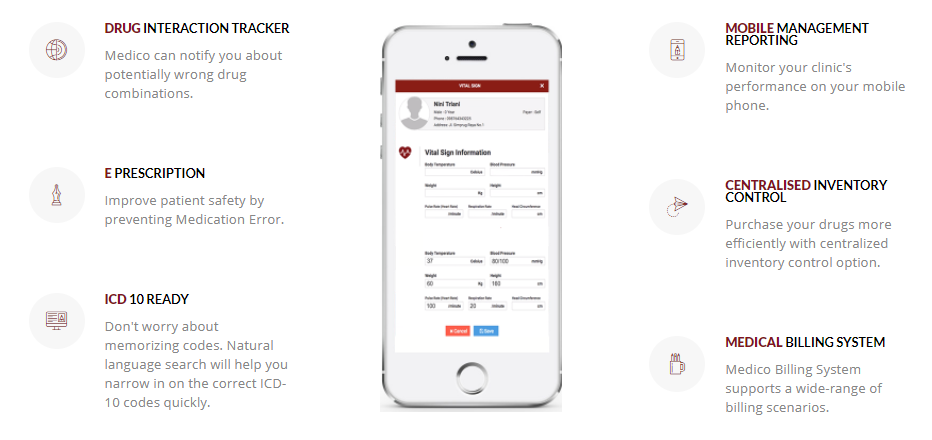 Belum lama ini Medico mengumumkan kemitraan strategis bersama BPJS. Yakni berupa integrasi sistem Medico dengan aplikasi P-Care BPJS. Tujuannya untuk memudahkan klinik atau rumah sakit yang mengimplementasikan Medico dalam memonitor pencapaian indikator seperti Angka Kontak dan Rasio Peserta Prolanis Rutin.
"Ini adalah salah satu tujuan utama Medico yaitu untuk meningkatkan efisiensi sehingga dokter, perawat, tenaga medis dan manajemen lebih dapat berfokus untuk pelayanan ke pasien," imbuh Grace.
Sejak mulai beroperasi pada tahun 2016 lalu dengan dukungan pendanaan dari East Ventures, saat ini Medico telah membukukan tingkat pertumbuhan bulanan mencapai lebih dari 30 persen. Dalam meraih capaian tersebut Grace pun menyebutkan beberapa tantangan, terutama dalam kaitannya dengan penyesuaian layanan.
"Secara garis besar, isu yang kami hadapi bukanlah isu, melainkan suatu challenge untuk memperbaiki diri. Kami banyak mendengar permintaan dokter dan providers agar sistem kami user friendly tapi di waktu yang sama lengkap fiturnya. Maka itu proses development kami di awal lebih extended," ujar Grace.
Untuk agenda di tahun 2018, Medico berencana merilis sistem manajemen untuk rumah sakit. Saat ini sudah ada beberapa kontrak dengan rumah sakit lokal untuk implementasi sistem tersebut. Beberapa kerja sama juga sudah mulai digagas, termasuk dengan perusahaan dari luar negeri. Tahun depan, akan menjadi agenda yang cukup menarik untuk pengembangan bisnis dan produk Medico, sekaligus menguatkan debutnya bersama ekosistem healhtech di Indonesia.
Are you sure to continue this transaction?
processing your transaction....