Teknologi telah memudahkan musisi untuk menunjukkan bakat dan kreativitasnya secara langsung kepada orang banyak. Mulai dari kemampuan untuk bernyanyi, membuat aransemen lagu original hingga mengubah aransemen lagu popular yang sudah ada saat ini. Salah satu platform lokal yang mencoba untuk menjadi platform berkualitas untuk pecinta musik adalah Gritjam.
Didirikan oleh Toien Bernadhie, layanan ini memudahkan musisi untuk membantu pelaku musik menjadi lebih mudah dalam berkreasi, berkolaborasi dan bergabung dengan komunitas musik global tanpa ada pembatas.
"Melihat adanya kendala-kendala yang dialami para pecinta musik dari berbagai level, segmen, budaya, dan berbagai tempat untuk mempunyai wadah ekspresi yang mudah diakses secara global dan online. Serta adanya perbedaan kesempatan dan network yang dimiliki masing-masing pelaku musik untuk berkembang menjadi latar belakang didirikannya Gritjam," kata Toien.
Sekilas apa yang dicoba untuk ditawarkan oleh Gritjam serupa dengan Soundcloud, aplikasi yang bisa digunakan untuk merekam suara dan kemudian dibagikan melalui media sosial untuk kemudian didengarkan oleh orang banyak.
Gritjam adalah sebuah media sosial untuk Music Creation. Seluruh konten di dalamnya adalah user generated yang dihasilkan oleh para pengguna sendiri.
"Kita bisa membuat musik dan me-remake musik yang sudah tersedia menjadi versi kita sendiri.  Dalam membuat musik, kita juga bisa berkolaborasi dengan teman dan pengguna lainnya di Gritjam dengan cara mengundangnya untuk ikut serta dalam project yang sedang kita buat di dalam Gritjam, kata Toien.
Dengan adanya Gritjam Publishing Feature, pengguna bisa mem-publish, menjual, dan mempromosikan musik atau track yang dibuat.
Fitur andalan Gritjam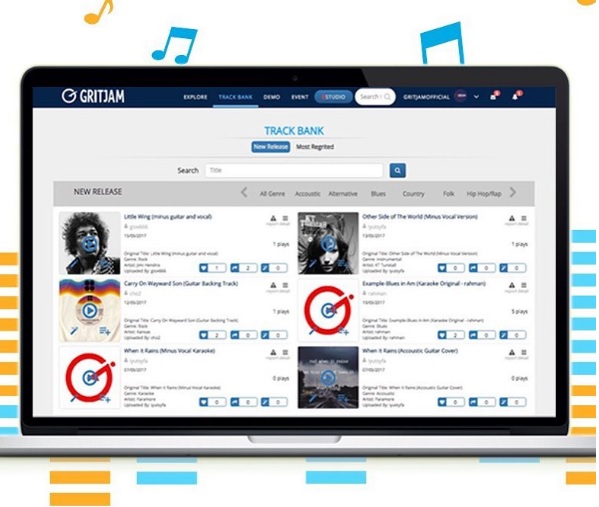 Pengguna dapat mengakses Gritjam melalui situs desktop. Dalam waktu dekat Gritjam juga tengah mempersiapkan peluncuran Desktop App Gritjam yang berupa Online Digital Audio Worksation untuk membuat musik dalam banyak track secara simultan.
"Desktop App Gritjam ini dibuat untuk memfasilitasi pengguna agar menjadi lebih mudah dalam membuat karya musiknya untuk di-publish di situs," kata Toien.
Untuk memudahkan pengguna menikmati fitur di Gritjam, terdapat 4 fitur yang tersedia. Diantaranya adalah CREATE and Collaborate  yaitu membuat musik secara online baik sendiri atau bersama pengguna lain, Music Networking, yaitu bertemu dan kolaborasi dengan pengguna lain dan tergabung dalam komunitas musik global tanpa batasan wilayah dan waktu, Self-Publishing yaitu mem-publish karya musik sendiri dengan mudah dan terakhir adalah Education yaitu belajar musik bersama secara online.
"Gritjam juga bisa digunakan oleh pengguna lain yang hanya ingin menikmati berbagai karya musik di Gritjam tanpa harus membuat musik. Pengguna bisa membuat playlist untuk menikmati karya-karya yang ada dalam Gritjam. Semua bisa dilakukan dengan mudah, cepat, dan semua tersedia dalam satu platform," kata Toien.
Sejak Gritjam resmi diluncurkan secara Live untuk bisa diakses secara global pada awal bulan Mei 2017, hingga saat ini Gritjam memiliki sebanyak 450 pengguna. Tidak hanya pengguna dari Indonesia saja, namun dari beberapa negara lainnya.
Meminimalisir adanya pelanggaran Hak Cipta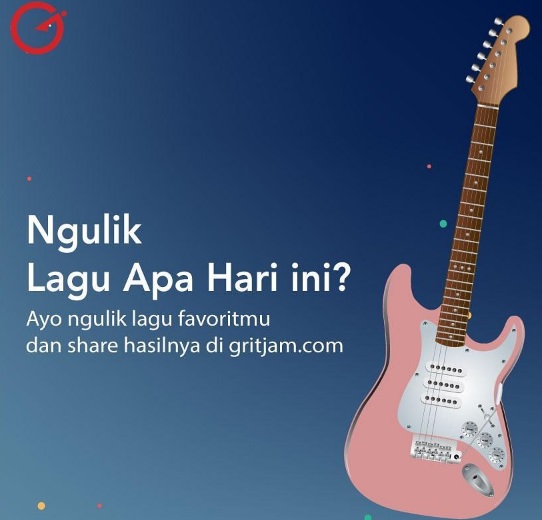 Sebagai layanan yang memungkinkan pengguna merubah aransemen original lagu milik musisi lainnya, Gritjam memiliki aturan yang jelas kepada pengguna. Hal ini dilakukan untuk meminimalisir terjadinya pelanggaran Hak Cipta.
Mengubah aransemen lagu asli apabila tidak menggunakan master copy (mechanical rights), pengguna akan diharuskan membayar performing rights yang dipungut melalui komisi apabila terjadi transaksi jual beli. Performing rights ini yang nantinya akan disetorkan ke Collective Society tempat pencipta lagu itu bernaung untuk disalurkan kepada penciptanya.
Apabila menggunakan master copy, Gritjam akan melakukan kroscek mengenai hak cipta terkait kepada pihak pemegang copyrights, dibantu dengan mekanisme report yang disediakan untuk memastikan pengguna sudah mempunyai ijin untuk menggunakan master copy tersebut.
"Pada dasarnya, sebagai platform yang bersifat User Generated, pengguna bertanggung jawab penuh terhadap konten yang diunggahnya. Gritjam membuka kesempatan pengaduan keberatan dengan menyediakan fungsi report dalam setiap konten yang diunggah," kata Toien.
Target Gritjam di tahun 2017
Terkait dengan strategi monetisasi yang dilancarkan, monetisasi Gritjam ada dalam bisnis modelnya yang berupa komisi atas terjadinya Track Trade (jual beli track antar pengguna), storage fee, boost and promote feature serta third party ads placement. Ke depannya apabila konten sudah bisa lebih layak, bisa dibuat audio streaming service.
Target utama Gritjam di tahun 2017 adalah melakukan akuisisi pengguna dan akuisisi konten dari banyak ikon di dunia musik dalam wilayah Indonesia. Wilayah layanan berikutnya adalah Asia dan dunia.
"Tidak berbeda dengan startup lainnya, Gritjam juga menargetkan untuk mendapatkan pendanaan dari beberapa target venture capital yang bisa menjadi salah satu motor untuk perkembangan Gritjam selanjutnya," tutup Toien.
DailySocial.id adalah portal berita startup dan inovasi teknologi. Kamu bisa menjadi member komunitas startup dan inovasi DailySocial.id, mengunduh laporan riset dan statistik seputar teknologi secara cuma-cuma, dan mengikuti berita startup Indonesia dan gadget terbaru.