[Guide] Aleister Arena of Valor, Hero Mage Pemangsa Assassin
Hero assassin musuh yang mendekat dipenjarakan selamanya di neraka Antaris
Lukman Azis - 14 February 2018
Siapa yang tak kenal Aleister? Digambarkan sebagai sosok penjahat yang cerdik, hero mage dengan specialty control di Arena of Valor ini memiliki trik yang tak berujung dan sangat lihai dalam membuat perangkap.
Aleister memiliki skill area yang dapat melumpuhkan (mengurangi movement speed dan men-stun) dan juga memberikan magic damage yang besar ke hero musuh. Jebak musuhmu di dalam penjara neraka selamanya, berikut guide Aleister Arena of Valor (AOV), build item, arcana, dan cara menggunakan Aleister AOV.
1. Skill Pasir Aleister AOV - Wicked Plot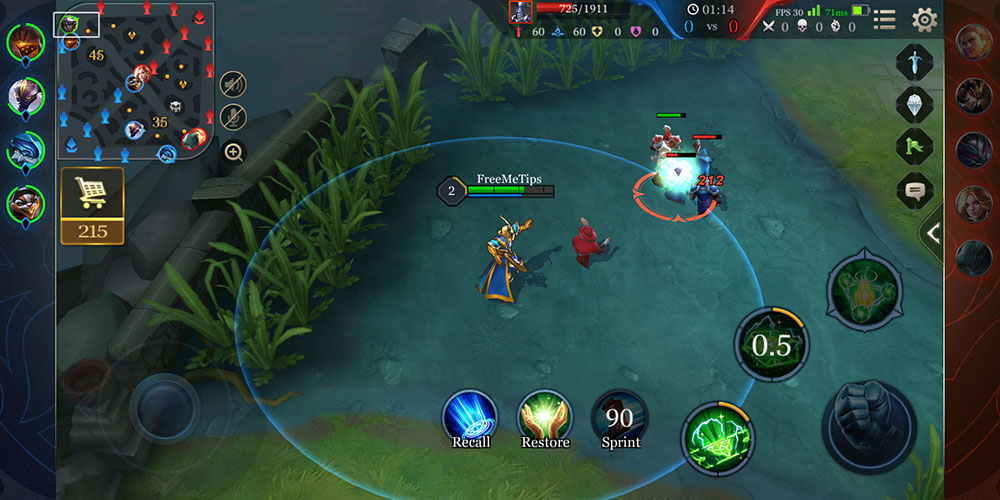 Skill dan setiap attack normal ketiga Aleister akan memberikan 1 curse stack ke musuh. Curse akan meledak setelah mencapai 3 stack dan menimbulkan true damage ke musuh.
2. Skill 1 Aleister AOV - Magic Barrier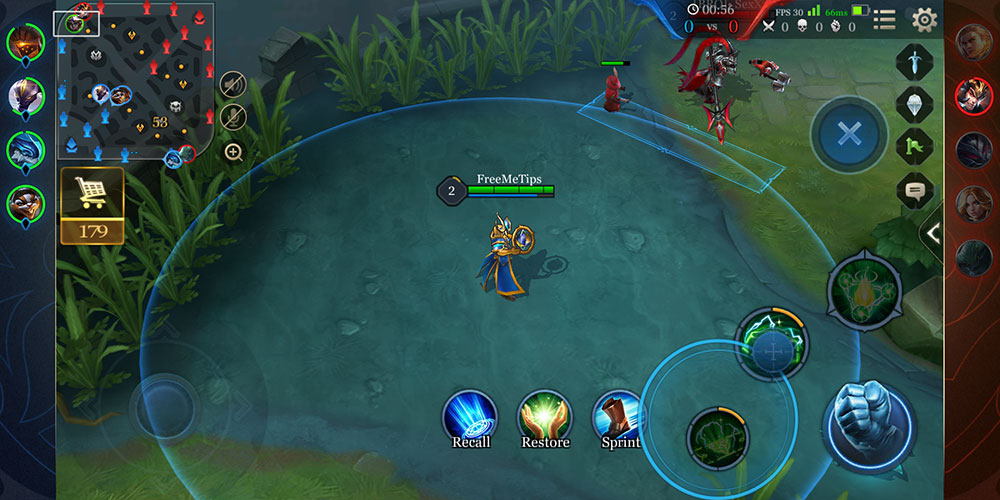 Aleister memanggil perisai pelindung yang menimbulkan magic damage, stun, dan menambah 1 curse stack.
Tips: Anda bisa menempatkan skill pertama magic barrier sesuai keinginan sehingga sangat efektif untuk menjebak hero musuh, mencegah musuh melarikan diri, menghadang mereka yang datang, sehingga hero teman dapat menyerang atau menyelamatkan diri.
3. Skill 2 Aleister AOV - Matrix of Woe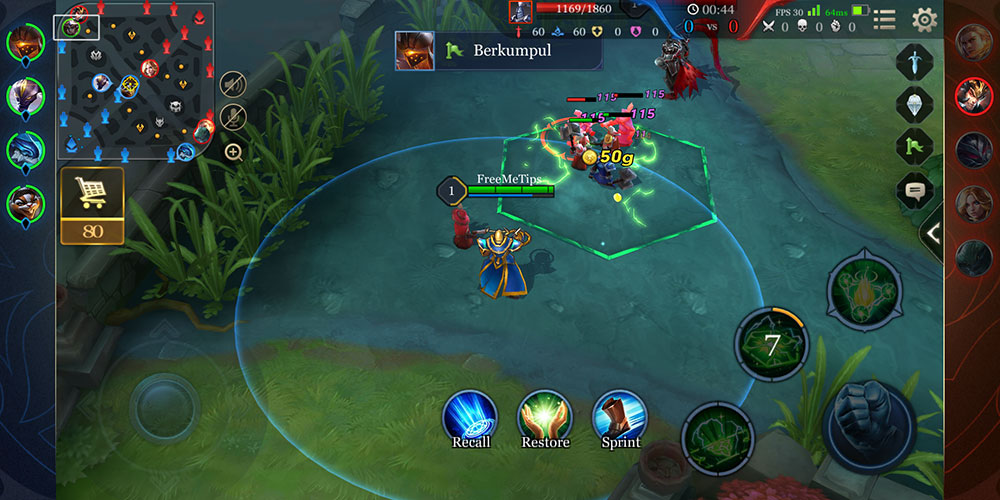 Aleister memanggil matrix, secara kontinu menimbulkan magic damage ke musuh dalam jangkauan dan menambah 1 curse stack.
Tips: Gunakan skill kedua matrix of woe untuk meningkatkan level dengan cepat, membantu membunuh creep. Memberikan damage sedikit demi sedikit ke musuh dan memecah formasi lawan saat war/team fight.
4. Skill Ultimate Aleister AOV - Magic Prison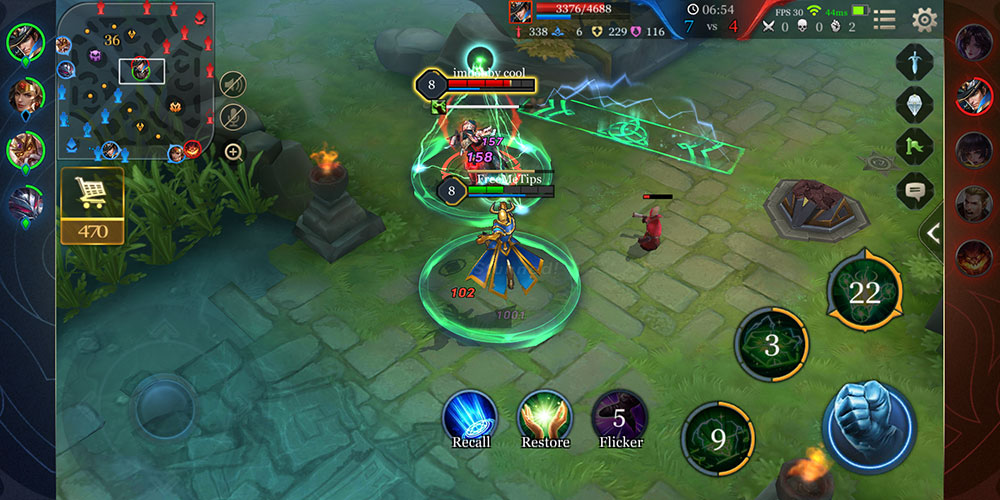 Aleister memenjarakan hero musuh dalam penjara listrik selama 2,5 detik, mengakibatkan magic damage dan stun musuh pada tiap hit. Musuh akan mendapat curse stack saat skill dimulai dan selesai.
Tips: Skill ultimate magic prison memang memberi damage yang sangat besar, tapi hanya dapat ditujukan ke satu hero musuh. Kita perlu memilih target yang tepat dan berhati-hati terhadap serangan hero lainnya.
5. Arcana, Build Item, Talent Aliester
Aliester perlu berada agak dekat dengan hero musuh untuk dapat mengoptimalkan penggunaan ketiga skill-nya sehingga sangat penting untuk membeli item defense dan memperkuat hero. Berikut build item Aliester AOV versi saya:
Orb of the Magi (Magic)
Enchanted Kicks (Movement)
Hecate's Diadem (Magic)
Staff of Nuul (Magic)
Crimson Banner (Defense)
Holy of Holies (Magic)
Berikut ini adalah rekomendasi arcana level 2 dan level 3 Aliester untuk meningkatkan magic power, menghemat mana, dan mempercepat cooldown:
Pestilence (II)
Recelation (II)
Corrosion (II)
Sage (III)
Blood Magic (III)
Purity (III)
Talent yang direkomendasikan ialah sprint, untuk membantu Aliester bergerak lebih cepat setelah recall, berganti lane ketika tim butuh backup, dan melarikan diri dari kejaran hero musuh.
6. Tips Menggunakan Aliester Arena of Valor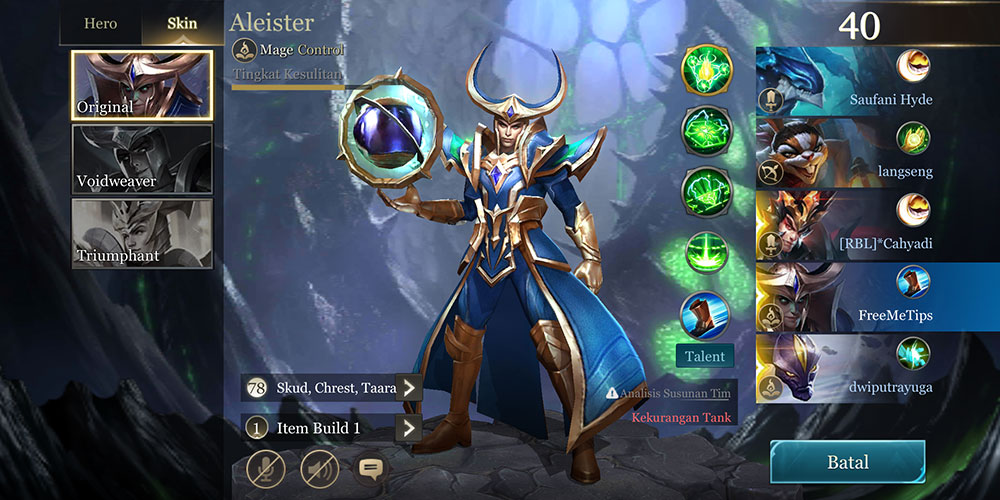 Di early game, Aleister cukup mampu menjaga lane tengah seorang diri. Ambil skill 2 terlebih dahulu, agar Aleister bisa dengan cepat membunuh creep.
Untuk leveling skill, fokus pada skill 2, karena skill ini yang akan memberikan damage yang cukup banyak pada hero lawan. Kemudian skill 1 dan skill ultimate yang sudah mempunyai efek stun untuk team fight.
Saat ganking, kombinasi skill Aleister ialah skill 2 yang memberikan area damage, skill 1 yang dapat men-stun lawan seketika, dan skill ultimate yang membuat musuh tidak berdaya.
Saat war mulai berkobar, Aliester membutuhkan posisi yang aman di belakang maupun samping. Biasanya hero assassin musuh akan menargetkan mage dan archer, di situlah Aliester harus menggunakan skillultimate untuk menjebak hero assassin yang mendekat, sehingga damage dealer tim akan mendapatkan kesempatan free hit kapada lawan.
Are you sure to continue this transaction?
processing your transaction....