[Guide] Angela Mobile Legends, Hero Support dengan Kemampuan Teleport ke Hero Teman
Jadilah hero support yang dibutuhkan oleh tim
Lukman Azis - 8 February 2018
Pada update Mobile Legends: Bang Bang versi 1.2.52 beberapa waktu yang lalu, Moonton menghadirkan hero support terbaru, Angela. Ia bukanlah manusia, melainkan jenis kehidupan artifisial yang baru ciptaan Dr. Baker, salah satu pendiri Lab 1718 yang juga pencipta Alpha dan Beta.
Dr. Baker yakin bahwa cinta dan harapan adalah ciptaan terbaik manusia, jadi dia pun memprogram sebuah cerita yang paling menyentuh hati ke dalam malaikat mekanis ciptaannya tersebut.
Ya, kemampuan terbaik Angela adalah skill ultimate-nya, Heartguard. Di mana ia bisa secara instan melakukan teleport ke hero teman. Kalau di Arena of Valor, kemampuannya mirip skill ultimate Xeniel, Angelic Splendor.
Untuk mengeluarkan potensi terbaik Angela dalam ranked match, berikut ini guide Angela Mobile Legends dan tips trik menggunakan Angela.
1. Skill Pasif Angela ML - Smart Heart
Setiap kali Angela menggunakan skill, movement speed-nya akan meningkat sebanyak 15 persen selama 4 detik dan maksimal hingga 30 persen. Efek ini juga akan diberikan kepada target yang sedang terhubung dengan Angela.
2. Skill 1 Angela ML - Love Waves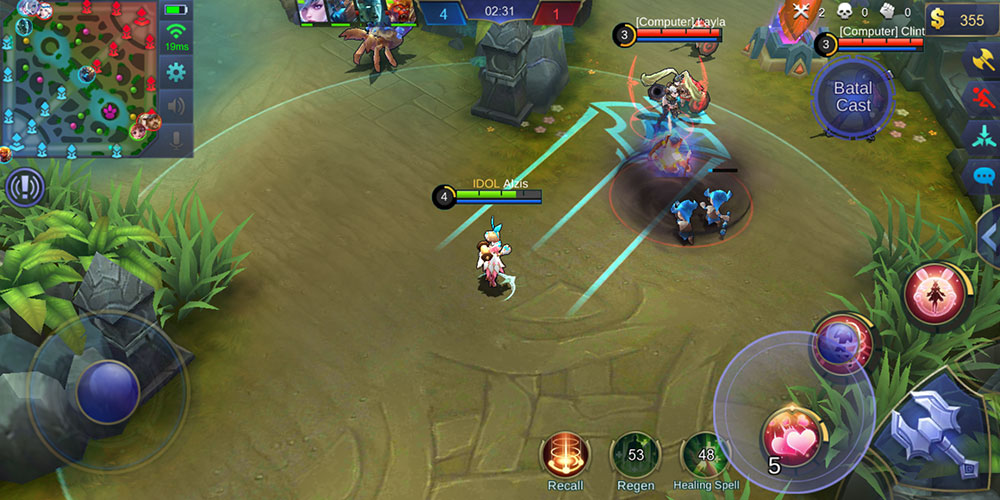 Cooldown: --
Mana Cost: 60
Angela mengeluarkan energi cinta ke arah yang ditentukan, memberikan magic damage dan menambahkan lover's mark. Setiap stack dari lover's mark akan meningkatkan jumlah damage yang diterima musuh sebanyak 20 persen dan mengurangi movement speed musuh 10 persen.
Skill ini berlangsung selama 4 detik dan dapat di stack sampai dengan 5 kali. Angela juga bisa memulihkan sejumlah HP kepada teman setim, sampai dengan 5 charge yang dapat disimpan.
Tips: Seperti Rafaela dan Estes, Angela juga memiliki skill untuk menyembuhkan dengan skill 1 Love Waves miliknya. Jadi, sambil menyerang musuh, Angela juga bisa memulihkan HP teman setim jika berada dalam jangkauan serangannya.
3. Skill 2 Angela ML - Puppet-on-a-String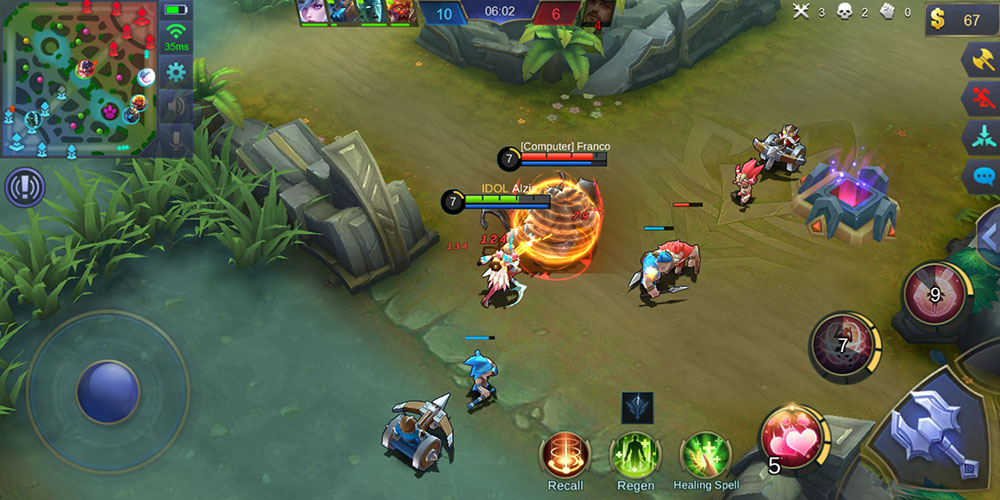 Cooldown: 13.0
Mana Cost: 90
Angela menembakkan Puppet String ke arah target, menyebabkan magic damage dan mengurangi movement speed target secara perlahan sebanyak 80 persen. Jika target masih terhubung dengan Puppet String setelah 3 detik, mereka akan menerima efek immobilize selama 1.5 detik dan menerima magic damage. Ditambah lagi, setiap stack lover's mark juga akan meningkatkan final damage yang dihasilkan.
Tips: Skill 2 Angela bisa digunakan untuk mengunci musuh, tapi Anda memerlukan jarak yang cukup dekat. Jadi, Anda juga harus hati-hati terhadap serangan balik musuh.
4.  Skill Ultimate Angela ML - Heartguard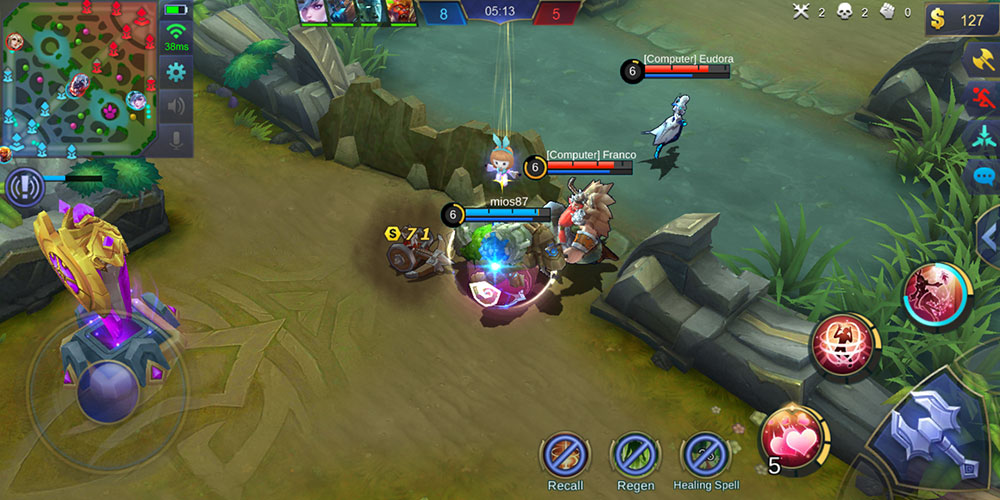 Cooldown: 80.0
Mana Cost: 100
Angela mengumpulkan energi untuk memberikan shield kepada teman yang ditargetkan, shield akan menyerap sejumlah damage selama 6 detik. Angela akan segera tersambung dengan target selama 12 detik (semua skill dapat digunakan selama tersambung dan tidak membutuhkan mana). Jika Angela menggunakan skill ini kembali atau target mati, efek skill ini akan menghilang.
Tips: Inilah skill paling unik yang dimiliki Angela, pilih satu hero dalam tim, setelah itu Angela akan teleport ke hero tersebut dan terhubung menjadi satu, memberikan perisai untuk melindungi hero dan menyerang bersama-sama.
5.  Build Item Angela Mobile Legends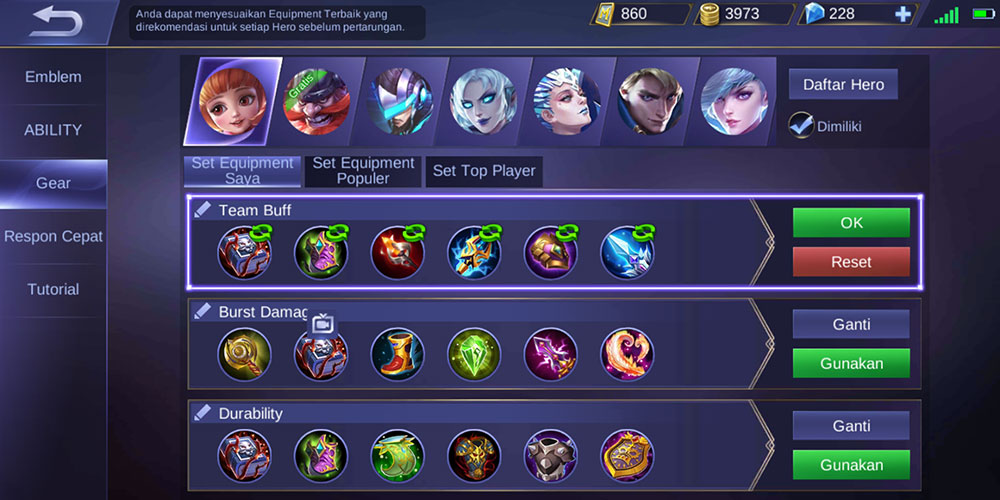 Sebagai pelindung, Angela butuh kombinasi pertahanan dan serangan yang pas agar bisa memberikan kontribusi besar. Untuk itu, berikut build item Angela yang saya gunakan.
Enchanted Talisman (Magic)
Tought Boots (Movement)
Glowing Wand (Magic)
Lightning Truncheon (Magic)
Dominance Ice (Defense)
Ice Queen Wand (Magic)
6.  Tips Menggunakan Angela Mobile Legends
Di early game, Anda bisa pergi ke lane bersama hero archer atau mage. Fokus saja membersihkan minion dan menekan musuh.
Pada mid game, Anda bisa merencanakan serangan tiba-tiba atau menjadi backup teman yang kewalahan menghadapi musuh. Tapi, cooldown skill ultimate Angela cukup lama yaitu 80 detik, jadi gunakan dengan tepat.
Di late game, sebagai hero support, tugas Angela tak lain adalah untuk memberikan dukungan penuh teman setimnya untuk memenangkan team fight.  Jadi, jangan fokus untuk membunuh, mendapatkan assist juga hal bagus kok.
Combo skill Angela bisa dimulai dari skill ultimate, dilanjutkan skill 1 dan skill 1 atau sebaliknya sesuai keadaan. Lebih optimal jika targetnya adalah fighter atau penyerang jarak dekat.
Yang perlu diingat setelah tidak terhubung, Anda bisa memulihkan HP teman setim dengan skill 1 jika berada dijarak serang. Lalu, pilih target yang tepat saat melepas skill 2.
Are you sure to continue this transaction?
processing your transaction....