[Guide] Kriknak Arena of Valor, Sang Utusan Kematian
Skill ultimate Kriknak sangat berguna untuk gank musuh.
Hero dengan tipe Assassin memang dapat menyerang musuh dengan cepat dan mengakibatkan damage besar, pun demikian dengan Kriknak.
Hero berbentuk monster serangga bertanduk ini hadir dengan specialty charger, dengan bantuan skill 2 dan ultimate miliknya, Kriknak dapat bergerak dengan cepat dan bisa segera berkontribusi membantu rekan setim.
Untuk memaksimalkan penggunaan Kriknak dalam quick ataupun ranked match, berikut guide Kriknak Arena of Valor (AOV), rekomendasi arcana, build item, tips trik menggunakan skill miliknya.
1. Skill Pasif Kriknak AOV - Bite
Saat skill Kriknak mengenai musuh, attack normal berikutnya semakin dahsyat dan mengakibatkan 250 physical damage.
2. Skill 1 Kriknak AOV - Terrifying Plague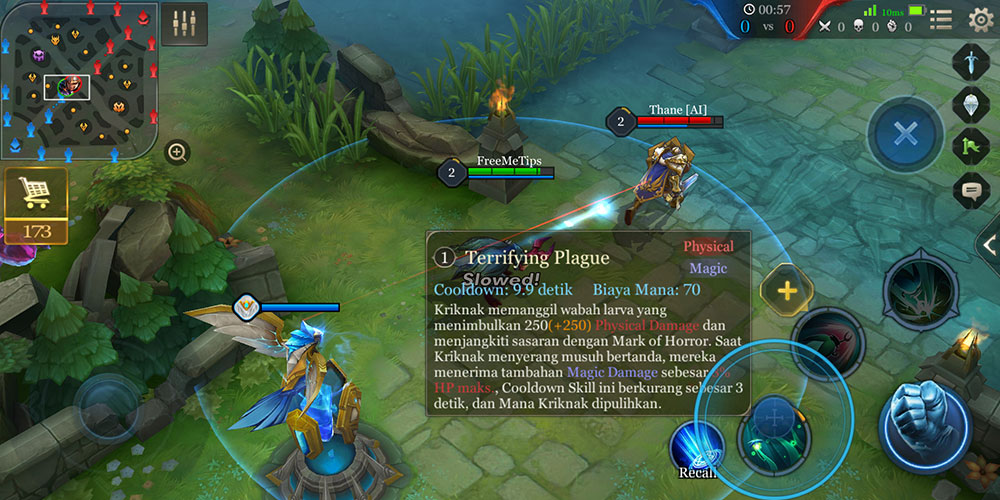 Cooldown: 10 detik
Biaya Mana: 70
Kriknak memanggil wabah larva yang menimbulkan physical damage dan menjangkiti sasaran dengan Mark of Horror. Saat Kriknak menyerang musuh bertanda, mereka menerima tambahan magic damage, cooldown skill Kriknak ini akan berkurang sebesar 3 detik, dan mana Kriknak pun dipulihkan.
Tips: Jika mengenai target, kombinasi skill1 dan pasif Kriknak saja sudah memberikan damage besar kepada musuh. Hal ini berkat singkatnya cooldownreduction skill-nya, sekaligus skill pasif yang menambah damage ke musuh.
3. Skill 2 Kriknak AOV - Evil Tentackles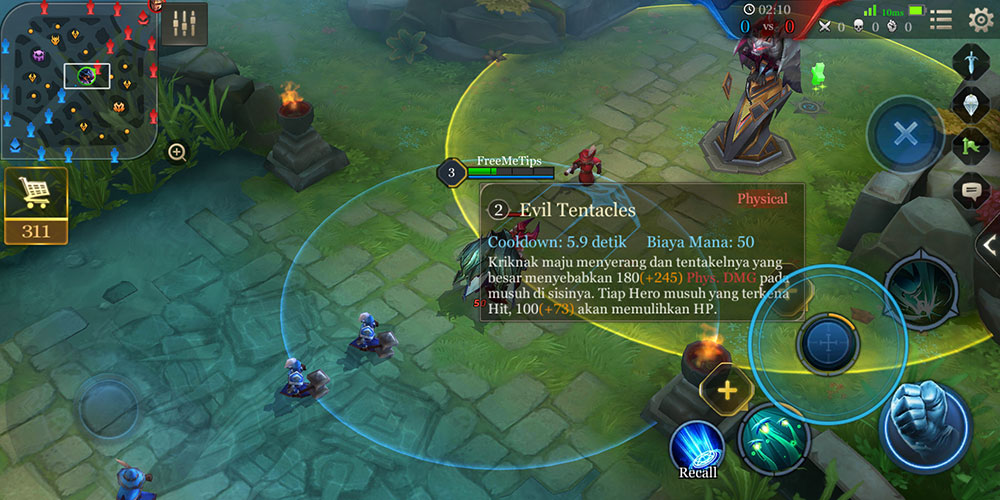 Cooldown: 6 detik
Biaya Mana: 50
Kriknak maju meyerang dan tentakelnya yang besar menyebabkan physical damage pada musuh di sisinya. Tiap hero musuh yang terkena hit akan memulihkan HP Kriknak.
Tips: Skill Evil Tentackles bukan hanya membuatnya bisa melancarkan serangan cepat ke depan, tapi juga dapat digunakan untuk melarikan diri.
4. Skill Ultimate Kriknak AOV - Fury of Flying Locusts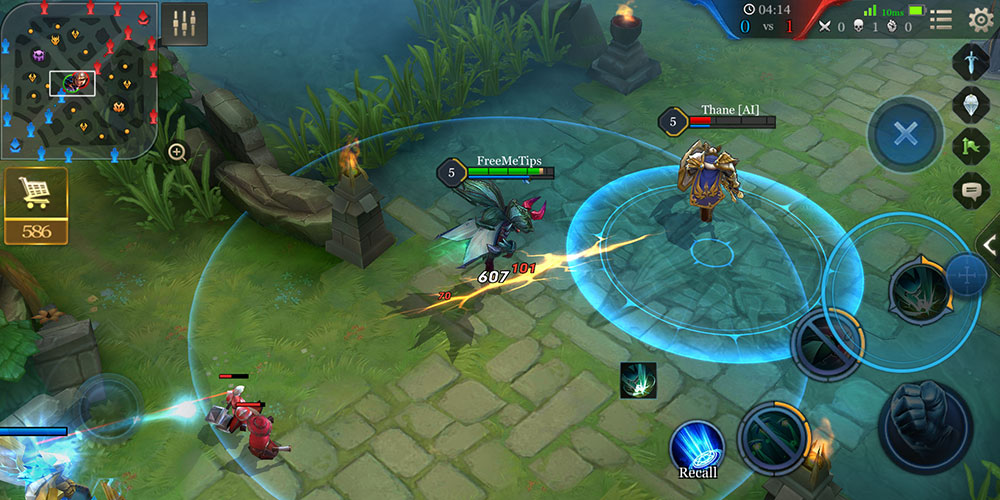 Cooldown: 12 detik
Biaya Mana: 120
Kriknak terbang, meningkatkan movement speed-nya secara signifikan selama 6 detik. Ketika menggunakan skill ini saat sedang di udara, Kriknak memberi serangan pada area sasaran, menimbulkan physical damage pada musuh di area dan mengurangi movement speed mereka.
Tips: Skill ini membuat Kriknak dapat bergerak lebih leluasa, Kriknak juga mengontrol musuh dengan mengurangi movement speed mereka. Selain itu, skill ini bisa juga digunakan untuk menyergap musuh ataupun memulai war.
5. Talent, Arcana, dan Build Item Kriknak AOV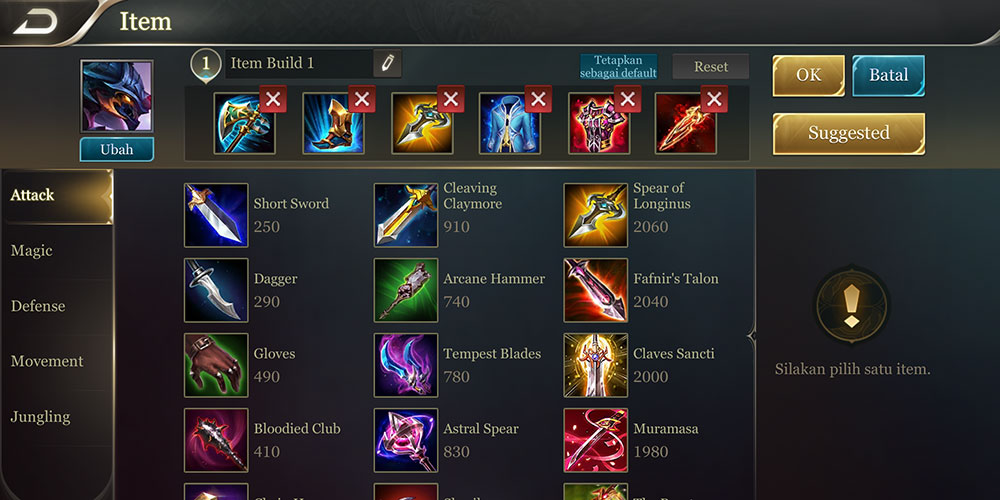 Assassin merupakan salah satu peran yang sangat penting, artinya Anda harus fokus ketika memainkan Kriknak. Harus rajin farm dan gank musuh, untuk mempercepat nge-jungle gunakan Punish.
Berikut rekomendasi Arcana Kriknak AOV:
Arcana level 2: Atrpcity, Fury, dan Assault
Arcana level 3: Awake, Assassinate, dan Dragon's Claw
Berikut build item populer Kriknak AOV:
Gnoll Cleaver (Jungling)
Gilded Greaves (Movement)
Spear of Longinus (Attack)
Frost Cape (Defense)
Crimson Banner (Defense)
Fenrir's Tooth (Attack)
6. Tips dan Kombinasi Skill Kriknak AOV
Di early game langsung farm ke hutan, selalu ambil buff biru karena Kriknak akan sangat butuh banyak mana untuk memuluskan serangannya. Begitu sudah mencapai level 4, aktifkan skill ultimate, dan setelah ambil buff merah langsung mulai gank hero.
Pilih lane yang sekiranya lemah dan gunakan skill ultimateFury of Flying terlebih dahulu untuk membuka serangan sekaligus untuk awal gank, lalu dilanjutkan dengan skill 1, skill 2, dan serang terus dengan attack normal.
Jangan lupa untuk membunuh Abysall Dragon, tapi harus waspada dan, jika sendiri dirasa tak mampu, minta bantuan rekan lainnya. Teruslah farm sambil curi-curi kesempatan untuk ambil hutan musuh dan gank hero musuh. Anda harus bermain cepat karena di late game, Kriknak kurang begitu efektif.
Are you sure to continue this transaction?
processing your transaction....