Perangkat Wearable Ini Ingin Mudahkan Komunikasi Saat Ibadah Haji dan Umrah
Glenn Kaonang - 31 July 2015
Setiap tahunnya, ada jutaan orang yang berkunjung ke kota suci Mekkah, baik yang melangsungkan ibadah haji maupun umrah. Bagi yang sudah pernah menjalaninya, Anda pasti tahu bahwa suasana di Masjidil Haram bisa sangat ramai, dan tidak jarang Anda harus berdesak-desakan dengan ribuan orang lainnya.
Bagi yang pergi beribadah sekeluarga, situasi bisa menjadi semakin rumit, dimana laki-laki dan perempuan harus dipisahkan. Mencari posisi anggota keluarga di tengah-tengah lautan manusia seperti itu jelas bukan suatu hal yang mudah dilakukan.
Namun sebuah startup bernama Hajj Guider tampaknya mempunyai solusi yang cukup menarik. Mereka berencana merilis sebuah perangkat wearable dalam wujud smart band beserta aplikasi smartphone untuk memfasilitasi para peserta ibadah haji maupun umrah.
Info menarik: Perangkat Wearable Kecil Ini Bermisi Selamatkan Jutaan Nyawa
Gelang pintar besutan Hajj Guider ini telah dilengkapi dengan fungsi komunikasi. Pengguna bisa berkomunikasi via suara layaknya menggunakan walkie-talkie dengan jangkauan hingga 3 kilometer, tanpa harus mengandalkan koneksi internet maupun jaringan seluler sama sekali. Lebih lanjut, gelang ini juga bisa berfungsi sebagai tracker lokasi dan kondisi kesehatan tubuh.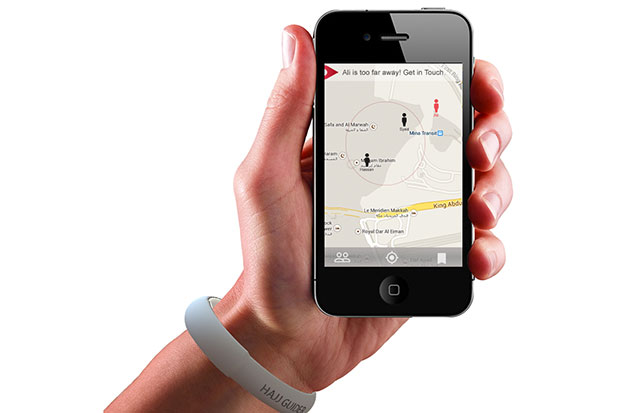 Saat Anda memiliki akses internet, aplikasi smartphone Hajj Guider bisa memberikan fungsionalitas yang lebih komplet lagi. Selain tersinkronisasi dengan gelang pintarnya, aplikasi ini juga bisa menampilkan peta kota Mekkah secara mendetail, lengkap dengan informasi berbagai lokasi penting di sana. Selain itu, aplikasi ini juga diklaim siap membantu Anda menjalani berbagai ritual, serta menampilkan rekomendasi paket ibadah haji dan umrah yang tersedia.
Ide yang ditawarkan Hajj Guider ini begitu menarik, sampai-sampai pemerintah Pakistan dikabarkan berminat untuk menjadikan gelang pintar ini sebagai salah satu perlengkapan wajib bagi para peserta ibadah haji dan umrah.
Hajj Guider sendiri berharap bisa mulai memasarkan smart band-nya menjelang ibadah haji tahun 2016, dengan estimasi harga di bawah $100. Mereka juga berencana mengadakan kampanye crowdfunding dalam waktu dekat sehingga mereka yang tertarik bisa segera melakukan pemesanan.
Sumber: Wareable dan The Express Tribune.
Are you sure to continue this transaction?
processing your transaction....