Half-Life: Alyx Bantu Dongkrak Penjualan Headset VR Valve Index
Dibanding kuartal tiga, penjualan Valve Index naik dua kali lipat di triwulan keempat 2019.
Sempat berkolaborasi dengan HTC dalam penggarapan Vive serta mengukuhkan pijakannya di ranah virtual reality lewat pengembangan SteamVR, Valve kian percaya diri untuk meramu headset VR-nya sendiri. Index diumumkan di bulan April 2018 lalu mulai dipasarkan tak lama setelahnya. Selain spesifikasi yang lebih canggih dibanding perangkat sekelas, Index menjanjikan sistem kendali intuitif lewat Knuckles Controllers.
Melengkapi upaya Valve berkiprah di segmen VR, sang pemilik Steam itu akhirnya mengumumkan kelanjutan dari seri Half-Life sesudah keheningan selama 12 tahun. Meski demikian, Half-Life: Alyx bukanlah game biasa. Untuk bisa menikmatinya, kita diharuskan mempunyai headset virtual reality. Ada cukup banyak gamer yang kecewa dengan arahan ini, namun langkah tersebut terbukti tepat. Menyusul dibukanya gerbang pre-order Alyx, penjualan Index juga terdongkrak naik.
Berdasarkan data terkini dari firma analis SuperData, permintaan terhadap Index melonjak dua kali lipat lebih di kuartal keempat 2019 dibanding triwulan sebelumnya. Valve berhasil menjual 103 ribu unit Index di antara bulan Oktober sampai Desember, dan kini total penjualan headset di 2019 mencapai 149 ribu. Hal ini sangat menarik karena Index bisa dibilang merupakan produk premium - satu setnya dibanderol US$ 1.000.
Angka penjualan sebetulnya berpotensi melambung lebih tinggi lagi seandainya tidak ada kendala pada persediaan unit. Info Road to VR mengungkapkan bahwa produk tersebut terjual habis di mana-mana per tanggal 15 Januari 2020. Saat ini laman Index di Steam masih menunjukkan status 'kehabisan stok'. Anda yang benar-benar menginginkannya diminta memasukkan email agar Valve bisa mengabarkan langsung jika unit telah kembali tersedia.
Selain Index, SuperData juga menyingkap penjualan HMD virtual reality lain di periode kuartal empat 2019. PlayStation VR terlihat masih memimpin di depan, tentu saja berkat ketiadaan 'daftar kebutuhan hardware'. Headset bisa langsung bekerja begitu disambungkan ke PlayStation 4. Posisi kedua ditempati oleh HMD virtual reality standalone Oculus Quest. Uniknya lagi, penjualan Index lebih tinggi dari Rift S, lalu Vive sendiri tidak muncul di daftar lima besar.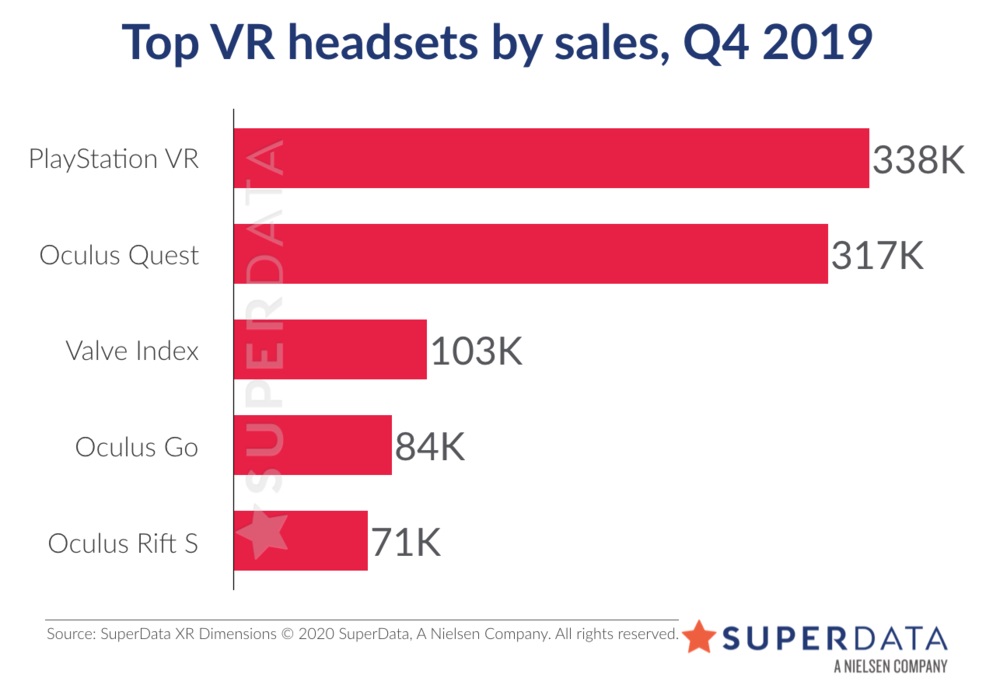 Kabar gembiranya, Half-Life: Alyx bukanlah game yang dieksklusifkan untuk Valve Index. Pemilik HTC Vive, Oculus Rift dan Quest, serta headset Windows Mixed Reality juga dipersilakan menikmatinya. Tapi khusus buat pengguna Index, Alyx bisa diperoleh secara gratis. Di Indonesia, game dijual seharga Rp 225 ribu dan dijadwalkan meluncur di bulan Maret 2020 besok.
Masih ada satu hal yang membuat saya penasaran. Ketika Half-Life: Alyx baru disingkap, Valve bilang bahwa salah satu alasan mengapa game disajikan via virtual reality adalah karena pemanfaatan sistem kendali berbasis motion dalam pertempuran, eksplorasi serta menyelesaikan puzzle. Apakah itu artinya gamer wajib memiliki aksesori Knuckles atau sejenisnya, atau adakah solusi lainnya?
Via Eurogamer.
Are you sure to continue this transaction?
processing your transaction....