[Hands-on] Sony PlayStation Classic yang Dibanderol Rp1,8 Juta
PlayStation juga berbagi informasi mengenai promo dan dua game terbarunya
Lukman Azis - 11 December 2018
Dalam sebuah acara bertajuk "Play for Everyone" yang diselenggarakan di High Grounds Pantai Indah Kapuk Jakarta (10/12/2018), PlayStation berbagi informasi terbaru seputar kegiatan akhir tahun di Indonesia. Termasuk konsol PlayStation Classic dan dua game terbaru mereka yakni Sekiro: Shadows Die Twice dan Kingdom Hearts III.
Sebagai bagian dari kegiatan akhir tahun, PlayStation mengadakan roadshow "Play for Everything" di Depok dan Jakarta. Selain bisa mendapatkan penawaran menarik, Anda bisa mencoba game-game terbaru seperti Overcooked!2, Kingdom Hearts III, FIFA 19, dan Astrobot: Rescue Mission. Berikut jadwal roadshow PlayStation "Play for Everything":
Margo City, Depok pada tanggal 5-9 Desember 2018
Grand Indonesia, Jakarta pada tanggal 12-16 Desember 2018
Pertumbuhan PlayStation
Menurut Ian Purnomo, Public Relations & Developer Relations, Sony Interactive Entertainment Hong Kong Limited Singapore Branch (SIES). PlayStation secara global pertumbuhannya meningkat, di mana sudah lebih dari 80 juta PS4 terjual sejak pertama kali dirilis. Kawasan Southeast Asia merupakan kawasan yang perkembangannya cukup bagus dan Indonesia salah satunya.
Sekedar rekap di tahun ini ada sejumlah game yang dirilis di PS4, mulai dari Monster Hunter: World, lalu ada God of War yang memenangkan nominasi Game of The Year, Detroit: Become Human, Fortnite, Spiderman, hingga PUBG. Sementara, untuk VR ada Astro Bot: Rescue Mission dan Tetris Effect.
Selain itu, pada bulan September - PlayStation menerapkan sistem warranty baru di Indonesia, di mana produk resmi PlayStation akan memiliki stiker hologram yang bertuliskan 'Produk Resmi Indonesia'.
PlayStation juga mengumumkan bundle konsol PlayStation 4 dengan game FIFA 19 lengkap beserta Dualshock 4 controller yang dibanderol Rp5.799.000. Serta, bundle PlayStation 4 Pro dengan game Red Dead Redemption 2 yang dibanderol Rp7.899.000.
Selain itu, ada Hits Bundle yakni PlayStation 4 yang berisikan tiga game yakni The Last of Us, God of War, dan Detroit Become Human yang dibanderol hanya Rp5.199.000. Kemudian, Party Bundle yakni PlayStation 4 dengan game FIFA 19 dan Overcooked!2 seharga Rp5.699.000.
Satu lagi, PlayStation juga menggelar promo Flash Sale 12.12 di Blibli. Di mana setiap pembelian konsol PlayStation 4 Party Bundle akan mendapatkan diskon sebesar Rp1 juta dan harga khusus Rp10.000 untuk satu unit Dualshock 4 Wireless Controller.
Hands-on PlayStation Classic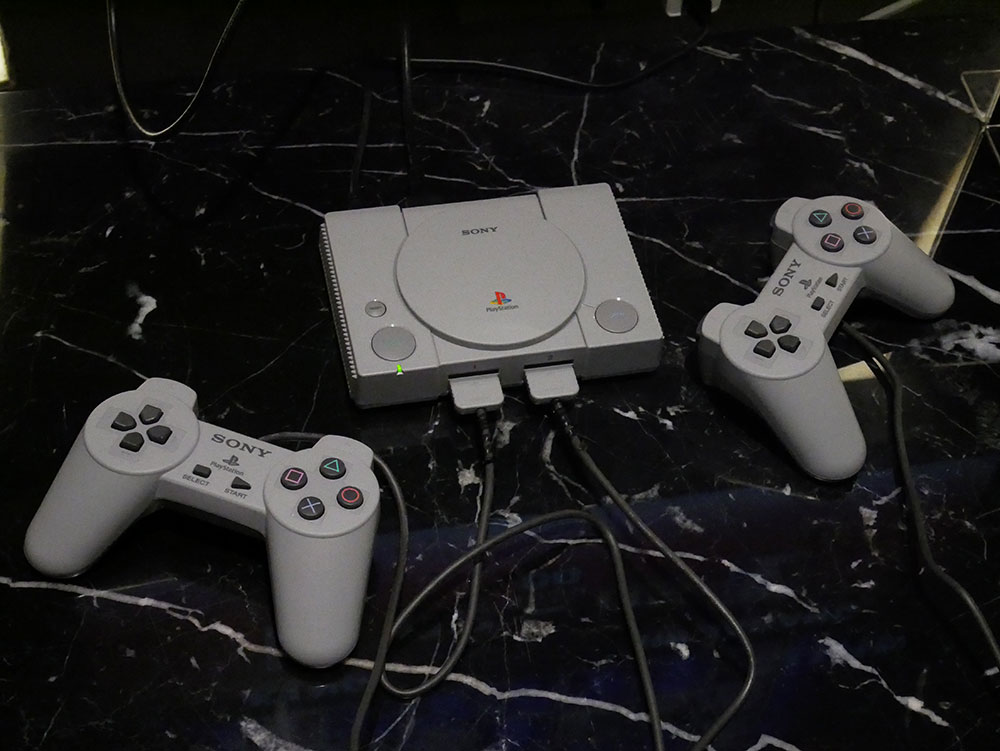 PlayStation Classic merupakan konsol game miniatur yang menyerupai tampilan dari PlayStation orisinil. Memuat 20 game, diantaranya Tekken 3, Super Puzzle Fighter II Turbo, Ridge Racer Type 4, Metal Gear Solid, Grand Theft Auto, dan Resident Evil Director's Cut.
Di acara tersebut, saya berkesempatan bermain game dengan PlayStation Classic. Produk ini memang diciptakan untuk bernostalgia, buat yang benar-benar ingin memainkan game jadul kesayangan yang pernah dulu mainkan. Mungkin Anda juga ingin memperkenalkannya ke si kecil atau keluarga.
Bila tujuannya sebagai konsol game utama di rumah, saya rasa kurang tepat. 20 game yang di dalamnya memang cukup banyak, tapi Anda tak bisa menambah game baru. Ingat, kualitas grafisnya juga belum 3D atau sebagus game-game jaman sekarang.
Wujud PlayStation Classic benar-benar mirip seperti konsol edisi pertamanya, namun ukurannya 80 persen lebih kecil dari edisi orisinalnya. Bila tertarik, PlayStation Classic dibanderol dengan harga Rp1.799.000.
Saya juga sempat mencoba dua game terbaru Sekiro: Shadows Die Twice dan Kingdom Hearts III. Untuk Sekiro: Shadows Die Twice, para awak media belum diperkenankan mengambil gambar dan video dari game ini. Sekitar 15 menit saat mencobanya, game dari kreator Dark Souls yakni From Software ini sangat cukup menegangkan. Berperan sebagai Shinobi, kita tidak bisa bertarung secara terang-terangan.
Sedangkan, mencoba Kingdom Hearts III rasanya sangat menyenangkan - crossover antara dunia Final Fantasy dan Disney. Game racikan Square Enix ini akan dirilis pada Januari 2019.
Are you sure to continue this transaction?
processing your transaction....