HTC Resmi Umumkan Headset Virtual Reality Standalone Vive Focus
Produsen juga membatalkan versi Daydream-nya yang tadinya ditujukan buat konsumen Amerika dan Eropa.
Dengan pelepasan Oculus Rift dan HTC Vive di momen yang hampir bersamaan, 2016 disebut-sebut sebagai tahun lahirnya platform virtual reality modern. Namun saat itu, VR masih menyimpan banyak kekurangan: harganya mahal, perlu dukungan sistem berspesifikasi tinggi, kemudian pemakaiannya kurang intuitif karena masih mengikat user di satu tempat saja.
Setidaknya ada dua upaya dilakukan produsen buat mengatasi masalah terakhir itu, yakni dengan menyediakan PC 'wearable' atau melalui pengadaan HMD portable seperti yang tengah digodok oleh HTC. Di event Google I/O bulan Juli silam, perusahaan hardware asal Taiwan itu menyingkap headset VR standalone pertamanya. Premisnya sangat menarik, sayang device hanya disiapkan buat kawasan Tiongkok saja.
Setelah rumor di bulan September lalu yang mengekspos nama dari headset VR standalone tersebut, HTC akhirnya melakukan pengumuman secara resmi di Vive Developer Conference di Beijing. Di acara tersebut, produsen membenarkan pemakaian nama Vive Focus, meluruskan sejumlah informasi terkait produk, sembari memamerkan wujud dari perangkat mereka itu.
Penampilan dari Vive Focus memang sesuai dengan outline yang sudah di-tease oleh HTC di website mereka. Berdasarkan gambar, headset terlihat ergonomis sekaligus futuristis. Bagian belakang visor-nya dibuat melengkung ke atas, searah strap, kemudian posisinya diamankan lagi oleh strap sekunder - melintas di belakang kepala pengguna. Dari pengamatan saya, lengkungan dan posisi strap kedua memberikan area yang luas untuk telinga, sehingga kemungkinan lebih nyaman saat dipakai sambil mengenakan headphone.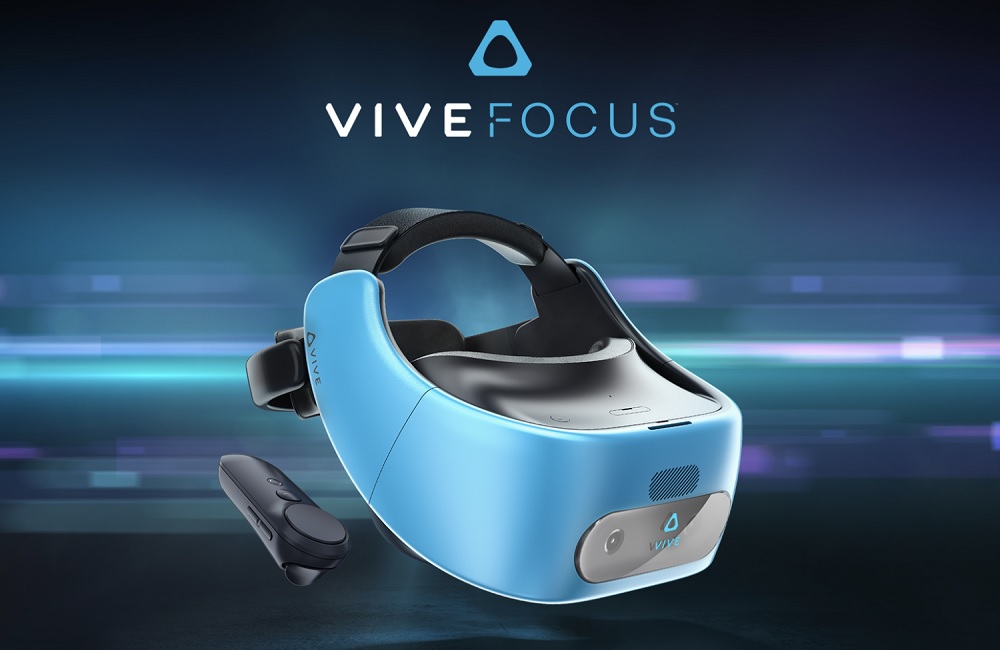 Detail mengenai hardware dan spesifikasinya belum sepenuhnya terungkap, tapi memang benar, Vive Focus diotaki chip Qualcomm Snapdragon 835. Anda tidak lagi perlu mencantumkan smartphone atau menyambungkannya ke PC karena di sana sudah tersedia unit prosesor, layar, serta baterai. Hardware juga dilengkapi rangkaian kamera, yang memungkinkan headset melacak posisi pengguna tanpa memerlukan sensor eksternal.
Untuk mencapai hal tersebut, HTC pernah membahas soal pemanfaatan teknologi tracking canggih Google berama WorldSense, namun di pengumuman Vive Focus, produsen malah belum menyebutnya. Hal ini boleh jadi disebabkan oleh keputusan HTC membatalkan versi Daydream-nya buat Amerika dan Eropa, demi memfokuskan perhatiannya pada Tiongkok. Alternatifnya, ada peluang Vive Focus mengandalkan software pelacak dari Qualcomm atau bahkan racikan HTC sendiri.
HTC belum menyingkap harga Vive Focus, tapi kita boleh berasumsi, device dijajakan di harga yang tak jauh berbeda dari Oculus Go - versi standalone dari Oculus Rift.
Via Road to VR, The Inquirer & The Verge.
Are you sure to continue this transaction?
processing your transaction....