Hypefast Reportedly Secures Additional Funding, Entering the Centaur List
Most Investors participated in this round are previously involved in series A
Hypefast online retail group startup reportedly secures an additional $5.5 million funding (over 78 billion Rupiah). According to DailySocial.id sources, this round was participated by Monk's Hill Ventures, Jungle Ventures, Strive, Amand Ventures, and several others. Those investors previously participated in a $14 million series A round in July 2021.
Through this funding, Hypefast is going strong into the ranks of the next centaur (aspiring unicorn) startup in Indonesia. Centaur is a term for startups that have reached a valuation of over $100 million and under $1 billion. One of these valuations is measured based on the total funding obtained from investors.
Hypefast is yet to officially confirm the two rounds of fresh funding. Until this news was published, the company's representatives have not responded.
As a retail company, Hypefast's focus is slightly different. They invest and acquire startups that focus on "digital & e-commerce native brands" with potential to be developed into global brands.
Aside from capital support, Hypefast helps brand owners gain marketing, production and operational support, to use data to help business analysis. Thus, the brand can grow significantly in a short time.
The brand categories Hypefast have acquired come from fashion, beauty, health, and lifestyle - which are produced, marketed, and sold directly to consumers through various online channels, such as each brand's website, social media, marketplace platform, and Buiboo offline store.
To date, Hypefast has managed more than 20 brands in its network with a total team of more than 150 people in Southeast Asia. Some of these brands are BohoPanna, Letter in Pine, Monomom, Soleram, Sabine and Heem, Nona, Wearstatuquo, Motiviga, Nyonya Nursing Wear, Sideline Label, Nona Rara Batik, and Bonnels.
Hypefast previously targeted to bring local brands to the global market in a more effective and scalable way by the end of 2022. "Currently our focus is on preparing infrastructure and access, therefore, it can be a long-term solution," said Hypefast' Founder and CEO, Achmad Alkatiri in an official statement.
New economy startup momentum
According to CBInsights, D2C startup funding performance has decreased globally in 2020. One of the reasons is the pandemic. However, in Indonesia, it is gaining momentum, due to the presence of a massive generation of young entrepreneurs.
Marketing creativity through digital channels, such as social media, allows brand developers to get attention and profit from the local market. The strategies vary, some collaborate to present limited products with well-known influencers, create viral marketing strategies, and others.
Another important factor is the high interest of consumers to shop on online platforms. According to e-Conomy 2020, Indonesia's e-commerce GMV reached $32 billion, the largest in the region.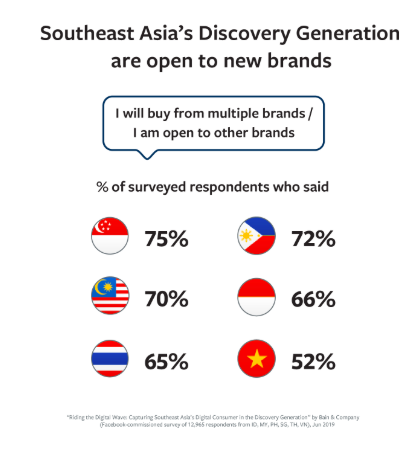 In addition, according to a survey conducted by Facebook, there is a tendency for consumers in Indonesia to buy new brand products, which is the highest percentage compared to neighboring countries in Southeast Asia. This makes market competition more dynamic, compared to a customer base that is loyal to only certain products.
–Original article is in Indonesian, translated by Kristin Siagian
Are you sure to continue this transaction?
processing your transaction....