Gadget
IBM Ungkap Komputer Termungil Buatannya, Lebih Kecil dari Butiran Garam
Ukurannya hanya sebesar 1x1-milimeter.
Komputer mengacu pada alat yang mampu menerima instruksi, kemudian memproses perintah itu secara logis dan otomatis berbekal dukungan central processing unit dan memori. Di era modern ini, kemampuan tersebut bisa kita temui di mana-mana, dari mulai oven microwave, remote control, hingga perangkat-perangkat multi-fungsi seperti PC dan smartphone.
Kini komputer bukan hanya semakin canggih, tapi dikemas dalam ukuran yang kian mengecil. Pertanyaannya, seberapa besar ukuran komputer paling mungil ciptaan manusia? Beberapa dari kita mungkin akan menjawab: PC berwujud thumb drive atau komputer single-board. Namun belum ada yang berhasil menyamai kreasi IBM Research ini. Dalam konferensi IBM Think 2018 ditanggal 19 Maret 2018, perusahaan teknologi asal Amerika itu menyingkap PC berukuran lebih kecil dari butiran garam.
Tentu saja ia tidak bisa digunakan untuk bermain Overwatch atau Call of Duty. Komputer super-mungil ini dirancang sebagai crypto-anchor dalam menunjang blockchain, disiapkan buat membantu melacak pengiriman barang serta mendeteksi percobaan pencurian atau penipuan. Ia dapat dibubuhkan ke berbagai produk, bermanfaat jadi sidik jari digital anti-tamper, dan bisa melakukan tugas dasar semisal menyortir data.
Komputer mini IBM mempunyai dimensi 1x1-milimeter, berisi 'beberapa ratus ribu' transistor dan ditunjang oleh random-access memory statis (SRAM). Selain itu, tim IBM Research turut membubuhkan fitur komunikasi berupa LED dan photo-detector, serta mencantumkan sel photo-voltaic sebagai unit penghasil tenaga. Kabarnya, komputer tersebut mempunyai performa setara chip x86 tahun 1990.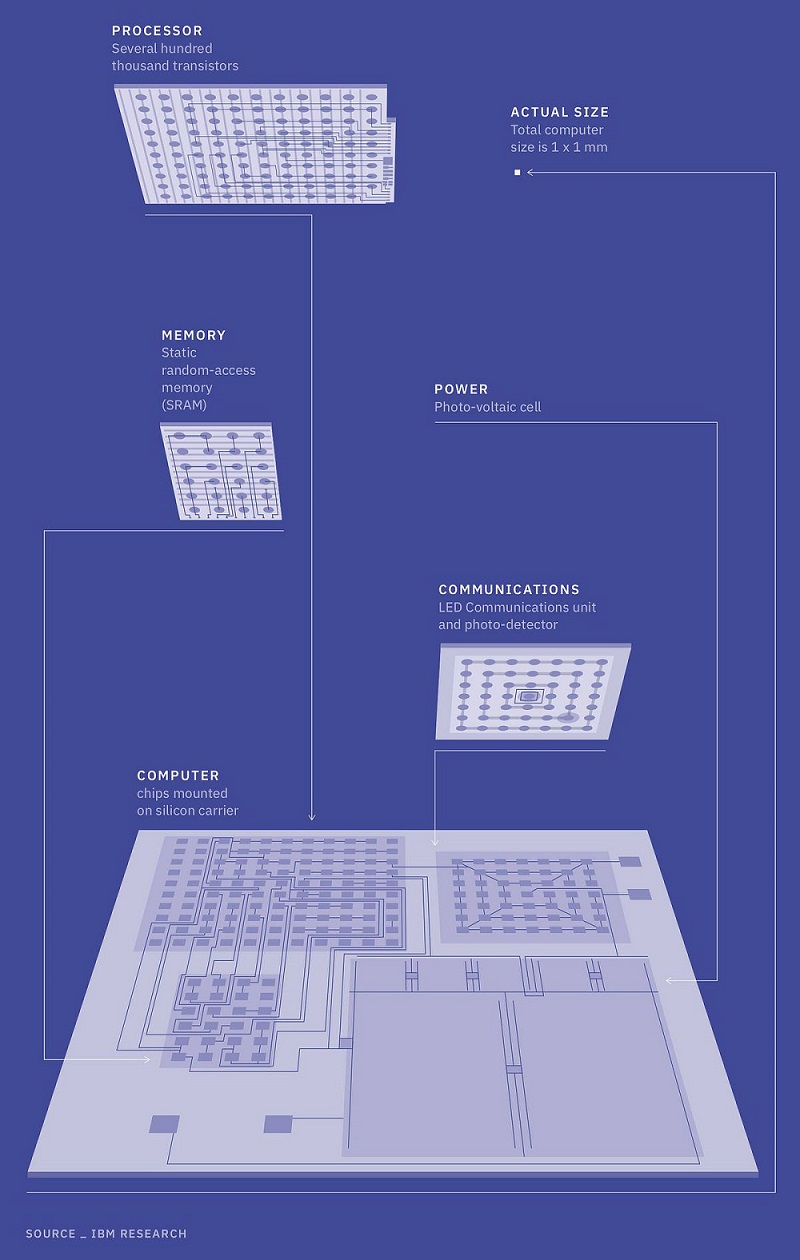 Via Mashable, head of research IBM Arvind Krishna mengestimasi bahwa dalam lima tahun lagi komputer cryptographic anchor akan dicantumkan ke benda sehari-hari. Metodenya bisa jadi sangat sederhana, misalnya dengan mencoretkan tinta khusus atau sekadar menyematkan komputer mini tersebut pada barang. Jika perkiraan Krishna tepat, maka dalam waktu dekat kita akan melihat kelahiran lebih banyak komputer 'butiran garam'.
IBM belum mengungkapkan harga dari kreasinya itu dan kapan mereka akan mulai merilisnya, namun kabarnya, biaya ongkos produksi komputer crypto-anchor ini kurang dari 10 sen.
Mungkin Anda penasaran mengapa gambar header artikel ini menunjukkan chip berukuran 'cukup besar', bukan 1x1mm. Papan kecil tersebut sebetulnya ialah kumpulan dari 64 motherboard dengan dua komputer mungil IBM di pojok kiri atasnya. Rekor komputer terkecil di dunia sebelumnya dipegang oleh Michigan Micro Mote, berukuran 2-milimeter.
Di bawah ini adalah gambar komparasi komputer IBM dengan butiran-butiran garam.
Sumber: Mashable.
Are you sure to continue this transaction?
processing your transaction....