IDeA Center dan Touch Graphics Ciptakan Peta 3D Yang Bisa Bicara Untuk Tunanetra
Bambang Winarso - 24 November 2014
Teknologi sudah seharusnya memberikan kemudahan bagi manusia. Kita pun sudah banyak melihat keterlibatan teknologi dalam meningkatkan kualitas hidup manusia terutama di kalangan disabilitas. Yang terbaru berupa peta 3D yang mampu mengeluarkan suara sebagai alat pandu bagi tunanetra dalam menemukan lokasi tertentu.
Peta 3D yang juga mampu berbicara ini merupakan hasil kembangan Inclusive Design and Environmental Access (IDeA Center) dari Universitas Buffalo dan Touch Graphics Inc. Tujuannya adalah untuk membantu orang-orang penyandang disabilitas khususnya tunanetra dalam mengakses ruangan dalam bangunan tertentu. Peruntukannya ditujukan bagi fasilitas-fasilitas umum seperti museum, rumah sakit, sekolah dan lain sebagainya.
Perkins School untuk tunanetra di Massachussetts berkesempatan menjadi yang pertama yang mencicipi teknologi tersebut. Pemilihan Perkins School tentu menjadi keputusan yang tepat, dimana semua muridnya merupakan penyandang tunanetra. Peta 3D pertama tersebut nantinya diharapkan dapat menjadi pusat bantuan bagi para siswa dan guru di sana.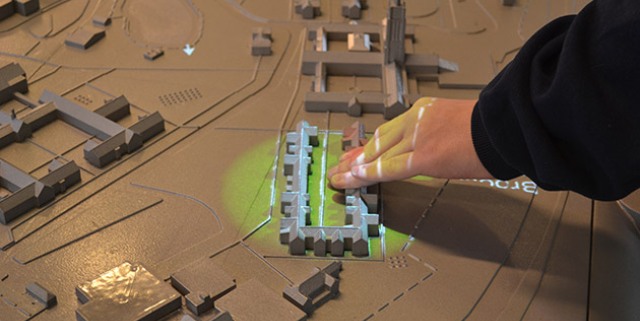 Teknologi ini dapat diakses oleh siapapun, disusun dalam ukuran yang relatif sedang dimana bangunan tersusun seperti peta monopoli namun dengan rancang bangun tiga dimensi yang presisi sesuai dengan bentuk aslinya sehingga mudah dikenali. Tak hanya itu, saat diraba peta akan mengeluarkan suara disertai dengan nama bangunan, lokasi dan panduan menuju ke bangunan tersebut.
Info Menarik: Huawei Honor Smart Glass Siap Menjadi Pesaing Google Glass
Peta 3D ini bukan proyek pertama bagi Touch Graphics Inc. Saat ini mereka juga mengerjakan berbagai proyek untuk para penyandang tunanetra seperti peta Amerika Serikat dan tabel periodik unsur yang keduanya memiliki perangkat pena dengan kemampuan berbicara.
Terkait proyek peta 3D ini, President Touch Graphics Steve Landau, seperti dikutip dari Engadget, mengatakan bahwa model teknologi yang mampu memberikan respon terhadap sentuhan seperti ini menjawa permasalahan yang ditinggalkan oleh model konvensional lewat GPS. Para penyandang disabilitas khususnya tunanetra membutuhkan bantuan untuk menjangkau tempat-tempat di dalam bangunan seperti ruang kelas dan ruang dokter.
Sumber berita Engadget.
Are you sure to continue this transaction?
processing your transaction....