IDEAFEST 2018 Akan Kembali Digelar (UPDATE)
Acara akan berlangsung pada tanggal 26 & 27 Oktober 2018 di JCC Senayan
Randi Eka - 31 August 2018
IDEAFEST adalah acara tahunan yang ditujukan untuk menghubungkan dan menginspirasi komunitas kreatif. Pagelaran ini membawa peserta untuk bertemu langsung dan mendapatkan inspirasi dari banyak tokoh dengan berbagai pencapaian baik di bidang kreatif. IDEAFEST akan kembali digelar pada tanggal 26 & 27 Oktober 2018 mendatang di Jakarta Convention Center, Senayan.
Tahun ini IDEAFEST 2018 akan mengusung beberapa agenda, di antaranya konferensi, Ideatalks (workshop), Texpo (pameran), dan O2O Bazaar. Sedangkan tema yang diangkat adalah: 'C'. We believe that success lead by the big capital 'C'. Creative, Connect, Creation, Confident, Collaborate, Challenge, Chance.
Visi yang dibawa IDEAFEST ialah menciptakan keseimbangan dan keberlanjutan industri kreatif. IDEAFEST diharapkan dapat membawa pembuat film, pembuat konten kreatif, pendiri startup, musisi dan semua pemain dalam industri kreatif untuk bersinergi membangun semua sektor industri bersama-sama.
IDEAFEST pertama kali diadakan pada tahun 2011 sebagai festival dua tahunan. Tahun lalu IDEAFEST berhasil mengundang lebih dari 5000 peserta, menyajikan lebih dari 80 sesi dengan 150 pembicara. Beberapa nama pengisi acara termasuk Sri Mulyani Indrawati (Menteri Keuangan), Casey Neistat (YouTuber), Tyler Brule (Editor in Chief of Monocle Magazine), Nadim Makarim (CEO GO-JEK), Raisa Andriana (Penyanyi), dan beberapa lainnya.
Acara ini terbuka untuk siapa saja yang tertarik dengan industri kreatif. Saat ini sedang berlangsung penjualan promo tiket untuk Early Bird.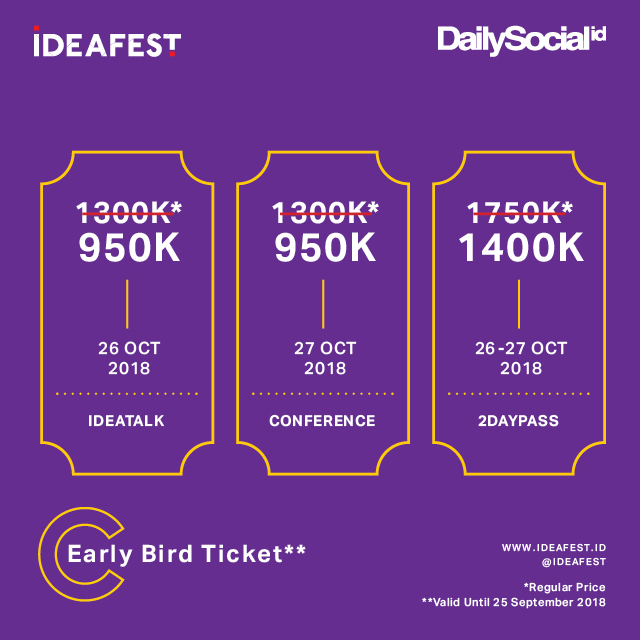 Info lebih lanjut dan pemesanan, kunjungi: http://www.ideafest.id.
-
Disclosure: DailySocial merupakan media partner IDEAFEST 2018
Are you sure to continue this transaction?
processing your transaction....