Ilmuwan Kembangkan Bohlam yang Bisa Menghubungkan Anda ke Internet
Yoga Wisesa - 9 July 2015
Komputer, console game, smartphone, audio player sampai kamera, mereka semua tidak akan lengkap tanpa fitur Wi-Fi. Dengan tersambung ke access point, kita dapat menikmati 'keajaiban' internet. Tapi karena keterbatasan gelombang radio, tak semua lokasi bisa dijangkau Wi-Fi. Dan solusi dari satu tim peneliti mungkin belum pernah Anda dengar sebelumnya.
Istilah lampu pintar terasa cukup akrab bukan? Namun pernahkan Anda mendengar soal bohlam yang mampu menghubungkan kita ke internet? Profesor Maite Brandt-Pearce dan rekan-rekan ilmuwan lulusan Charles L. Brown Department of Electrical and Computer Engineering sedang mengembangkan teknologi tersebut. Premisnya menarik, yaitu sambungan internet berkecepatan tinggi dengan cahaya.
Sang profesor, Mohammad Noshad, dan Jie Lian berhasil menemukan sebuah metode untuk memanfaatkan gelombang sinar yang dikeluarkan lampu light-emitting diode atau LED, kemudian menghubungkannya ke perangkat wireless. Tiap bohlam mampu menyajikan kecepatan transfer data sebesar 300 Mbps (Megabit, sekitar 37,5MB per detik). Artinya, jumlah akses bisa menjadi lebih banyak dan personal, serta menyajikan alternatif lebih aman dibandingkan Wi-Fi standard.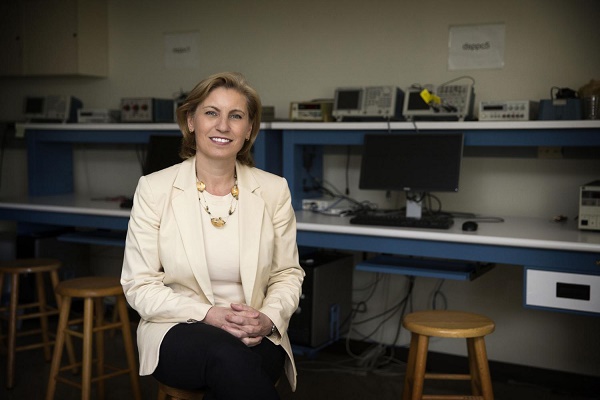 Brandt-Pearce menjelaskan, mereka mengembangkan sebuah algoritma modulasi yang mempercepat aliran data dalam komunikasi visible light. Pengiriman data sama sekali tidak menuntut sumber tenaga tambahan - cuma butuh energi buat menyalakan bohlam. Dan seiring makin banyaknya penggunaan lampu LED, tersedia kian banyak pula titik akses.
Info menarik: Rangkaian Lampu Living Things 'Ditenagai' Ganggang, dan Bisa Dimakan
Lalu bagaimana jika ada dua orang atau lebih dalam satu ruangan? Di sanalah peran Jie Lian. Tugasnya adalah menggarap sistem multi-user, serta mengupayakan agar bohlam-bohlam tersebut bisa bekerjasama antar sesamanya, dan mengirim data ke para pengguna. Kualitas cahaya juga harus terjamin sehingga tiap orang mendapatkan koneksi optimal. Selanjutnya, tinggal siapkan software pembaca sinyal LED di komputer.
Walaupun lampu LED ber-internet ini sangat unik, Profesor Brandt-Pearce menegaskan bahwa fungsinya bukanlah untuk menggantikan Wi-Fi, melainnya sebuah upgrade bernama Li-Fi. Temuan para peneliti itu dapat digunakan di berbagai perangkat optik, memastikannya mudah diadopsi konsumen, serta menyuguhkan mutu lebih baik dibanding gelombang radio.
Noshad dan Brandt-Pearce sudah mengajukan hak paten, sembari mendirikan perusahaan VLNComm, kependekan dari Visible Light Network Communications. VLNComm sendiri telah menarik perhatian sejumlah investor, bahkan dilaporkan menerima bantuan dana dari program Small Business Innovation Research.
Sumber: Phys.org. Header: Shutterstock.
Are you sure to continue this transaction?
processing your transaction....