Event
Indonesia Entrepreneur Center Hadir Fasilitasi Pengusaha di Jakarta
Akan mengadakan talkshow bertemak "Strategi Efektif Perizinan Usaha di DKI Jakarta" pada 29 November mendatang
Dalam rangka mendukung wirausahawan di Indonesia, khususnya yang bergerak di bidang startup, Indonesia Entrepreneur Center (IDEC) dihadirkan. IDEC merupakan organisasi inisiatif pemerintah setempat untuk menciptakan komunitas wirausahawan yang inklusif, bermakna dan dinamis untuk mendukung pertumbuhan kewirausahaan di Jakarta.
IDEC memberikan program kewirausahaan mingguan secara cuma-cuma dengan mengundang pakar-pakar di bidang startup yang berpengalaman dan menginsipirasi. Para pakar ini yang akan membantu wirausahawan dan calon wirausahawan dalam mengembangkan kemampuan dan pengetahuan utama dalam berbisnis. IDEC percaya bahwa melalui kewirausahaan, lapangan pekerjaan dapat diciptakan, ide-ide cemerlang dapat dicanangkan untuk memecahkan masalah, membantu memperbaiki perekonomian negara, dan pada akhirnya menghapus kemiskinan.
Tim IDEC terdiri dari orang-orang yang ingin meningkatkan kualitas masyarakat dengan program yang bermanfaat. IDEC percaya bahwa program-program yang diadakan dapat menguntungkan semua pihak dalam hal pengetahuan, skill, dan kesempatan berbisnis.
Sejak pertama kali beroperasi, IDEC telah mengadakan delapan seminar di Jakarta. Seluruh seminar yang diadakan mengusung tema bisnis dan start-up seperti How to Get Your Startup Funded, How to Get Your Startup Acquired dan How to Validate Your Startup Ideas. Dan yang paling anyar, IDEC akan segera menyelenggarakan acara talkshow bertemakan "Strategi Efektif Perizinan Usaha di DKI Jakarta" pada 29 November mendatang.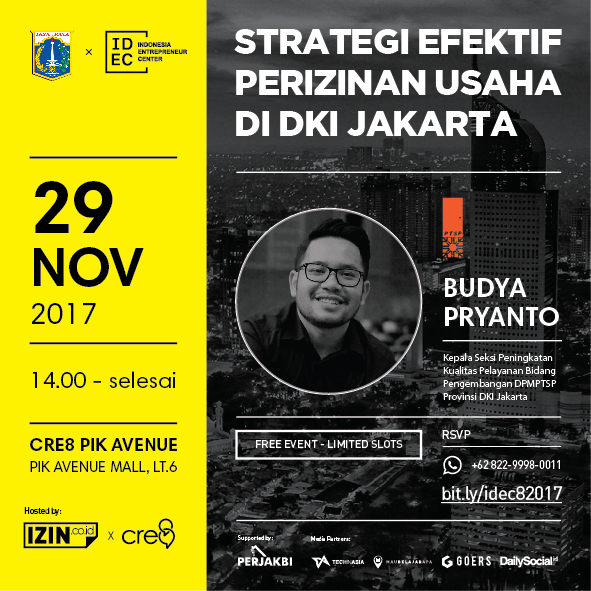 Hingga saat ini, IDEC memiliki lebih dari 600 anggota aktif yang selalu menghadiri seminar IDEC dan nantinya akan mengikuti program bimbingan yang akan diadakan oleh IDEC. Program bimbingan ini akan diadakan selama periode waktu tertentu di mana para anggota akan mendapatkan bimbingan dalam mengambangkan perusahaan dan bisnisnya.
Ke depannya, IDEC berharap seluruh anggota IDEC dapat membawa bisnis mereka menuju keberhasilan dan memperbaiki perekonomian Indonesia. Dengan kewirausahaan, perekonomian Indonesia dapat berkembang; dan bersama IDEC, kualitas kewirausahaan di Indonesia akan lebih meningkat.
--
Disclosure: DailySocial merupakan media partner Indonesia Entrepreneur Center
Are you sure to continue this transaction?
processing your transaction....