Info Paten Ungkap Rencana Microsoft Mengembangkan Controller Xbox Dengan Huruf Braille
Tentu saja belum diketahui apakah Microsoft betul-betul akan mengangkatnya jadi produk konsumen.
Yoga Wisesa - 9 May 2019
Satu fakta yang jarang sekali dibahas terkait permainan video adalah kegiatan ini baru bisa dinikmati secara maksimal oleh mereka yang sempurna secara fisik. Dan setiap kali tema tersebut dibahas, saya selalu teringat harapan Stevie Wonder di salah satu ajang Video Game Awards (sekarang dikenal sebagai The Game Awards) agar game juga dapat dimainkan oleh penyandang tunanetra.
Mencoba mengubah status quo ini, beberapa minggu sebelum E3 2018, Microsoft memperkenalkan Xbox Adaptive Controller untuk Xbox One. Adaptive Controller ialah sebuah unit kendali fleksibel yang memberikan kesempatan bagi penderita disabilitas buat bermain game. Penampilannya mirip turntable DJ, dilengkapi tombol-tombol programmable dan port-port untuk membubuhkan input custom eksternal. Kali ini, Microsoft diketahui punya rencana buat menggarap sesuatu yang lebih ambisius lagi.
WebsiteLet's Go Digital (berbahasa Belanda) baru-baru ini menemukan bahwa Microsoft sempat mengajukan sebuah paten berisi rancangan gamepad yang memanfaatkan rangkaian huruf Braille. Dari ilustrasinya, periferal tersebut mempunyai penampilan layaknya Xbox One Controller standar, tetapi desainer juga membubuhkan hardware tambahan di bagian bawah yang boleh jadi memungkinkan pengguna membaca dan memasukkan huruf Braille ke permainan.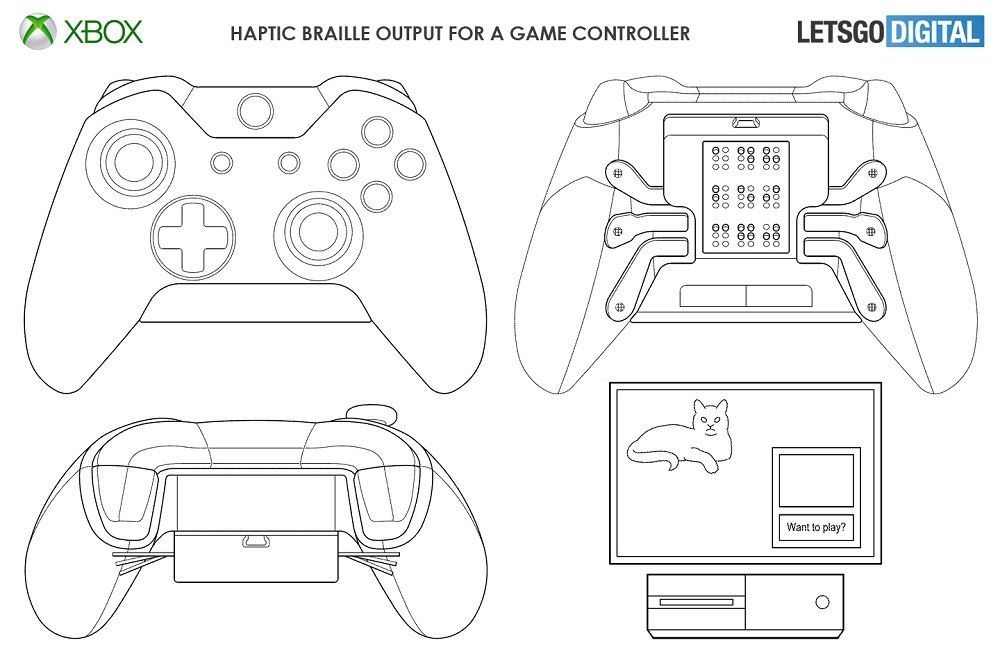 Salah satu gambar tersebut memperlihatkan sebuah panel di sisi bawah yang diisi oleh titik-titik dengan total sembilan matrik mirip formasi huruf Braille. Mereka diposisikan agar mudah dicapai oleh ujung jari pengguna. Selain itu, Microsoft juga membubuhkan enam buah pedal tambahan. Ada indikasi pedal-pedal ini memungkinkan user memasukkan karakter-karakter Braille sehingga dapat dibaca oleh sistem.
Let's Go Digital juga menyampaikan bahwa paten tersebut turut membahas fitur unik yang bisa mengubah input suara menjadi tulisan buat mempermudah pengendalian. Lalu controller juga dibekali sejumlah sistem haptic feedback - kemungkinan tidak sesederhana vibrasi seperti pada Xbox Controller biasa atau DualShock 4. Selain hardware tambahan dengan rangkaian huruf Braille, saya tidak melihat adanya perbedaan signifikan pada wujud, penempatan tombol dan thumb stick.
Selain menampilkan beberapa ilustrasi controller, paten juga memperlihatkan gambar sederhana unit Xbox One dan monitor. Layar tersebut menampilkan tulisan 'want to play?'. Melihat dari untuk siapa gamepad versi Braille ini ditujukan, saya menduga teks-teks yang muncul di sana turut diiringi oleh audio.
Dari keterangan Let's Go Digital, pengajuan paten ini dilakukan oleh Microsoft Technology Licensing ke World Intellectual Property Office (WIPO) pada bulan Oktober 2018 dan dipublikasikan pada tanggal 2 Mei kemarin. Dan mengingat ini hanya sekadar paten, belum diketahui apakah Microsoft  betul-betul akan mengangkatnya jadi produk konsumen.
Via GamesIndustry.
Are you sure to continue this transaction?
processing your transaction....