Ini Dia Xbox One X Edisi Spesial Nike Air Jordan
Desainnya terinspirasi dari sneaker Air Jordan III Retro U yang rencananya akan mulai tersedia di akhir minggu ini.
Microsoft menyediakan beberapa opsi home console current-gen untuk memenuhi kebutuhan gaming konsumen berbeda. Xbox One S merupakan update dari versi orisinal dengan desain yang lebih kecil plus dukungan HDR, One X ialah model paling high-end, sanggup menjalankan konten di resolusi UHD secara native, lalu ada pula edisi All-Digital buat kita yang merasa tak perlu lagi membeli permainan secara fisik.
Di antara pilihan-pilihan tersebut, Micrsoft sesekali juga menawarkan console versi terbatas khusus para kolektor. Anda mungkin sudah melihat Xbox One edisi Gears 5, Minecraft dan Fortnite. Sang produsen juga sempat berkolaborasi bersama DJ The Chainsmokers serta menciptakan Xbox edisi spesial untuk mengenang Paul Walker. Kali ini, Microsoft menggandeng perusahaan sepatu Nike dalam menciptakan Xbox One X bertema Air Jordan.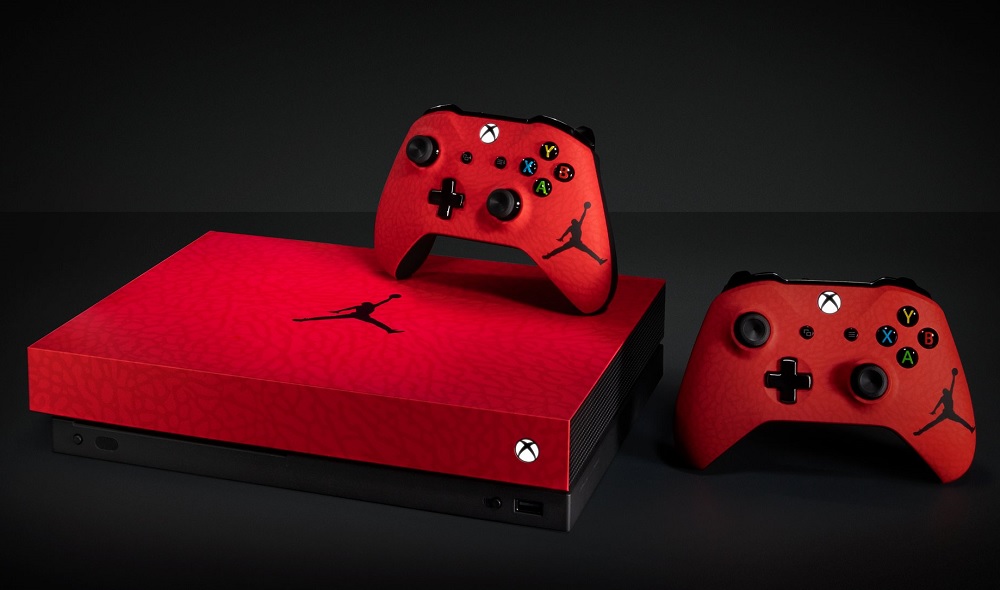 Desain perangkat terinspirasi dari penampakan sneaker Air Jordan III Retro U yang rencananya akan mulai tersedia di akhir minggu ini. Penyingkapan Xbox One X edisi Air Jordan dilakukan oleh Microsoft dan Nike bertepatan dengan dimulainya ajang NBA All-Star di kota Chicago. Tema Air Jordan diterapkan pada unit console serta controller wireless. Microsoft merancangnya dengan begitu apik, dan ada banyak detail menarik dibubuhkan di sana.
Xbox One X edisi Air Jordan memiliki tubuh dengan kombinasi warna merah dan hitam. Logo Jumpman hitam dibubuhkan di sisi atasnya, lalu jika Anda lihat lebih dekat, permukaan console juga dihias elephant print (pola ala tekstur kulit gajah) khas sepatu Jordan. Skema warna hitam-merah serupa serta logo Jumpman turut diterapkan di controller. Microsoft sama sekali tidak membahas spesifikasi, jadi kemungkinan kapasitas penyimpanan perangkat ini sama seperti versi standarnya.
Kolektor dan penggemar berat brand Nike mungkin rela membayar mahal demi memiliki Xbox One X Air Jordan, namun kabar buruknya, Microsoft tidak berencana buat menjualnya. Satu-satunya cara untuk memperolehnya adalah dengan mengikuti program undian via retweet. Microsoft juga tidak bilang seberapa banyak mereka memproduksi console edisi spesial tersebut, tapi kemungkinan besar jumlahnya sangat terbatas.
Program sweepstakes kerja sama Xbox dan Nike itu rencananya akan berlangsung sampai tanggal 27 Februari 2020. Sayangnya, tak semua orang berkesempatan buat memenangkan console unik tersebut. Program undian hanya bisa diikuti oleh gamer yang tinggal di 'kawasan Xbox Live'. Tujuh tahun setelah Xbox One meluncur global (dan saat semua orang sedang bersiap-siap menyambut kehadiran console next-gen), Indonesia masih belum juga memperoleh dukungan layanan Xbox Live secara penuh.
Berdasarkan video yang diunggah seorang pengguna Twitter, pemenang tidak cuma akan mendapatkan console dan dua buah controller edisi terbatas, namun juga sepasang sepatu Air Jordan III Retro SE Red Cement. Semuanya dikemas dalam boks unik berukuran raksasa.
February 13, 2020
Via The Verge.
Are you sure to continue this transaction?
processing your transaction....