Otomotif
INKAS Upgrade Mercedes-Benz G63 AMG Dengan Body 'Anti-Sniper' dan Interior Super-Mewah
INKAS membekalinya dengan sertifikasi balistik level B7: tubuhnya mampu menahan peluru 'armor piercing' kaliber 7,62x51mm.
Meski namanya kini sinonim dengan kendaraan mewah, Mercedes-Benz juga punya pengalaman sangat lama dalam meracik alat transportasi spesialis off-road. Di tahun 2012, perusahaan otomotif asal Stuttgart itu memperkenalkan versi anyar dari SUV mewah G-Class, dan G63 AMG merupakan salah satu primadonanya. Update difokuskan pada desain, mesin, serta interior.
Mercedes-Benz G63 AMG dilengkapi segala teknologi yang membuatnya mampu melahap apapun kondisi jalanan - aspal ataupun berbatu - sembari memastikan pengendara dan penumpangnya tetap merasa nyaman. Dan jika Anda menginginkan varian yang lebih canggih, aman serta jauh lebih menghibur, INKAS Group of Companies telah menyediakan 'armored limousine' yang dibangun berbasis G63 AMG.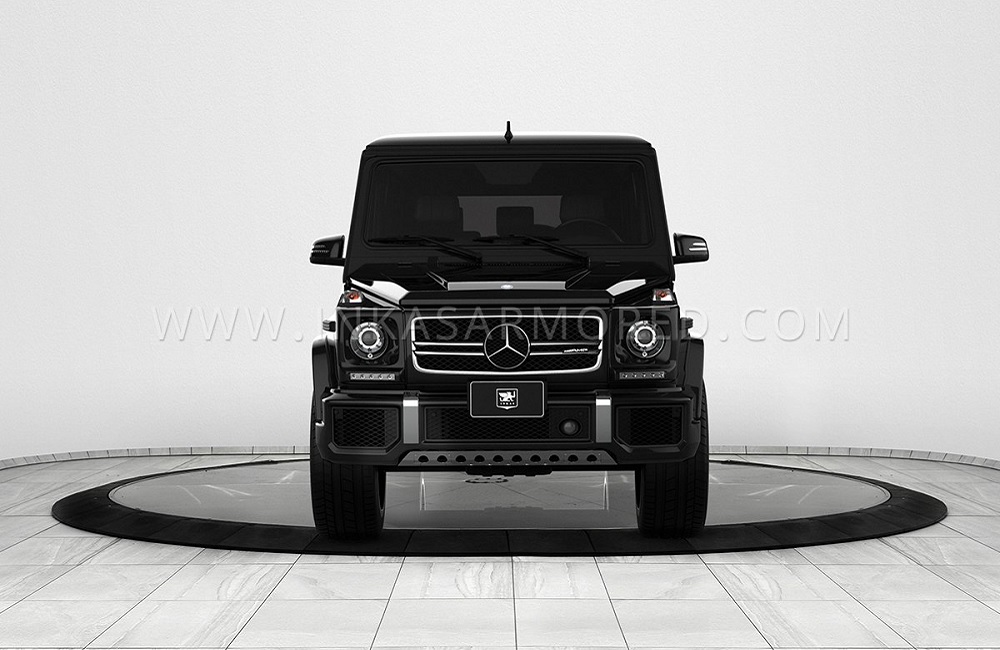 INKAS Mercedes-Benz G63 AMG boleh dikatakan sebagai alat transportasi sipil paling aman yang bisa Anda miliki sekarang. INKAS membekalinya dengan sertifikasi balistik level B7: tubuhnya mampu menahan peluru 'armor piercing', misalnya proyektil berkecepatan dari senapan penembak jitu berkaliber 7,62x51mm serta dapat menahan ledakan granat tangan. Proteksi tersebut diimplementasikan secara merata, mengamankan semua orang di dalamnya.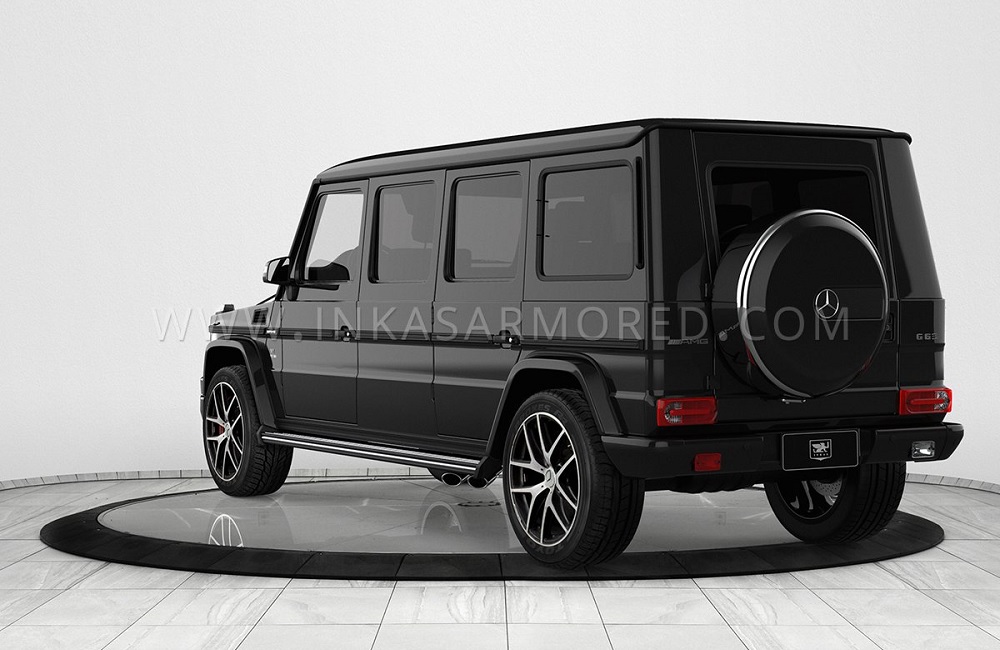 Proteksi turut diterapkan pada bagian lain di kendaraan, misalnya baterai, modul kontrol elektronik, suspensi, serta engsel pintu. Selanjutnya, INKAS mempersenjatai limo tersebut dengan kaca anti-peluru berlapis, dan Anda bisa membubuhkan fitur keselamatan tambahan, misalnya sistem lampu darurat, sirine atau intercom, ban anti-pecah, serta sistem pengereman 'heavy duty'.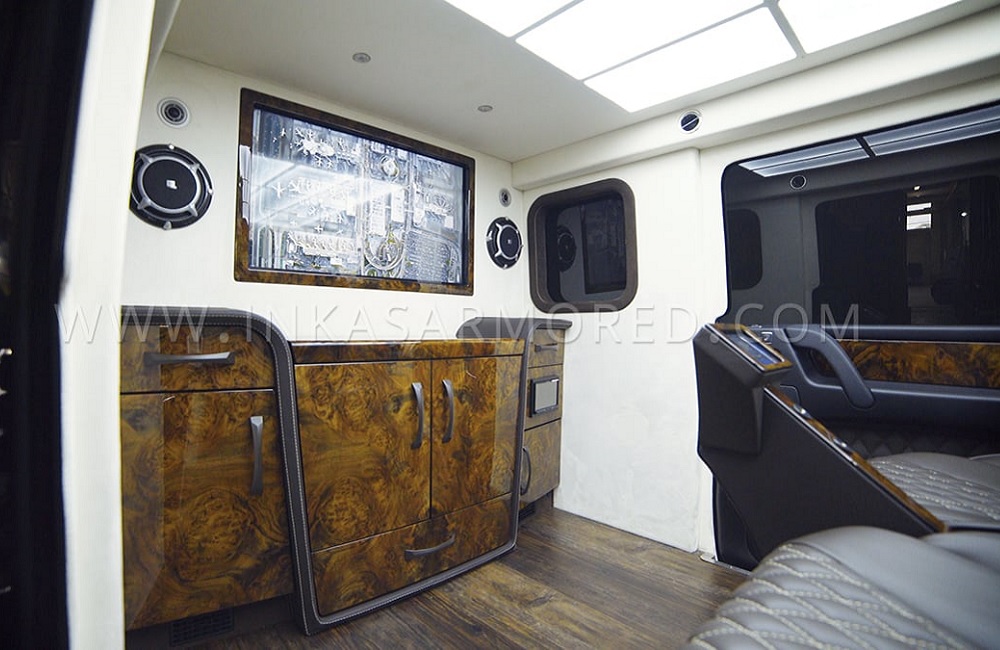 Menariknya, ketika Anda masuk ke dalamnya, INKAS Mercedes-Benz G63 AMG tidak terasa seperti kendaraan perang. Tim desainer INKAS sudah merombak bagian interiornya, mengganti sarung jok dengan bahan suede Alcantara premium, yang dijahit via metode khusus demi memastikannya awet serta indah dilihat. Kemudian INKAS menambahkan TV 4K Apple, sebuah monitor UHD lagi, serta mini-bar motorized plus kulkas built-in.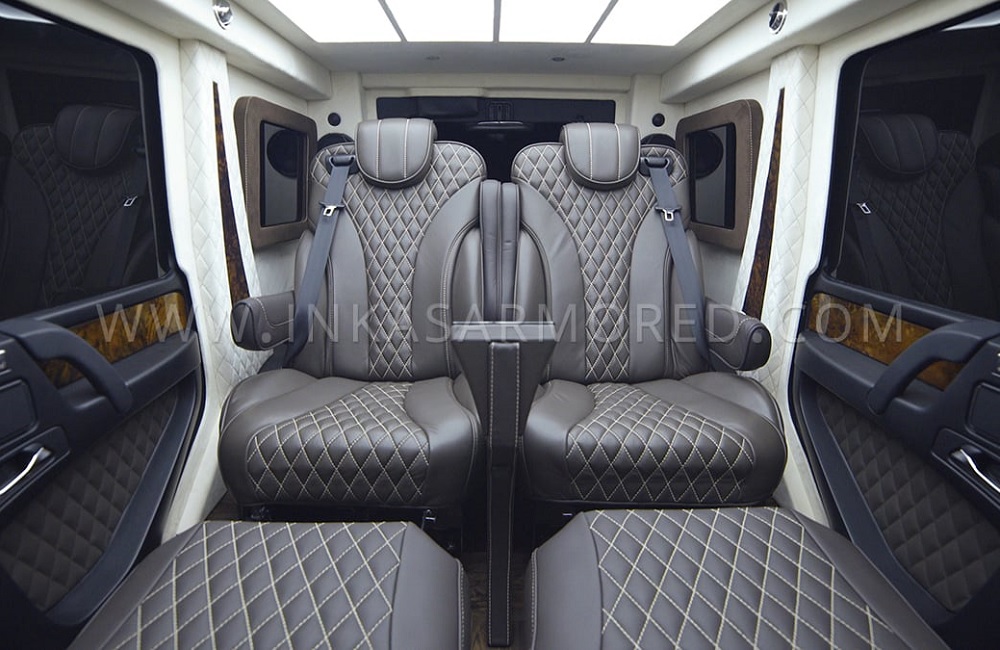 Kursi penumpangnya luas dan empuk, serta memiliki fungsi pijat. Lalu, Anda dapat mengakses sistem hiburan dan mengustomisasi setting interior melalui unit control center - dari mulai tingkat pencahayaan (ada opsi yang dibuat untuk menyerupai cahaya matahari), fitur keamanan, sampai audio. Mobil juga mempunyai kamera pengawas berbasis inframerah dan thermal. Hasil rekamannya dapat disimpan secara offilne atau diunggah ke cloud server.
INKAS Mercedes-Benz G63 AMG kabarnya sudah bisa Anda pesan sekarang. Jika tertarik, silakan isi formulir yang tersedia di website INKAS dan tunggu hingga mereka menghubungi Anda. Siapkan saja uang sebesar US$ 1,2 juta untuk versi paling standarnya.
Via Digital Trends.
Are you sure to continue this transaction?
processing your transaction....