Pengguna iPhone Sudah Bisa Baca Berita "Instant Articles" di Facebook
Bambang Winarso - 21 October 2015
Seperti yang sudah diprediksi, kemarin waktu setempat Facebook akhirnya resmi mengumumkan kehadiran Instant Articles ke dalam layanannya. Ini adalah sebuah fitur yang memungkinkan penerbit berita untuk membuat artikel dan menampilkannya di Facebook.
Untuk saat ini konten-konten yang dihadirkan baru bisa dinikmati oleh siapapun yang menggunakan aplikasi Facebook iPhone.
Di gelombang pertama ini, sejumlah media-media besar telah digandeng oleh Facebook, antara lain The New York Times, National Geographic, BuzzFeed, NBC and The Atlantic, The Guardian dan BBC News. Tak berhenti di situ, dalam hitungan minggu sederet media lainnya juga dipastikan bergabung ke pesta, seperti Billboard, Billy Penn, The Blaze, Bleacher Report, Breitbart, Brit + Co, Business Insider, Bustle, CBS News, CBS Sports, CNET, Complex, Country Living, Cracked, Daily Dot, E! News, Elite Daily, Entertainment Weekly, Gannett, Good Housekeeping, Fox Sports, Harper's Bazaar, Hollywood Life, Hollywood Reporter, IJ Review, Little Things, Mashable, dan banyak lagi lainnya.

Kehadiran Instant Article memberikan keuntungan yang berbeda untuk masing-masing pihak, mulai dari pengguna, penerbit hingga Facebook sendiri. Bagi pengguna, ini akan jadi alternatif sumber berita yang dapat diperoleh tanpa repot. Semua yang dibutuhkan ada di dalam satu aplikasi, dimana ribuan pilihan berita disajikan setiap harinya.
Dan bagi penerbit, Instant Article adalah peluang untuk meraih lebih banyak pembaca, penggemar baru dan menjadi media baru untuk memuaskan dahaga pemburu berita. Termasuk sumber pendapatan baru.
Info Menarik:Cegah Penyusup Kelas "Elite", Facebook Rilis Fitur Peringatan Dini
Pasalnya menurut Recode, Facebook juga menawarkan 100% pendapatan iklan dari Instant Article kepada para penerbit. Di samping toolanalytic yang akan memudahkan penerbit melakukan analisa performa berita yang mereka tayangkan.
Sementara bagi Facebook sendiri, walaupun CPO Chris Cox menampik tudingan bahwa Instant Articles merupakan akal-akalan Facebook untuk menjaga agar penggunanya tidak keluar. Tapi aroma skenario itu terlalu kuat untuk ditepis begitu saja. Kenyataannya, Instant Articles memang memberikan keuntungan itu, dimana Facebook akan punya alasan kuat menjaga penggunanya online lebih lama di dalam aplikasi.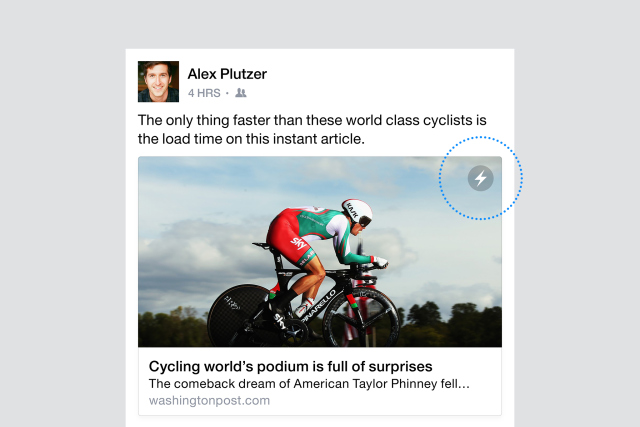 Kecepatan jadi salah satu kelebihan yang dijual, Facebook mengklaim saat tombol Instant Articles dipencet, konten akan termuat dengan kecepatan 10 kali lipat dari webmobile konvensional. Yap, itu bisa terlihat jelas dari nama yang digunakan.
Tapi lebih dari itu, Instant Articles menjanjikan pengalaman membaca yang bersahabat bagi pengguna mobile, dinamis, interaktif dan menyenangkan.
Facebook memastikan pengguna Android bisa mencicipi versi beta-nya minggu ini dengan versi finalnya dijadwalkan meluncur sebelum akhir tahun.
Sumber berita Facebook.