Salah satu aspek di Razer Phone yang mendapat kritik dari para reviewer adalah absennya port audio 3,5-milimeter tradisional. Arahan ini memang diterapkan di sejumlah perangkat flagship, tapi untuk smartphone 'gamer hardcore' yang menjanjikan audio 24-bit 'kelas audiophile', keputusan produsen tersebut memang terasa ganjil. Meski begitu, Razer punya solusi buat menambal kekurangan itu.
Minggu ini, perusahaan gaming gear pimpinan Min-Liang Tan itu memperkenalkan anggota baru lineup earphone Hammerhead (terdiri dari Hammerhead V2, Pro V2, dan Bluetooth). Varian anyarnya hampir serupa para pendahulu, namun ia telah dibekali connector USB 'reversible'. Walaupun berbeda dari segi konektivitas, Hammerhead USB-C menawarkan fitur andalan serupa: output bass membahana terlepas dari ukurannya yang mungil.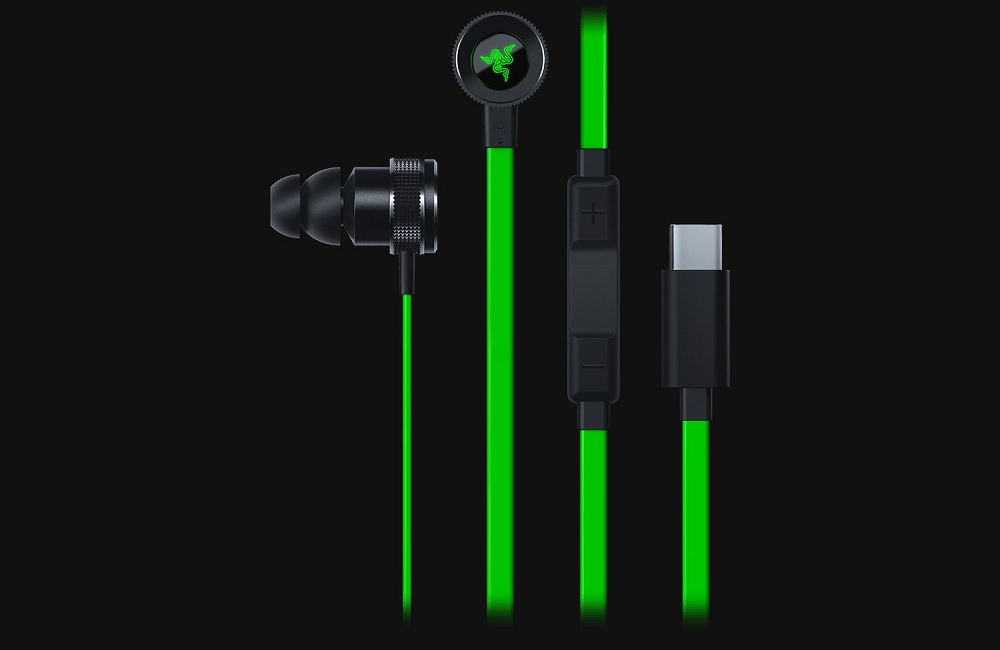 Desain housing Hammerhead USB-C tak jauh berbeda dari Hammerhead Pro V2. Earphone kembali mengusung penampilan bertema industrial, dengan area 'ring' bertekstur kasar, tubuh berwarna hitam, serta logo trio ular khas Razer di ujungnya. Body earphone ini terbuat dari bahan aluminium, memastikan beratnya tetap ringan tanpa mengorbankan aspek daya tahan. Dua bagian earpiece tersebut menyimpan magnet, sehingga bisa ditempelkan saat tidak digunakan.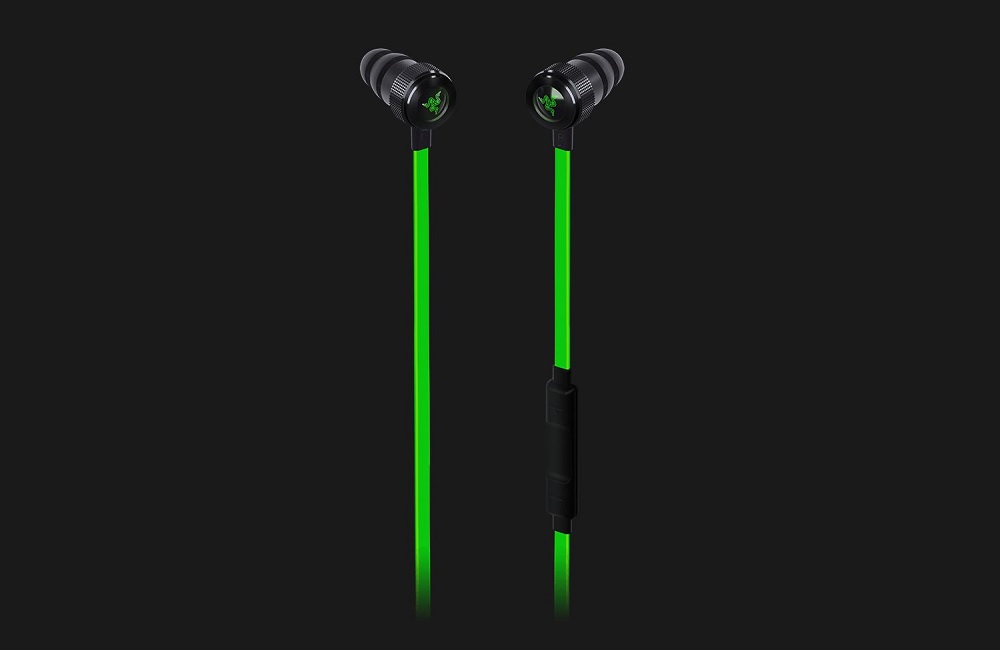 Seperti namanya, Hammerhead USB-C tersambung ke smartphone Anda lewat connector USB type-C, memanfaatkan kabel pipih tangle-free berwarna hijau sepanjang 1,3-meter. Produsen turut melengkapi kabel tersebut dengan modul pengendali, mempersilakan Anda mengatur volume, menerima atau menutup panggilan, mengubah lagu serta menggunakan fungsi fast forward/rewind tanpa perlu mengeluarkan smartphone.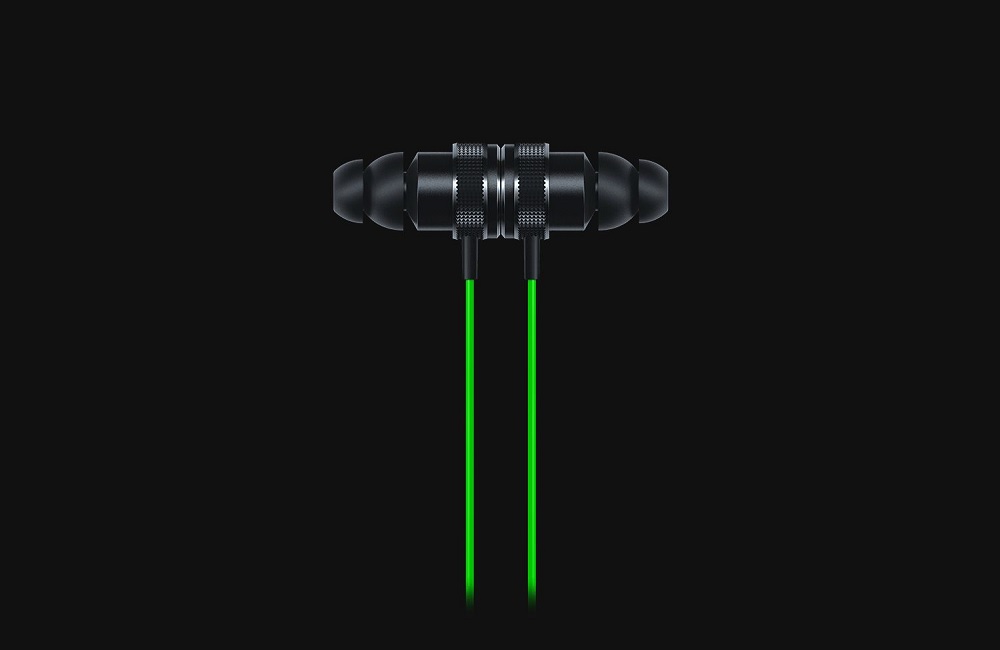 Untuk memproduksi suara, produsen mengandalkan driver 10-milimeter, memadunya dengan DAC converter custom serta ruang akustik khusus, demi menghasilkan audio yang jernih serta bass berkualitas tinggi bebas distorsi. Kabarnya, Hammerhead USB-C siap menghidangkan lagu jazz hingga death metal, serta tentu saja mendukung penuh kebutuhan gamer terhadap keakuratan sumber suara.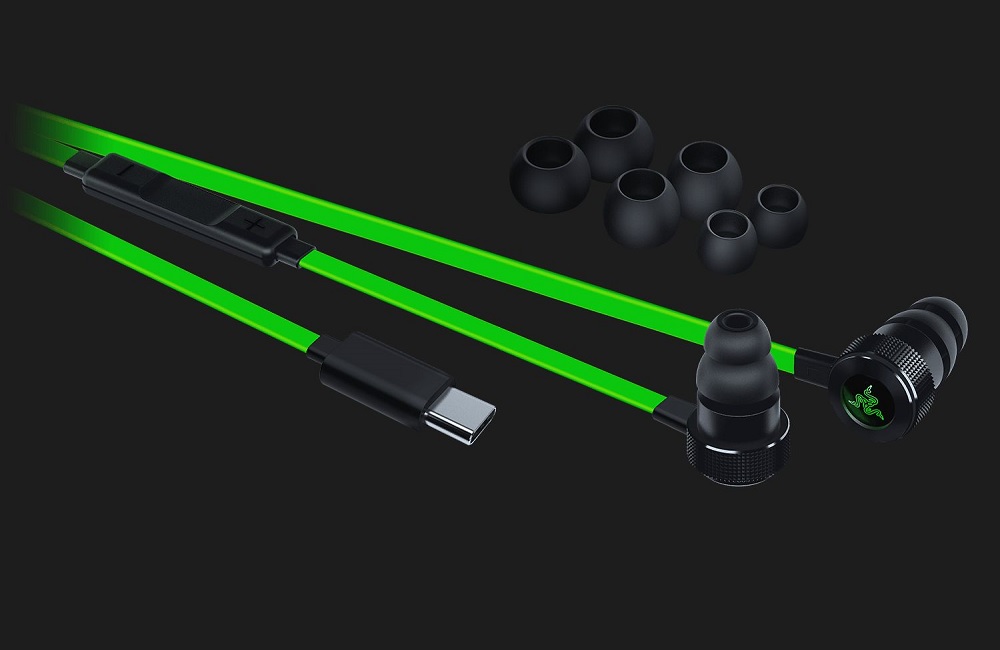 Berbicara lebih teknis, earphone ini sanggup menyajikan frekuensi dari 20Hz sampai 20kHz dengan sesitivitas 102 ± 3 dB di 1kHz. Kemudian earphone omnidirectional-nya dapat merespons frekuensi 100Hz hingga 10.000Hz. Razer tak lupa menyediakan tiga ukuran ear tip berbeda serta membundel paket penjualan bersama case khusus.
Razer Hammerhead USB-C sudah bisa dipesan di situs RazerZone. Di sana, produk dijajakan seharga US$ 80, sedikit lebih mahal model Hammerhead Pro V2 namun masih lebih murah dibanding varian Bluetooth-nya.
Via The Verge. Sumber: RazerZone.com.
Are you sure to continue this transaction?
processing your transaction....