Jam SensorWake Bangunkan Anda Dengan Aroma dan Wangi-Wangian
Yoga Wisesa - 16 June 2015
Banyak dari kita yang tiap pagi melakukan perjuangan berat: alarm menyala, menunjukkan waktunya siap-siap untuk berakivitas. Tapi anehnya kasur terasa begitu empuk dan nyaman, sehingga matapun sulit terbuka. Kita tergoda menekan tombol snooze, dan sadar waktu kian menipis setelah terlambat. Adakah sistem alarm inovatif buat membangunkan kita secara efektif?
Belum lama masuk di jurusan teknik University of Technology of Compiègne, Guillaume Rolland, seorang pemuda berumur 18 tahun asal Perancis mengajukan solusi pintar. Bukannya menggunakan suara buat membangunkan kita dari tidur, Rolland mengusung wangi-wangian sebagai mediumnya. Ia yakin, aroma jauh lebih ampuh. Lewat ide tersebut, diperkenalkanlah SensorWake di Kickstarter.
SensorWake diklaim sebagai jam alarm olfactory (indra penciuman) pertama di dunia. Chief Operations Officer Ivan Skybyk menjelaskan, "Device memberi sebuah kesan unik. Seperti di masa kanak-kanak, ketika Anda mengunjungi rumah orang tua, di mana ibu sedang memasak. Aroma sanggup menghidupkan kembali kenangan indah tersebut, sembari menyuguhkan rasa familier."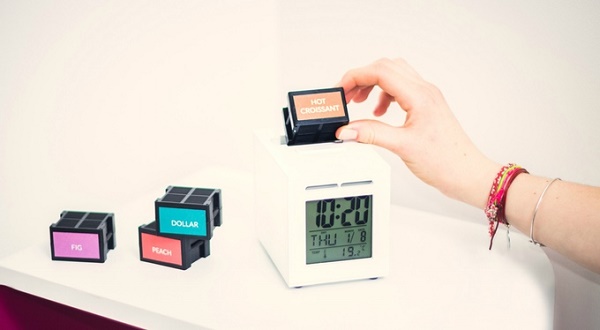 Tidak seperti suara, wangi-wangian bekerja secara progresif. Ia tidak mengagetkan, namun sangat efektif. SensorWake membuat Anda tersadar dengan pikiran jernih - bahagia serta menenangkan ialah beberapa poin visi dasar Rolland dalam meramu SensorWake. Developer percaya, elemen-elemen positif itu dapat ditemukan di beragam hal kecil semisal pagi yang indah hingga aroma menyenangkan. Mereka ingin menyajikannya tiap hari.
Info menarik: Botol Minum Ini Bisa Hindarkan Anda dari Dehidrasi
Cara kerja SensorWake sesederhana deskripsinya. Di waktu yang telah ditentukan, jam alarm tersebut akan mengeluarkan kombinasi dua wangi-wangian. Untuk sekarang tersedia pilihan Continental Breakfast (kopi espresso dan roti croissant), Candy Rush (permen stroberi dan peach), Enjoy the Break (bunga tiare serta daun-daunan segar), Invigorating Aromatherapy (coklat dan pohon teh), Vitalization Aromatherapy, (pepper mint serta jahe), American Breakfast (bacon dan jus jeruk), beserta VIP Lounge - eksklusif backer, berbau uang dan furnitor kayu ebony.
SensorWake sudah memperoleh bermacam-macam sertifikasi kesehatan dan dijamin tidak memicu alergi. Lewat sesi uji coba berisi 100 sukarelawan, perangkat ini berhasil membangunkan 99 orang kurang dari dua menit. Bagaimana dengan mereka yang hidungnya tersumbat karena flu? SensorWake tetap akan berbunyi jika Anda tidak merespons dalam tiga menit.
Anda dipersilakan memesan SensorWake via platform crowdfundingKickstarter, di sana ia dijajakan seharga mulai dari € 80 atau sekitar US$ 90. Pengiriman rencananya dilakukan bulan November 2015 untuk backer.