English
JD.id Confirmed as the New Unicorn
The rumor about funding from Gojek has been spreading since last year
The e-commerce platform JD.id confirmed to DailySocial that the company's valuation has exceeded US$ 1 billion. Therefore, JD.id has added to the list as Indonesia's 6th unicorn. Involved in this "elite" list are Gojek, Tokopedia, Traveloka, Bukalapak, and Ovo. Three startups listed are leading the e-commerce business vertical.
JD.id avoids elaborating further on the total funds obtained and the current valuation. They also did not confirm the rumor that Gojek has poured an investment to the company, which was widely rumored last year. According to our source, there are some parties involved in the latest funding.
Earlier last year, Gojek announced a joint venture with JD.id.
The e-commerce site, with the jargon "selling goods with authentic guarantees", came to Indonesia as a result of strategic cooperation between Chinese e-commerce giant JD.com and private equity Provident Capital. Provident itself is a Gojek investor and together with JD.com also built a JD joint venture in Thailand.
According to the SEA e-Conomy report, the e-commerce market share in Indonesia has reached US$ 21 billion in 2019 and is projected to grow rapidly to US$ 82 billion in 2025. It's no surprise the e-commerce giants continue to strengthen the business strategy.
The competitive landscape in the business vertical is very tight because JD.id is dealing with other unicorns such as Shopee, Tokopedia, Bukalapak, and Lazada.
In 2019, Tokopedia has reached Gross Merchandise Value (GMV) at 222 trillion Rupiah. While in the first half of 2019, Bukalapak announced GMV reaching 70 trillion Rupiah, while for the same period Shopee reached 20.1 trillion Rupiah GMV.
Meanwhile, observed from the statistic of the platform's visit in the Q3 2019, iPrice research showed the following result.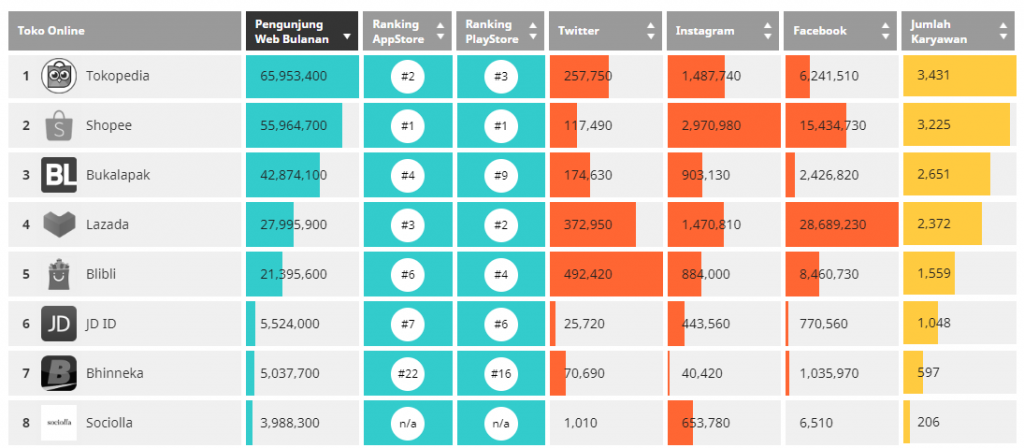 There are lots of approaches used by e-commerce players to win the market. With platforms like Bukalapak and Tokopedia intensified partnerships, JD.id always stated on several occasions its focus to strengthen logistics, particularly the same-day delivery feature.
–Original article is in Indonesian, translated by Kristin Siagian
Application Information Will Show Up Here
Are you sure to continue this transaction?
processing your transaction....