Jenius will Replace Face-to-Face Authentication with Video Call
It's on progress but haven't being submitted to OJK, recently launched Moneymoji feature
Yenny Yusra - 30 May 2018
Jenius, a financial digital product from BTPN, plans to remove the face-to-face process in account activation from the app and replace it with a video call. Peterjan van Nieuwenhuizen, Digital Banking Head of BTPN, said to DailySocial, they are now waiting for approval from the regulators, in this case, it's OJK (Financial Service Authority)
"Face-to-face way is still the main process in Jenius account activation, however, we are currently in progress and to form a submission. It is expected to be finished soon."
The face-to-face authentication has two options. It is to come directly to BTPN or make an appointment with KYC agent from Jenius. Later, once the submission is in, Jenius should be able to use the Video Call method that principally has been authorized in the digital banking industry.
Until the second quarter of 2018, Jenius is claimed to have more than half a million users registering. They still have plan to launch a new feature. It is expected to acquire the new and active users.
The launching of Moneymoji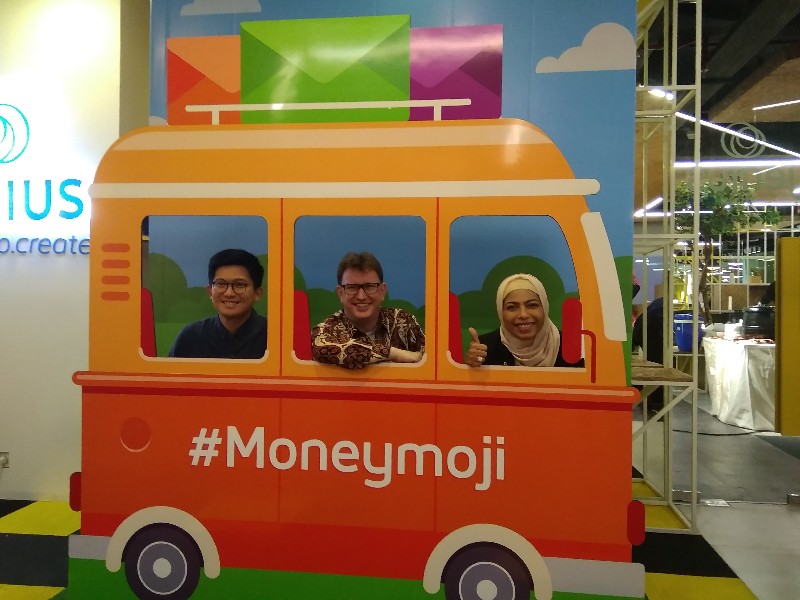 Aimed to change the way of giving Lebaran "bonus" in Indonesia, Jenius has launched Moneymoji feature. It is capable of transferring money to family, friends, and the closest circle, comes with Jenius signature animation, replacing the old ways of holiday greetings or transfer confirmation in writing form.
"Moneymoji is the revolution of a new way in sending gift money or 'angpao' without losing the personal touch," van Nieuwenhuizen, said.
Moneymoji Lebaran edition will be followed by many updates for other activity, such as birthday, new year, wedding, and so on.
"Therefore, Moneymoji will be further developed to complete the memorable moments with the special ones," he added.
Jenius Pay
Another feature launched by Jenius in late 2017 is Jenius Pay. It is for payment using $Cashtag of the Jenius account holder, currently has four partners, among those, are Dinomarket and Oktagon.
"We are still recruiting to raise the number of Jenius Pay selected partners, every process has to go through the tight security check," he said.
Jenius Pay is using $Cashtag as the payment identity. Through a couple step, Request and Pay, the transaction will be much easier and practical without having to input the debit/credit card information. The process is in real-time without a long wait.
"Everything is done in Jenius app. This feature should make it easier for shopping and payment from Jenius users," he finished.
– Original article is in Indonesian, translated by Kristin Siagian
Application Information Will Show Up Here