Jurnal.id Luncurkan Platform Cash Link
Untuk membantu UMKM membuat laporan keuangan menjadi lebih transparan, dalam waktu dekat akan ditambahkan sistem pajak
Yenny Yusra - 5 October 2017
Jurnal.id sebagai startup lokal yang menawarkan layanan perangkat lunak akuntansi berbasis komputasi awan, dalam waktu dekat berencana mengeluarkan fitur baru berupa perhitungan dan pembayaran pajak secara online. Kepada media CEO Jurnal.id Daniel Witono mengungkapkan rencana tersebut saat peluncuran fitur Cash Link di Jakarta (04/10).
"Saat ini kami sedang mempersiapkan pilihan tersebut kepada bisnis untuk memudahkan proses perhitungan dan pembayaran pajak. Timeline pastinya belum bisa kami tentukan namun kemungkinan besar adalah tahun depan."
Saat ini Jurnal.id mengklaim telah berhasil mencatat transaksi lebih dari $1 miliar bagi para penggunanya dan menghubungkan puluhan ribu pengguna yang tersebar di seluruh Indonesia dengan ratusan mitra akuntan profesional. Para mitra tersebut bertindak membantu dalam hal pembuatan invoice/faktur, pengecekan inventori, perpajakan, pembayaran hingga pembuatan laporan keuangan perusahaan secara real time di mana pun dan kapan pun.
Peluncuran platform Cash Link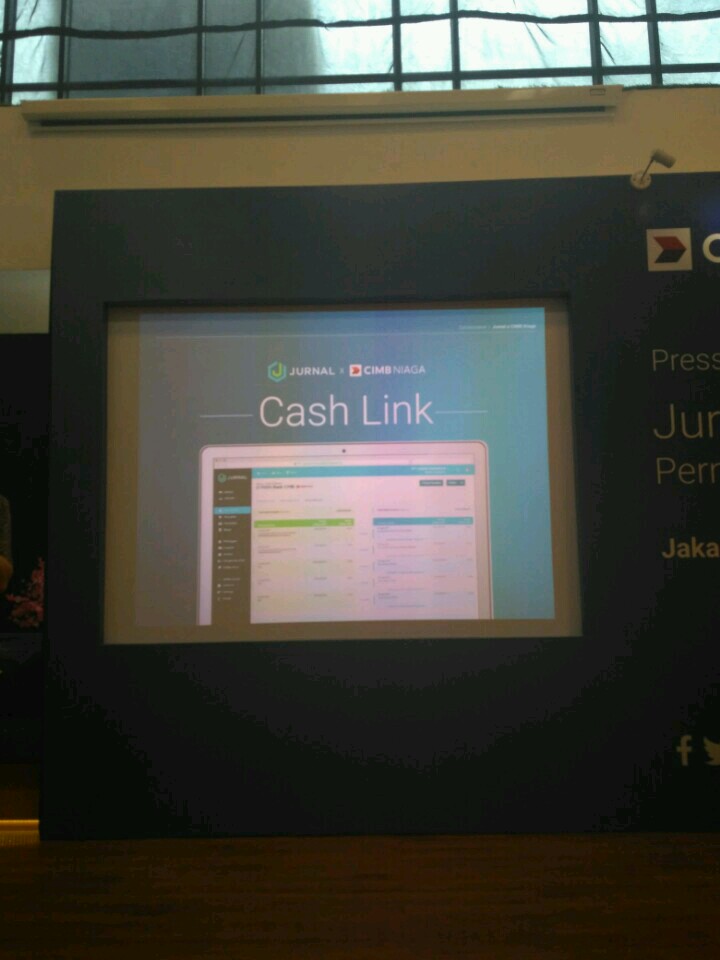 Dalam kesempatan tersebut turut hadir COO Jurnal.id Anthony Kosasih yang mengumumkan peluncuran platform Cash Link kepada pengguna Jurnal.id dari kalangan bisnis hingga individu, yang ingin memiliki laporan keuangan. Menggandeng Bank CIMB Niaga, semua pengguna Jurnal.id dan nasabah CIMB Niaga, bisa mendapatkan laporan keuangan secara otomatis dengan fitur Direct Feeds, yang merupakan produk dari Cash Link.
"Melalui platform Cash Link dari Jurnal.id, nantinya kalangan bisnis UMKM yang masih kesulitan untuk membuat laporan keuangan yang teratur dan transparan, bisa memanfaatkan fitur Direct Feeds ini di Jurnal.id," kata Anthony.
Pembukuan data transaksi dari rekening CIMB Niaga dapat langsung dilakukan oleh Jurnal.id secara berkala. Sistem integrasi ini mewajibkan nasabah CIMB Niaga untuk mengisi dokumen surat kuasa sebagai izin resmi agar Jurnal.id dapat mengakses bank feeds tersebut sesudah melewati proses pengaktifan dari pihak Jurnal.id dan CIMB Niaga.
Selanjutnya pengguna Jurnal.id yang memiliki rekening CIMB Niaga dapat menikmati kemudahan yang sudah diatur secara sistem untuk membukukan transaksi keuangannya yang tercatat di rekening koran ke dalam aplikasi Jurnal secara otomatis dan aman.
"Saat ini kerja sama untuk fitur terbaru ini secara eksklusif baru dilakukan dengan bank CIMB Niaga, namun ke depannya tidak menutup kemungkinan akan dilakukan pula kerja sama dengan bank-bank lainnya," kata Anthony.
Sementara itu menurut Deputy Chief of Transaction Banking CIMB Niaga Andrew Suhandinata, kerja sama ini merupakan tahap awal. Selanjutnya akan dikembangkan pula fitur-fitur menarik lainnya untuk nasabah bank CIMB Niaga dan pengguna Jurnal.id seperti bayar pajak online dan lainnya.
Platform Cash Link ini secara gratis bisa digunakan oleh pengguna Jurnal.id dan nasabah CIMB Niaga yang ingin memiliki laporan keuangan lengkap secara otomatis.
Application Information Will Show Up Here
Are you sure to continue this transaction?
processing your transaction....