Kabar Gembira, Versi Beta Star Wars: Battlefront Akan Dibuka Untuk Semua Orang
Yoga Wisesa - 18 September 2015
Sebuah berita di akhir minggu lalu membuat para penggemar shooter dan fans Star Wars bersemangat. Seorang user YouTube mengunggah rekaman tes versi alpha Star Wars: Battlefront, memperlihatkan aksi baku tembak di planet Hoth dalam mode multiplayer selama 10 menit. Sayangnya saat mengetahui hal tersebut, EA meminta video untuk segera dihapus.
Namun jangan cemas, segala kejutan di Battlefront akan segera terkuak. Sebelumnya kita tahu publisher Electronic Arts berniat untuk membuka periode beta pada awal bulan Oktober 2015. Pertanyaannya, apakah hanya segelintir orang saja yang bisa menikmatinya? Jika begitu, adakah kriteria buat berpartisipasi? Jawaban datang beberapa jam lalu. Lewat website miliknya, EA mengumumkan bahwa beta dapat dinikmati oleh semua orang.
Jika Anda melewatkan kabar terakhir, masa beta Battlefront akan menyajikan tiga mode permainan: Walker Assault on Hoth, yaitu pertempuran kolosal berisi 40 pemain; Survival Mission on Tatooine, di mana Anda bermain secara co-op bersama seorang kawan melawan gempuran pasukan Galactic Empire; dan Drop Zone on Sullust, adaptasi dari mode King of the Hill, memperebutkan drop pod dalam arena 8 versus 8.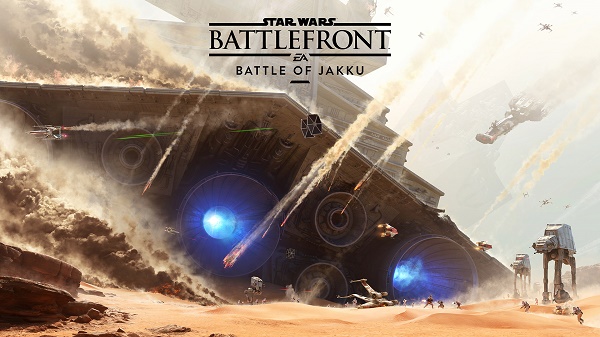 Community Manager Mathew Everett kembali lagi menegaskan info sebelum-sebelumnya. Beta akan mempresentasikan porsi lengkap dari Battlfront, termasuk 'elemen online dan offline'. Hal ini menarik. Penyuguhan offline di PlayStation 4 ataupun Xbox One tidak terlalu sulit berkat fitur split-screen. Tapi bagaimana buat di PC yang mengharuskan kita log-in via Origin? Apakah Star Wars: Battlefront bisa dimainkan di offline mode seperti game retail Origin lain?
Info menarik:EA Pamerkan Porsi Pertempuran Udara Epik di Star Wars: Battlefront
Di pageCommunity Update #4 tersebut, Everett turut menjawab beberapa pertanyaan dari komunitas. Ia mengkonfirmasi bahwa akan ada bot AI di pertandingan multiplayer. Kemudian menemani senjata utama Anda, pemain diberikan Star Card, kontennya dapat kita kustomisasi sendiri. Demi menjaga keseimbangan permainan, konfigurasi item tidak bisa diimplementasikan pada kendaraan, mereka sudah dilengkapi persenjataan 'asli' Star Wars.
Varian fisik Deluxe Edition cuma tersedia untuk PlayStation 4 dan Xbox One, di PC ia hadir secara digital. Perbedaan Deluxe Edition dan standard terletak pada terbukanya akses senjata Ion Grenade, Ion Torpedo, dan DL-44, serta emoticon eksklusif Ion Shock dan Victory.
Pre-order dapat dilakukan di EA.com. Edisi standard dibanderol US$ 70, dan Deluxe Edition diberi harga US$ 90. Saat artikel ini ditulis, pre-purchase versi Xbox One masih terkunci. EA juga belum mengungkap kapan tepatnya beta dimulai.