Kano Star Wars Coding Kit Ajak Anak-Anak Menjadi Jedi Lewat Perpaduan Motion Sensor dan Programming
Gunakan Force untuk mengendalikan Lightsaber, menghempaskan Stormtrooper, sampai menjadi pilot X-Wing
Star Wars merupakan tema yang sangat cocok untuk permainan STEAM (Science, Technology, Engineering, Arts, Math). Tidak percaya? Coba lihat salah satu produk terlaris LittleBits, yakni Droid Inventor Kit.
Bukan cuma LitteBits (Sphero) yang melihat potensi franchise sci-fi terbesar itu di industri STEAM toys. Januari lalu, Kano mengumumkan bahwa mereka telah menggandeng Disney untuk meluncurkan permainan STEAM bertema Star Wars, dan kerja sama tersebut pada akhirnya menghasilkan Star Wars The Force Coding Kit.
The Force? Ya, permainan ini pada dasarnya mengajak anak-anak untuk berlatih menjadi Jedi dengan memanfaatkan perpaduan motion sensor dan programming. Paket penjualannya mencakup papan sirkuit yang mengemas sejumlah sensor dan konektivitas Bluetooth, sebuah case untuk menyulapnya menjadi semacam beacon, dan dua label bergambarkan logo Rebel Alliance serta Galactic Empire.
Seperti biasa, semuanya harus dirakit sendiri terlebih dulu. Setelahnya, anak-anak bisa menyambungkannya ke iPad atau laptop, lalu membuka aplikasi pendampingnya. Dari situ sesi coding pun dimulai, memanfaatkan tampilan drag-and-drop yang mudah dipahami sekaligus dikuasai, selagi masih mengajarkan logika-logika dasarnya.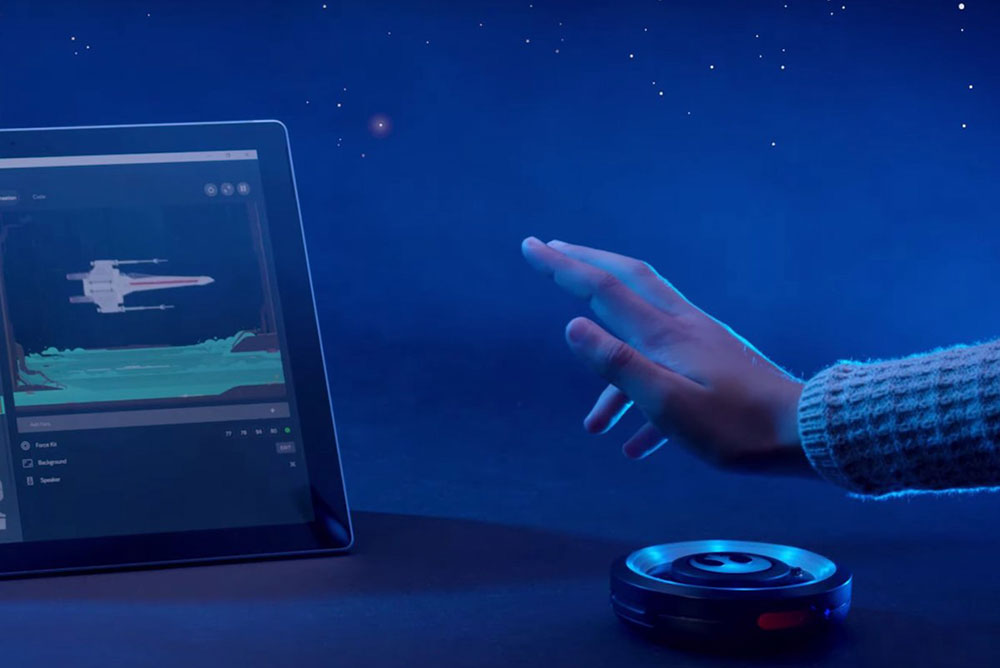 Pemrograman selesai, saatnya berlatih mengendalikan Force. Sensor gerakan yang tertanam bakal mendeteksi pergerakan tangan anak-anak di atas perangkat, lalu menerjemahkannya menjadi input kendali pada beragam mini game yang ada di aplikasi pendampingnya.
Mulai dari mengendalikan Lightsaber menggunakan Force, menghempaskan Stormtrooper, sampai menjadi pilot X-Wing, semuanya diwujudkan via gerakan tangan di atas perangkat yang dirakit itu tadi. Sebagai tambahan, ada indikator LED untuk memvisualisasikan sensornya yang tengah bekerja.
Kano Star Wars Coding Kit rencananya akan dipasarkan mulai 4 Oktober seharga $80. Pasca peluncurannya, Kano berniat untuk merilis sejumlah tantangan baru yang dapat diselesaikan di aplikasi pendampingnya, dan anak-anak juga dapat berbagi 'proyek' melalui platform Star Wars Kano World.
Are you sure to continue this transaction?
processing your transaction....