Agritech Startup Kedai Sayur Officialy Pivot, Currently Serves Supply Chain Delivery
Soon to be a permanent service with upgraded features
Marsya Nabila - 14 May 2020
The agritech startup Kedai Sayur announced a business pivot to an online supply chain delivery service since the pandemic began in March 2020. Previously, the company served B2B customers such as hotels, restaurants and cafes, and vegetable vendors in need of a supply chain.
Kedai Sayur's CEO, Adrian Hernanto said the food product market has begun to change since the Covid-19 outbreak in early March. Supply demands from hotels, restaurants and cafes dropped by 50%. Whereas the growth of this business was previously more than 20% per month.
Meanwhile, at the same time, demands from vegetable vendors and household customers have significantly increased. It is the reason the company is confident in making business pivot decisions.
On the other hand, operational restrictions on wholesale and local markets disrupt the distribution chain of fresh food products in Indonesia. The situation has affected not only consumers who cannot shop to the market, but farmers also lose the medium to distribute their crops.
"The unexpected pandemic really forced Kedai Sayur as a startup to be able to innovate and take initiatives quickly to continue to carry out its vision and mission to be a solution for the community," he told DailySocial, Wednesday (5/13).
As further explanation, the business model uses a variety of fleets to reach consumers. One of them, using the services of a vegetable handyman who registered as Kedai Sayur users.
Consumers who want to order vegetables can go through Kedai Sayur app and put on the Partner code. The order will be delivered to the Partner and will be distributed by him. Partners will also receive additional income in the form of commissions and payment of shipping charges from consumers.
"This business model will become permanent, of course, with more upcoming upgrades. For example working with last-mile delivery service, therefore, we can continue to improve our service level. "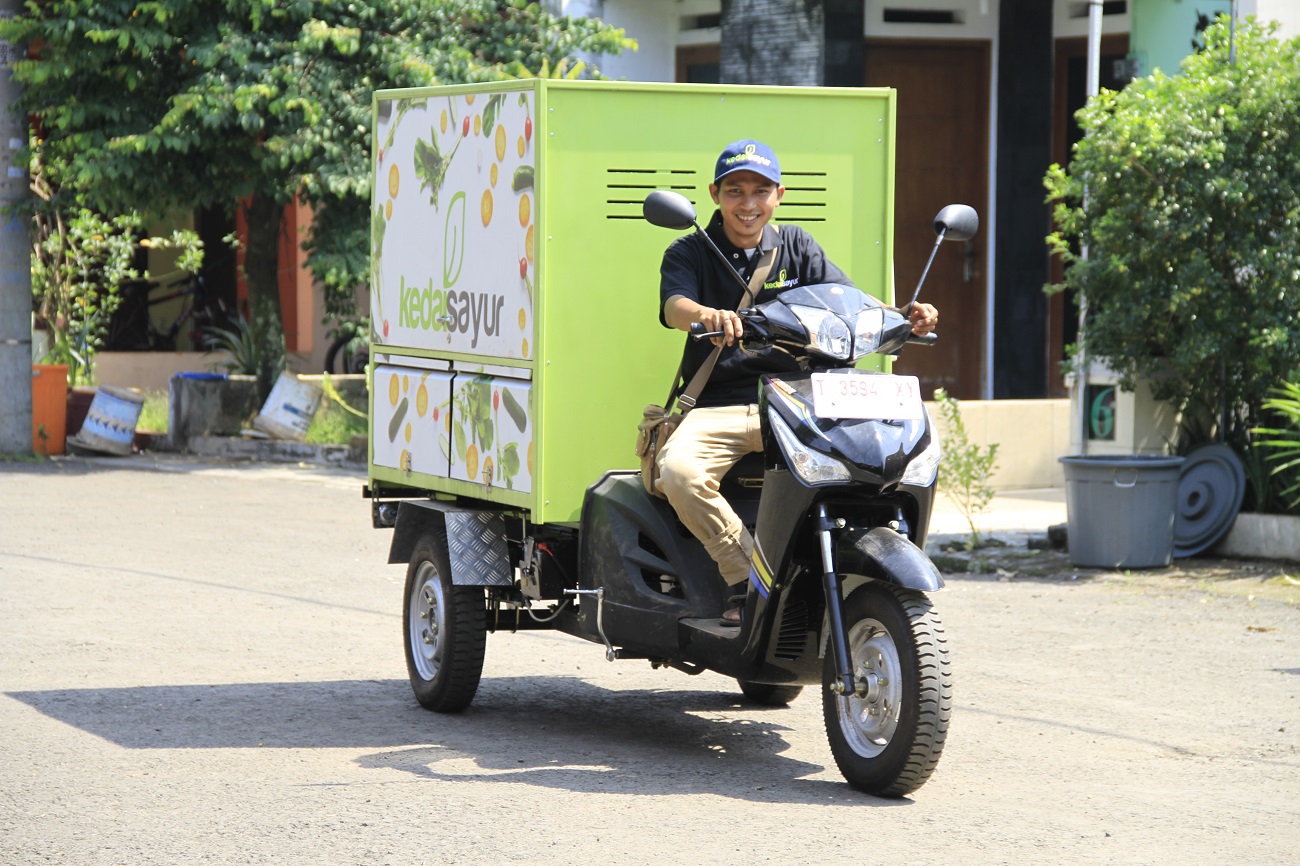 Apart from the application, reservations can also be made through Tokopedia and Blibli.
The company also made an initiative to help farmers distribute their crops to customers, in collaboration with the Ministry of Agriculture. Farmers can sell their crops assisted by the government using digital platforms such as Kedai Sayur.
"Now with supply chain expertise and digital platform technology, Kedai Sayur contributes to both sides of the distribution patterns affected by the Corona virus," he concluded.
However, Adrian was reluctant to mention any achievements after the pivot.
Kedai Sayur is one of East Ventures portfolios. Since it was founded two years ago, the company has received two funding rounds with total of $5.3 million. From the latest data, the company has partnered with more than 5 thousand partners in Jadetabek.
Supply Chain business dynamic
As Kedai Sayur chooses to pivot, it is quite successful to extend the company's runaway because of the pandemic. Thanks to the change in B2C business focus, the Kedai Sayur application has additional functions. Previously, the application used only by Vegetable Partners and B2B consumers who wanted to stock up on food ingredients to sell.
Another startup with aligning business models, such as Stoqo, was forced to close down due to failure to adapt to the conditions. It is a platform that focuses on providing basic food needs, from meat, vegetables, flour, coffee, and others, but only for B2B consumers.
Before the pandemic, this business model was certainly very sophisticated considering a large pie in the culinary field. What Kedai Sayur did is actually applicable by Stoqo.
Wahyoo's Founder and CEO Peter Shearer revealed some strategies to maintain a high demand. Wahyoo, on the other hand, tries to help stalls to sell on digital platforms such as GoFood. At the same time, the implementation of large-scale social restrictions (PSBB) in many regions has shifted shopping patterns in the platform.
"The positive effect is that the PSBB situation and Covid-19 has forced food stall owners to adapt faster into digital," he added.
–
Original article is in Indonesian, translated by Kristin Siagian
Thank you for Reading DailySocial.id
Starting at less than Rp 5.000/Day. You get unlimited access to DailySocial.id