Menggabungkan dua (atau tiga jika menyertakan The World Ends with You) franchise hiburan paling populer di Bumi memang merupakan cara jitu buat merangkul fans. Hal inilah yang dilakukan Tetsuya Nomura melalui Kingdom Hearts. Tai Yasue selaku co-director sendiri punya mimpi untuk membawa serta dunia Toy Story dalam permainan action-RPG milik Disney dan Square Enix itu.
Keinginan tersebut ternyata akan jadi kenyataan. Dalam acara D23 Expo 2017 minggu lalu, Disney dan Square Enix mengumumkan bahwa jagat film animasi 3D buatan Pixar itu juga akan hadir dalam Kingdom Hearts III. Penasaran seperti apa? Simak trailer gameplay-nya dulu di bawah ini.
Kehadiran dunia Toy Story di Kingdom Hearts III merupakan hasil kolaborasi antara Square Enix dengan Pixar. Seperti yang ditunjukkan video gameplay berdurasi lima menit lebih di atas, Sora, Donald dan Goofy setuju membantu Woody, Buzz Lightyear, Hamm dan Rex demi menemukan Andy. Narasinya berbeda dari film, namun Anda akan dibawa berpetualang di lokasi-lokasi familer seperti kamar milik Andy serta pekarangan rumahnya. Tentu saja ada tempat-tempat orisinal, satu contohnya alah toko mainan Galaxy Toys.
Dunia Toy Story juga efektif dalam memberikan warna berbeda bagi Kingdom Hearts III. Porsi tersebut dirancang agar tampil dengan visual semi-realistis, cukup berbeda dari art direction permainan. Agar serasi, Square Enix memutuskan memberikan Sora, Doland dan Goofy penampilan ala action figure.
Tak hanya Toy Story, Kingdom Hearts III juga akan membawa Sora dan kawan-kawan ke dunia yang terinspirasi dari film Hercules (Gunung Olympus), Tangled (Kerajaan Corona) dan Big Hero 6 (San Fransokyo).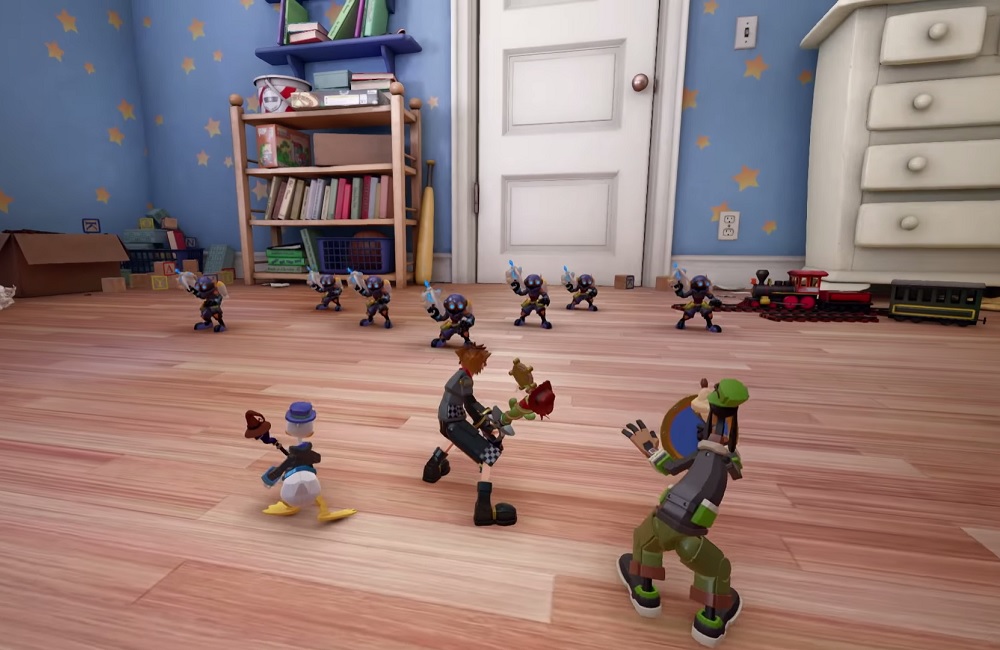 Membahas jalan cerita, Tetsuya Nomura dahulu sempat menjelaskan pada LA Times bahwa Kingdom Hearts III akan menutup narasi 'Dark Seeker Saga', yang fokus pada pertempuran antara Sora dengan Zehanort. Setelah kisah ini beres, timnya berniat untuk menggarap jalan cerita baru. Buat kalangan non-fans, narasi Kingdom Hearts III memang membingungkan karena angka pada judul tidak sesuai dengan urutan kronologis permainan.
Agar lebih mengerti, Anda sangat disarankan untuk memainkan Kingdom Hearts HD 2.8 Final Chapter Prologue (tersedia di PlayStation 4) sebelum memulai Kingdom Hearts III.
Kabar gembiranya, Anda masih punya banyak waktu buat mengejar ketinggalan. Kingdom Hearts III rencananya baru akan dilepas tahun depan, tersedia untuk Xbox One dan PlayStation 4.
Via Kotaku.
DailySocial.id adalah portal berita startup dan inovasi teknologi. Kamu bisa menjadi member komunitas startup dan inovasi DailySocial.id, mengunduh laporan riset dan statistik seputar teknologi secara cuma-cuma, dan mengikuti berita startup Indonesia dan gadget terbaru.