Minggu lalu saya mendapatkan kesempatan mengikuti ajang MiSK Global Forum yang diselenggarakan di Riyadh, Saudi Arabia. Dari Indonesia ada 15 anggota delegasi yang berpartisipasi, melalui GEPI (Global Entrepreneurship Program Indonesia) sebagai mitra, terdiri dari penggiat startup teknologi dan kewirausahaan sosial (social entrepreneurship). Satu di antaranya, CEO Hijup Diajeng Lestari, didaulat menjadi salah satu pembicara dalam sebuah diskusi panel tentang kewirausahaan perempuan dengan mendorong nilai-nilai budaya dan fashion.
Saudi, yang selama ini kita kenal sebagai negara kaya karena melimpahnya hasil migas, mencoba memberikan atmosfer yang berbeda di acara ini. Gejolak harga minyak, instabilitas politik di kawasan Timur Tengah, dan perubahan peta politik global membuat anak-anak muda di sana tak lagi bisa terus-menerus bergantung pada fasilitas yang selama ini mereka peroleh.
Pangeran Mohammad bin Salman, Deputi Putra Mahkota, yang juga kini menjabat sebagai Menteri Pertahanan, melalui Yayasan MiSK mencoba memperkenalkan sisi kewirausahaan yang mungkin masih terdengar asing untuk kaum muda di kawasan itu.
Menghadirkan sejumlah pembicara dunia yang inspiratif, termasuk penerima Nobel Perdamaian dan Pendiri Grameen Bank Muhammad Yunus, Executive Chairman Cisco Systems John Chambers, Co-Founder Pixar Alvy Ray Smith, dan Co-Founder dan CEO Udacity Sebastian Thrun, ajang seperti ini diharapkan membuka mata soal perkembangan bisnis global dewasa ini, baik yang berbentuk kewirausahaan sosial maupun yang berbasis teknologi.
Pemberdayaan perempuan juga menjadi tema penting yang coba diangkat. Di Saudi, stigma bahwa perempuan "tidak boleh" melakukan ini dan itu (di luar konteks urusan rumah tangga) seakan-akan lekat di benak para pengamat. MiSK Global Forum mencoba menghadirkan sejumlah pengusaha perempuan yang berhasil mendobrak stigma ini melalui bisnis, edukasi, dan gerakan yang dihimpun.
Mempromosikan busana muslim sebagai bisnis global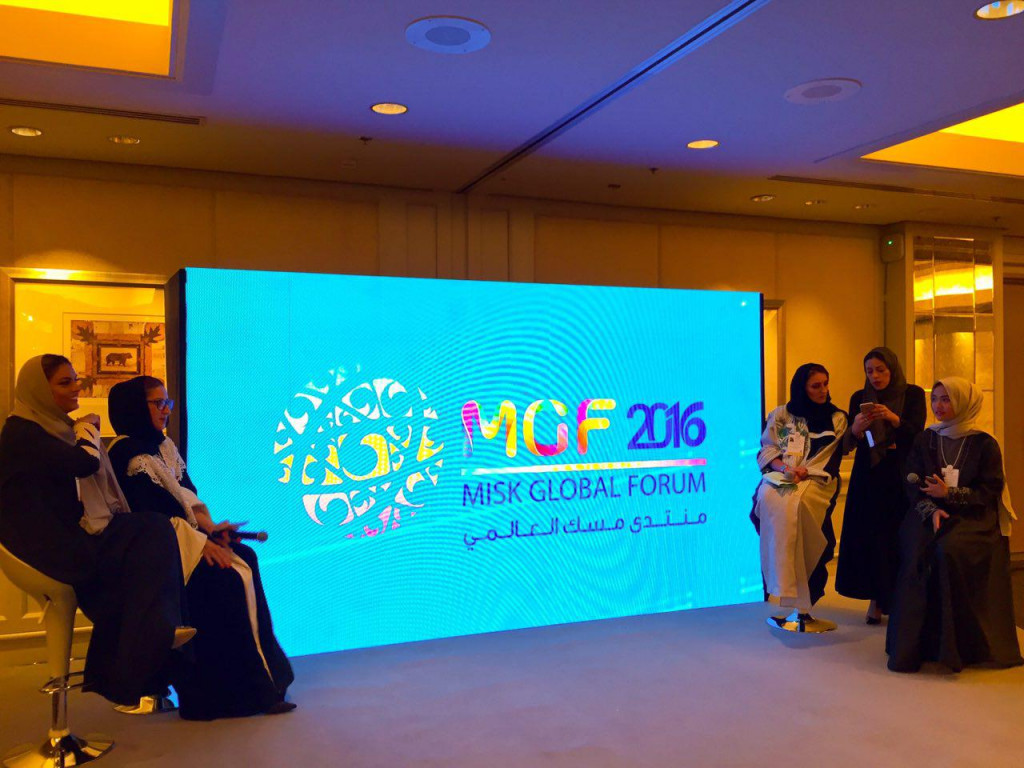 Salah satu sesi pemberdayaan perempuan melibatkan Diajeng sebagai pembicara. Dalam diskusi panel bertajuk "Playing at the Heart of a Nation: From Cultural Heritage to a Brand Value, Diajeng bersanding bersama dua desainer fashion Timur Tengah, yaitu Lubna Al Zakwani dan Arwa Alammari.
Sebagai seorang pengusaha marketplace online yang sudah mendapatkan investasi dari 2 investor Silicon Valley, Diajeng menekankan pentingnya standar untuk setiap produk yang dijualnya. Jika ingin memasuki pasar internasional, ada sejumlah standar yang harus dipenuhi. Untuk bisnis fashion misalnya, ada aturan soal bahan dan ukuran. Karakter dan DNA juga menjadi hal yang perlu diperhatikan.
E-commerce, lanjutnya, membantu seorang desainer atau pengusaha meraih konsumen secara global tanpa limitasi jarak dan waktu. Kaum Muslim, sebagai konsumen segmen ini, berjumlah 1,7 miliar di seluruh dunia dan tidak hanya tinggal di negara-negara mayoritas Muslim.
Menurut data yang dimiliki Diajeng, pasar fashion Islam bernilai $230 miliar dan justru para pemainnya adalah pemain fashion besar yang tidak berbasis di negara Islam, misalnya Uniqlo dan H&M. Diajeng tidak ingin negara Muslim hanya menjadi pasar dan ingin mengembangkan bisnis yang bisa mempekerjakan banyak orang.
DailySocial.id adalah portal berita startup dan inovasi teknologi. Kamu bisa menjadi member komunitas startup dan inovasi DailySocial.id, mengunduh laporan riset dan statistik seputar teknologi secara cuma-cuma, dan mengikuti berita startup Indonesia dan gadget terbaru.