KitaBisa Shuts Down Saling Jaga Crowdinsurance Platform Due to Permission Issue
Previously, Saling Jaga had been registered with the OJK regulatory sandbox, however, did not seem to get a positive feedback from a regulatory perspective
After decided to continue with the registered donors, Saling Jaga crowdinsurance service by Kitabisa is now officially shutdown. Previously, the Investment Alert Task Force (SWI) asked Kitabisa to stop operating the platform as it was yet to obtain license from OJK.
DailySocial tried to confirm on this closure, but the team directed us to the official website which contains information on the closure and the next process for the donors involved.
"The statement said, "Saling Jaga is a mutual cooperation innovation product initiated by KitaBIsa Foundation. The Foundation and its programs, including Saling Jaga, are intended as a donation-based social program under the Money and Goods Collection Law (PUB). Ministry of Social Affairs. However, as an innovation product, we understand and respect the decision of the Financial Services Authority to re-evaluate the form of Saling Jaga licensing. Therefore, after considering various issues, and respecting the OJK's direction in May 2021, it is with a heavy heart that we decide Saling Jaga to stop the operation. See you in another good will innovation program."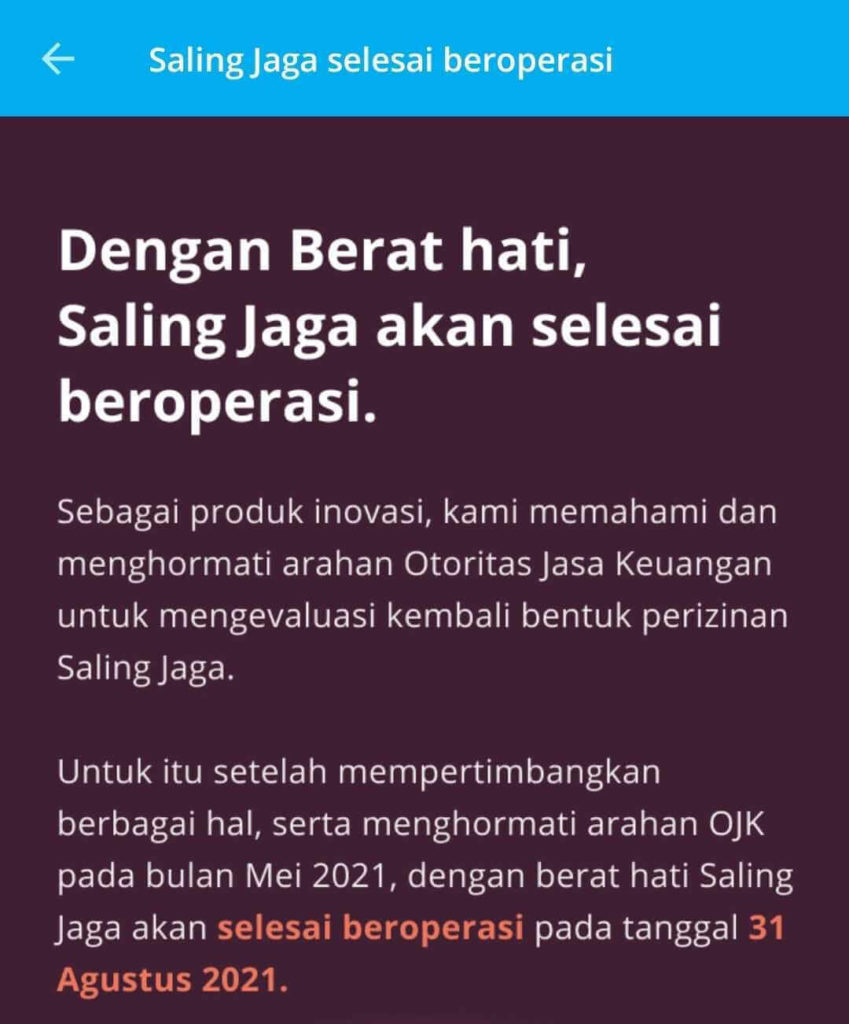 The website also mentioned the return process for donors to send back the fund to their respective account. This application process will be opened from July 16 to July 31, 2021 and will be distributed on August 16 to 30, 2021. The balance distributed is the remaining balance as of August 16, 2021 (the current balance).
Permission issue
In a previous interview, Kitabisa's Co-Founder & CEO, Alfatih Timur, revealed to DailySocial that Saling Jaga product has been registered with the OJK regulatory sandbox and currently waiting for further direction from the authorities. This service alone has been introduced to the public since April 2021.
"Kitabisa as a donation crowdfunding platform will still be held under the Money and Goods Raising Permit (PUB) of the Ministry of Social Affairs of the Republic of Indonesia," Alfatih said.
DS Premium Content
Become a DailySocial.id Subscription, you can get unlimited access to discover the best minds of innovation and to perceive the finest tech journalism products in Indonesia. Learn more
Single Article

Anytime access. But, only this article.

Starting at

Rp 3k - 7k /Article

Subscription

Unlimited access premium article.

Starting at

Rp 150k - 1,033k
Login or create account to access premium content
Are you sure to continue this transaction?
processing your transaction....