Kleora Snapped Seed Funding and Released Android App
Michael Erlangga - 27 May 2015
Kleora, an online marketplace developer and online shop aggregator for female products has just launched an Android app. To fund the development, Kleora raised a seed funding from Rebright Partners and an undisclosed angel investor. Previously, the startup once sealed an investment from the government of Chile for its achievement in establishing Chile.  
Ever since being launched in private beta version by the end of 2014, Kleora keeps on establishing itself as a social e-commerce in Indonesia by always attempting on building an online platform which combines the concepts of e-commerce and social media.
While launching its latest app, Kleora also loose the seven-percent-commission concept. The startup will also be more selective in selecting the merchant and products to be displayed on its platform as well as focus on the use of Instagram to present the products.
One of Kleora's main features is KleoraSync. This feature enables merchants to integrate their online stores in social media using their Kleora account. This is expected to be the facility that eases users in managing all their online stores at once. It also simplifies the management of bank account used within the transaction.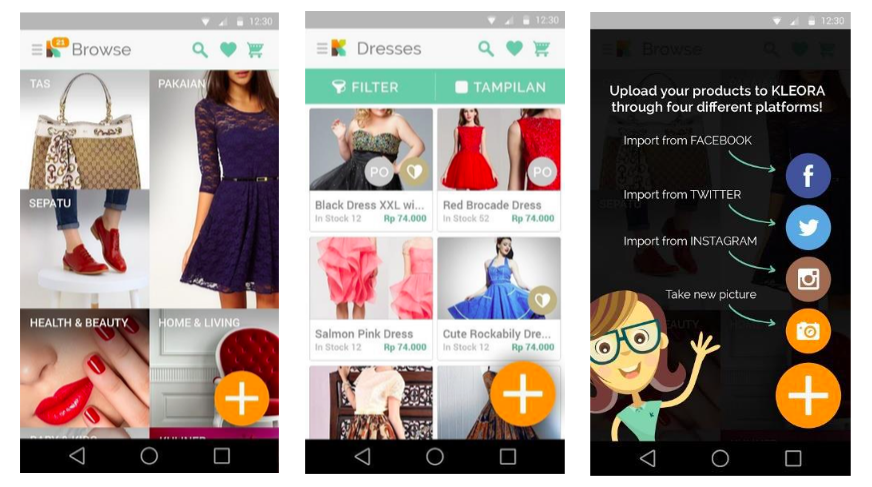 Being founded by a woman and focusing on female products, Kleora is regarded to adapt well enough with the market and consumers' needs. Fransiska Hadiwidjana, Kleora's Founder commented about the current landscape of e-commerce in Indonesian market by saying:
"The trend of e-commerce keeps on moving. Started off by Kaskus' fame (Forum Jual Beli/FJB), and followed by Facebook, BlackBerry Messenger, and Instagram. Unlike the trend of C2C of male products which seems to be comfortable enough with Kaskus, female market seems to be more explorative in trying new platforms. This becomes Kleora's guidance in determining the vision, related to the core-platform used in its online business."