Konsep Kabin Ini Kedepankan Keamanan dan Kenyamanan untuk Buah Hati Anda
Glenn Kaonang - 6 July 2015
Akhir bulan April kemarin, kita sempat melihat betapa mewah dan nyamannya konsep kabin besutan Volvo yang dinamai Lounge Console. Gagasannya cukup simpel, yakni memangkas jok depan di samping pengemudi guna memberikan ruang yang lebih luas serta fungsionalitas yang lebih lengkap untuk penumpang di belakang.
Kini, tim desain Volvo kembali menerapkan gagasan serupa, namun dengan target yang berbeda, yakni anak kecil. Berawal dari percakapan salah satu petinggi tim desainnya dengan seorang pemilik mobil Volvo, lahirlah Excellence Child Safety Seat Concept.
Di sini bisa kita lihat bahwa jok depan di samping pengemudi lagi-lagi dikorbankan. Namun ketimbang menanamkan bantalan kaki dengan kemampuan ala Transformers, area tersebut kini dihuni oleh jok mobil khusus anak yang tidak kalah canggih.
Info menarik: Beginilah Jadinya Kalau Mercedes-Benz Menggarap Kabin Pesawat Pribadi
Selain dimaju-mundurkan dan dimiringkan posisinya, jok ini bisa diputar berlawanan dengan arah jarum jam. Gunanya, saat Anda hendak naik ke mobil, Anda bisa memutar jok tersebut hingga menghadap ke pintu, lalu tempatkan buah hati Anda di situ dengan mudah. Selanjutnya, giliran Anda yang naik ke kabin tengah, lalu putar jok anak tersebut hingga menghadap Anda.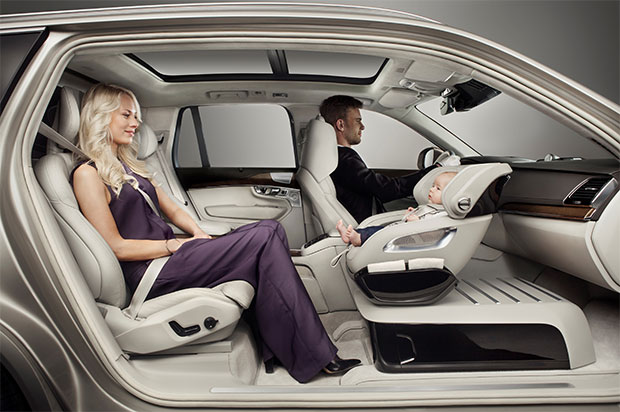 Tidak hanya menjamin agar kontak mata antara anak dan orang tua terus terjaga, konsep ini tentu saja juga menghadirkan ruang penyimpanan yang lega di bagian samping dan bawah jok untuk menampung semua perlengkapan penting yang dibutuhkan, seperti misalnya diaper, botol susu, tisu basah, dan lain sebagainya.
Tentunya tidak semua orang memerlukan inovasi semacam ini, tapi buat konsumen yang baru saja mendapat buah hati baru, Volvo Excellence Child Safety Seat Concept tentu terdengar menarik. Lebih lanjut, Tisha Johnson selaku Chief Designer Interiors dari Volvo Cars Concept and Monitoring Centre, percaya bahwa layout kabin alternatif semacam ini akan bertambah penting selagi kita beralih ke mobil kemudi otomatis ke depannya.
Sumber: Volvo.
Are you sure to continue this transaction?
processing your transaction....