Konsumen Indonesia Sudah Bisa Pre-Order Intel Compute Stick
Ketika pertama kali diperkenalkan, khalayak langsung membayangkan potensi besar dalam pemakaian Intel Compute Stick. PC seukuran flash drive ini merupakan generasi selanjutnya dari konsep mini PC. Ia bisa menyulap TV atau monitor ber-port HDMI mejadi komputer sejati. Compute Stick sudah dirilis di luar negeri, tapi kapan ia tesedia di Indonesia?
Kabar gembira bagi Anda yang sedang menanti kehadiran Intel Compute Stick. Pada hari ini, setidaknya dua online store terkemuka di Indonesia telah membuka gerbang pemesanan PC thin client berukuran mungil tersebut. Pemesanan dapat Anda lakukan di situs Erafone dan BliBli. Menariknya, kedua store itu menjajakan Compute Stick di harga sama dengan promo diskon hampir serupa.
Dalam kolom informasi 'syarat dan ketentuan', Erafone menjelaskan masa pre-order akan berakhir tanggal 23 Agustus 2015 nanti. Namun BliBli menginformasikan, 23 Agustus itu adalah waktu selesainya promo (tidak mengindikasikan pre-order dihentikan). Meski demikian, mereka turut mengingatkan bahwa persedian Compute Stick cukup terbatas. Seandainya memesan sekarang, Anda berhak memperoleh potongan harga hingga sebesar Rp 300 ribu.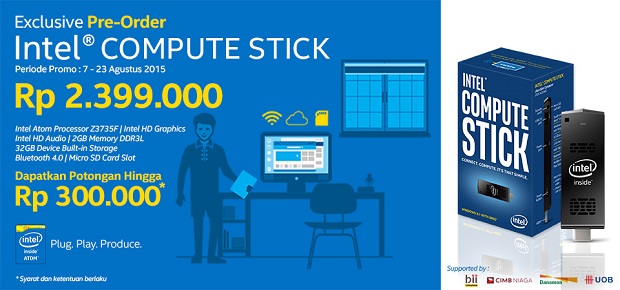 Ada dua tipe varian yang ditawarkan. Pertama ialah tipe standard, dan kedua adalah bundel dengan keyboard. Apapun pilihannya, spesifikasi tetaplah sama. Compute Stick dipersenjatai system-on-chip Intel Atom Z3735F dengan teknologi Intel Virtualization, chip olah grafis Intel HD Graphics, RAM sebesar 2GB, flash storage eMMC 32GB, dibantu konektivitas Wi-Fi, USB 2.0, Bluetooth 4.0 dan port MicroSD. Mini PC tersebut berjalan di platform Microsoft Windows 8.1.
Info menarik: Intel Compute Stick Resmi Hadir di Indonesia
Rincian program potongan harga sendiri sedikit berbeda dan berlaku jika Anda menggunakan kartu kredit bank tertentu (Erafone: BII, CIMB, Danamon, dan UOB; BliBli: BCA, Danamon, HSBC, Standard Chartered dan UOB). Untuk Erafone, ada tambahan diskon Rp 100.000, tapi harus dengan cicilan enam atau 12 bulan buat satu unit. Baik BliBli maupun Erafone rencananya akan mengirim unit Intel Compute Stick ke tangan Anda pada hari Rabu tanggal 26 Agustus 2015.
Di kedua situs online shopping tersebut, Intel Compute Stick dibanderol seharga mulai dari Rp 2,1 juta, dengan harga normal Rp 2,4 juta. Ia juga bisa diperoleh dari 10 outlet Erafone: Megastore Bintaro X-change, Megastore Istana Bandung Electronic Center, Megastore Mal Metropolitan, Megastore Mal of Indonesia, Megastore Mal Taman Anggrek, Megastore Supermall Karawaci, Megastore Margo City Depok, Erafone Puri Indah, Erafone 1 Mal Ambasador, dan Eraplus Summarecon Mal Serpong.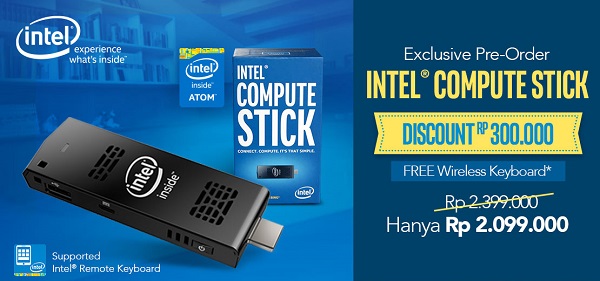 Header: Intel.com.
Are you sure to continue this transaction?
processing your transaction....