Gadget
Kurang Dari Setahun, Penjualan Nintendo Switch Sukses Melampaui Pencapaian 'Seumur Hidup' Wii U
Switch punya peluang untuk menyusul GameCube.
Wii U menawarkan sejumlah kemampuan yang lebih menarik dari console generasi kedelapan lain. Ia dibundel bersama controller GamePad, dibekali fitur backward compatibility, harganya terjangkau, dan tidak bergantung pada fungsi online. Sayang saat meluncur, Wii U tidak ditunjang oleh judul-judul yang kuat, membuat adopsi di kalangan konsumen berjalan lamban.
Manuver Wii U turut dihambat oleh beberapa faktor. Dukungan developer third-party bukanlah elemen terkuat console ini, dan mundurnya EA serta Bethesda merupakan pukulan telak bagi Wii U. Akhirnya, Nintendo menghentikan produksi console di bulan Januari 2017. Tak ingin hal serupa terjadi pada produk anyar mereka, Nintendo tak hanya mengusung konsep desain unik, tapi juga memanfaatkan arahan berbeda dalam menyediakan kontennya.
Keunikan Switch bisa kita lihat dari berbagai aspek di console. Ia boleh dibilang sebagai buah dari pengalaman Nintendo menggarap home console dan handheld, memungkinkannya dinikmati oleh kedua jenis konsumen yang berbeda. Lalu di sisi software, dari awal perusahaan hiburan asal Jepang itu dengan antusias menggandeng publisher-publisher third-party, dan tak ragu lagi untuk mengadopsi versi port sejumlah franchise blockbuster ternama.
Melalui infografis di situs resminya, Nintendo mengungkap angka penjualan seluruh console dan sistem handheld yang pernah mereka rilis beserta game-nya hingga tanggal 31 Desember 2017. Dari sana, terungkaplah fakta bahwa penjualan Switch dalam periode kurang dari setahun mampu melampaui penjualan Wii U semasa hidupnya. Totalnya cukup signifikan: 14,86 juta unit Switch versus 13,56 juta Wii U.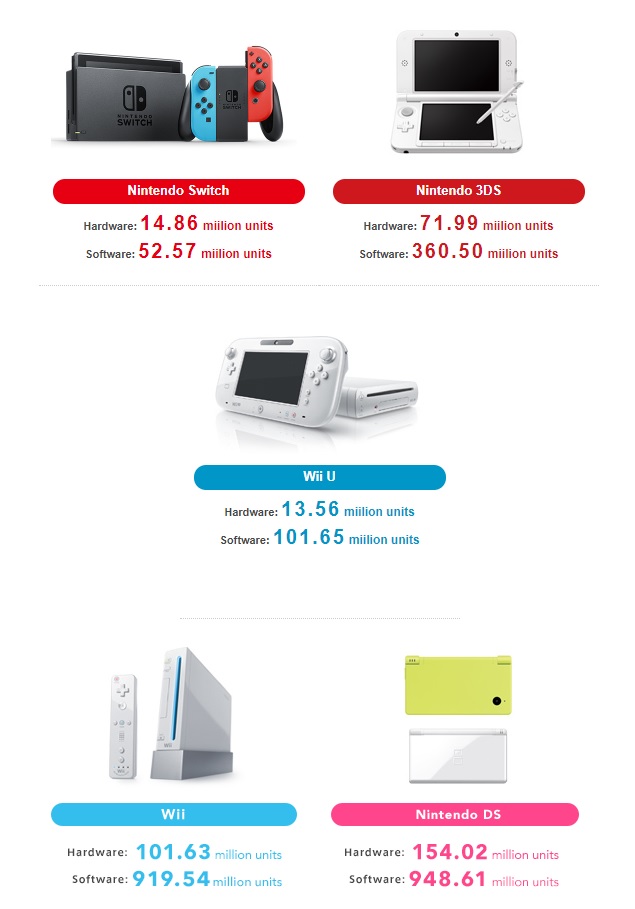 Mengulik Switch lebih jauh, Nintendo berhasil memasarkan 52,57 juta kopi video game di platform ini. Produsen sebelumnya sudah mengonfirmasi bahwa Super Mario Odyssey merupakan permainan terlaris di sana, terjual sebanyak 9 juta kopi, disusul oleh Mario Kart 8 Deluxe dengan angka 7,3 juta dan Splatoon 2 di 4,9 juta unit - per akhir Desember 2017.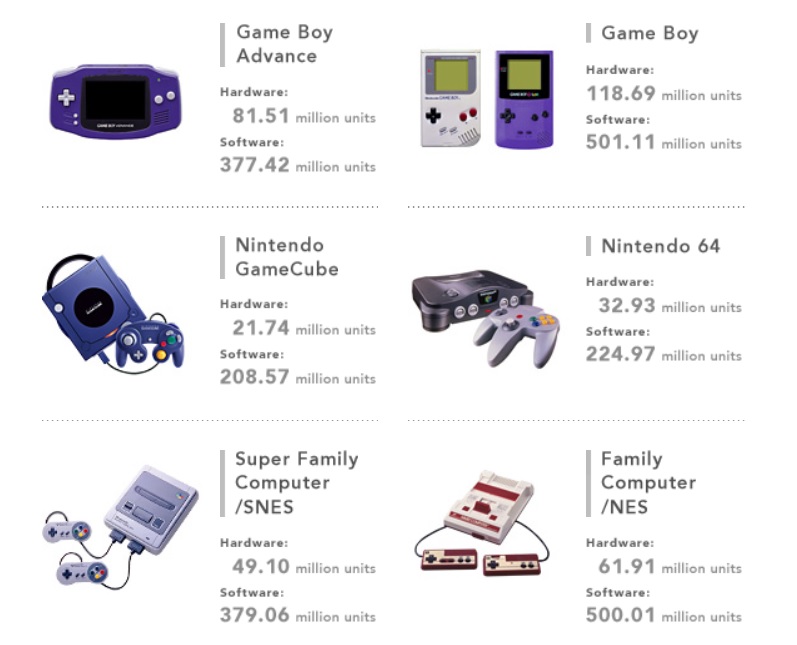 Momentum kenaikan penjualan ini memberikan Switch peluang untuk menyusul GameCube atau bahkan Nintendo 64. Namun masih sulit buat menebak apakah console hybrid Nintendo itu bisa menyentuh pencapaian Wii. Tanpa menyertakan sistem handheld, Wii adalah home console Nintendo paling laris sepanjang masa. Di platform itu, perusahaan berhasil menjual hampir satu miliar kopi game.
Di awal 2018 ini, Switch akan segera kedatangan versi remaster Dark Souls dan dua permainan Bayonetta. Tentu saja untuk bisa mengungguli kompetitor, Nintendo tak bisa hanya sekadar mengandalkan game-game remaster third-party, tapi juga harus memunculkan judul eksklusif fenomenal sekelas Super Mario Odyssey dan The Legend of Zelda: Breath of the Wild.
Are you sure to continue this transaction?
processing your transaction....