Kurusetra, Game Perang Ala Clash of Clans Asli Indonesia
Adam Ardisasmita - 26 June 2015
Game Clash of Clans, semenjak diluncurkan pada pertengahan 2012 hingga kini, terus merajai top grossing game baik itu di Google Play maupun di Apple App Store. Tidak sedikit juga game yang mencoba mengambil segmen yang sama dengan Clash of Clans dan juga mendulang keberhasilan yang besar seperti game Empire, Samurai Siege, atau Star Wars: Commander.
Dan kini, game developer dari Indonesia tidak mau kalah untuk menghadirkan game yang terinspirasi dari Clash of Clans namun syarat akan konten lokal yakni game Kurusetra karya Qajoo Studi dan dengan kualitas yang tidak kalah dengan game sejenis.
Yang menarik dari Kurusetra adalah game ini penuh dengan konten lokal yang mengambil set kisah Mahabarata, terutama kisah peperangan Baratayuda. Karakter-karater yang ada di dalamnya terinspirasi dari tokoh-tokoh pewayangan seperti Hanoman, Arjuna, dan lain sebagainya.
Penamaan gedung, item, dan objek-objek di dalam game itu sendiri banyak yang terdengar familiar di telinga orang Indonesia. Hal ini tentu menjadi sebuah daya tarik tersendiri bagi gamers di Indonesia dan juga bisa menjadi gerbang untuk memperkenalkan Indonesia ke dunia.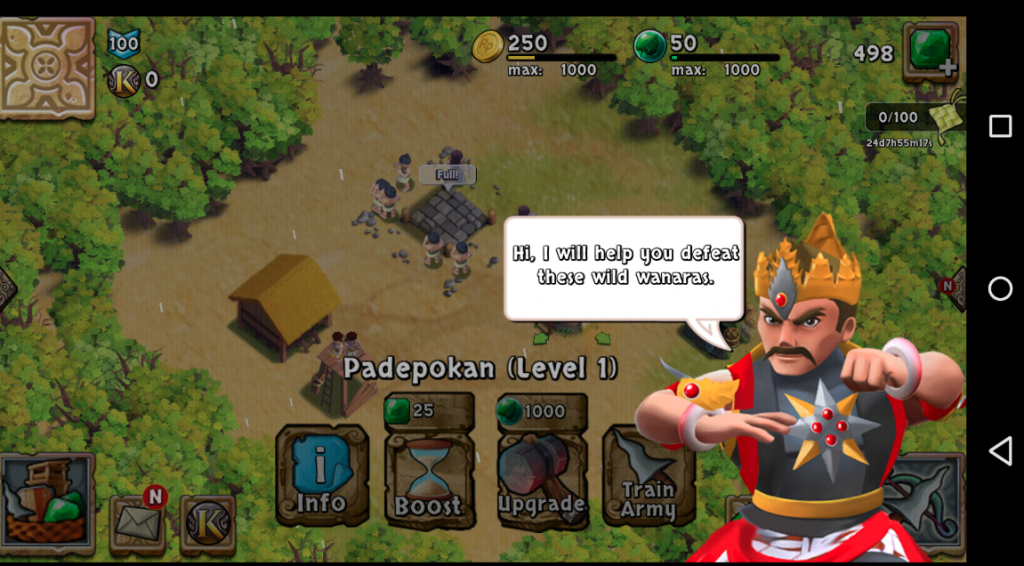 Layaknya game tipe Clash of Clans lainnya, mekanik permainan ini kurang lebih sama. Kita harus membangun desa untuk mengumpulkan resources dan membangun pasukan untuk menyerang desa lawan. Tak hanya itu, kita juga harus membuat sistem pertahanan yang baik di desa kita agar tidak hancur jika diserang musuh.
Info menarik: Volocopter, 'Drone' Versi Besar yang Bisa Anda Kendarai Sendiri
Gameplay ini secara umum mengambil mekanik dari Clash of Clans. Lalu juga di dalam game ini kita bisa memiliki tokoh utama yang memiliki jurus khusus untuk membantu pasukan kita saat sedang menyerang desa lawan.
Lalu untuk menyambut bulan Ramadhan, Qajoo Studio menambahkan event khusus Ramadhan yakni Ketupat Mission. Pemain yang beruntung akan diberikan ketupat secara random jika telah menghancurkan bangunan di desa yang di serang.
Nanti dari ketupat tersebut bisa ditukarkan berbagai macam item virtual di dalam game seperti toya, bow, gada, zamrud, dan lain-lain dengan batas pengumpulang dan penukaran hadiah dari 17 Juni sampai 18 Juli 2015.
Game yang syarat konten lokal dan mengambil mekanik yang tidak mudah untuk ditiru ini merupakan satu langkah baik bagi industri game di Indonesia.
Meski sudah cukup baik, memang visual dan animasi dari game Kurusetra ini masih harus mengejar kualitas game-game mirip Clash of Clans lainnya, setidaknya yang disebutkan di atas. Performa game ini juga bisa dibilang belum optimal mengingat masih ada bug yang cukup mengurangi pengalaman bermain, beberapa perbaikan sudah di-update tangal 25 Juni kemarin. Namun ini adalah langkah awal yang sangat baik. Dengan update yang terus menerus, Kurusetra bisa terus berkembang menjadi sebuah game yang mampu bersaing di pasar global.
Untuk itu, bagi Anda yang menikmati permainan ala Clash of Clans, game Kurusetra sangat perlu untuk Anda coba mainkan. Game ini sudah tersedia di Google Play dan Apple App Store secara cuma-cuma.