Land's End Adalah Game VR dari Pencipta Monument Valley
Glenn Kaonang - 23 September 2015
Ustwo, developer di balik kesuksesan gameMonument Valley mengungkapkan ketertarikannya untuk mengembangkan gamevirtual reality (VR). Well, bukan sekedar tertarik, mereka justru sudah bekerja keras sejak bulan Oktober tahun kemarin guna menciptakan game VR berjudul Land's End.
Game ini bukan sekedar Monument Valley versi VR. Ustwo sendiri mengaku itulah yang coba mereka lakukan pada awalnya: menempatkan kamera VR ke dalam Monument Valley. Namun karena ruang 3D yang terdapat dalam VR benar-benar berbeda, cara tersebut tidak berhasil. Ilusi visual yang umum kita jumpai di Monument Valley jadi 'rusak' karena kita bisa mengontrol ke arah mana mata kita memandang.
Untuk itu, mereka memerlukan pendekatan yang berbeda. Peter Pashley, Technical Director Ustwo, menganalogikan bahwa menggarap Monument Valley itu ibarat melukis, sedangkan menggarap Land's End ibarat memahat. Kalau di Monument Valley developer yang memegang kontrol atas apa saja yang bisa Anda lihat, di Land's End justru Anda dibebaskan untuk mengeksplorasi dunia 3D-nya.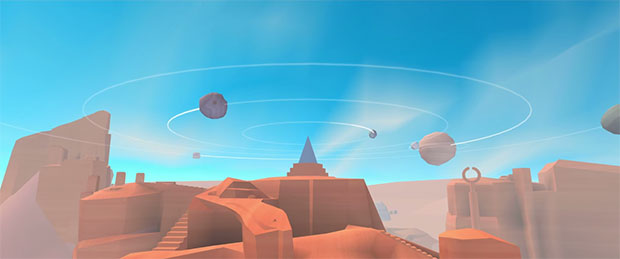 Dari segi visual, Land's End banyak mempertahankan gaya minimalis yang membuat Monument Valley begitu dicintai. Di saat yang sama, Land's End juga mengusung elemen-elemen misterius di dunianya; tidak mengejutkan karena gameplay-nya juga berupa puzzle seperti Monument Valley.
Info menarik: Cuma 5 Persen Pemain Monument Valley Android Yang Benar-Benar Membayar?
Selain grafik, Monument Valley juga terkenal akan kontrolnya yang begitu intuitif dan mudah dipahami secara kilat. Demikian pula Land's End, dimana pemain tidak memerlukan controller terpisah sama sekali. Untuk berpindah ke suatu titik, pemain hanya perlu mengarahkan pandangannya ke titik tersebut selama beberapa detik.
Untuk membuka sebuah pintu yang penuh teka-teki, pemain tinggal mengamati sejumlah objek dalam urutan yang benar. Dalam beberapa level, pandangan pemain bahkan berfungsi layaknya kemampuan telekinesis ala X-Men, memindahkan objek dari satu titik ke titik lain.
Land's End akan tersedia secara eksklusif untuk Samsung Gear VR pada tanggal 30 Oktober mendatang. Silakan nikmati trailer-nya di bawah ini selagi menunggu kehadirannya.
Sumber: The Verge.
Are you sure to continue this transaction?
processing your transaction....