Layanan Streaming Film Disney+ Resmi Diperkenalkan
Dipatok $7 per bulan, dengan suguhan segudang konten, termasuk konten orisinal berbasis franchise-franchise populer Disney
Glenn Kaonang - 12 April 2019
Setelah dinantikan sejak cukup lama, Disney akhirnya resmi memperkenalkan layanan streaming filmnya, Disney+. Layanan ini nantinya bakal bersaing langsung dengan Netflix, dan rencananya bakal tersedia di Amerika Serikat mulai 12 November 2019, kemudian menyusul ke negara-negara lainnya secara berkala.
Bersaing dengan pihak dominan (Netflix) tentu saja bukan tugas yang mudah, namun Disney sudah menyiapkan sejumlah strategi. Yang pertama, mereka mematok tarif berlangganan yang sangat terjangkau: cuma $7 per bulan, hampir separuh tarif standar Netflix di angka $13 dan se. Di samping tarif bulanan, Disney turut menyediakan tarif tahunan seharga $70.
Strategi yang kedua adalah masalah konten, utamanya konten orisinal, yang juga menjadi amunisi utama Netflix selama ini. Di sini tampak bagaimana Disney betul-betul memaksimalkan koleksi IP (intellectual property) mereka, menyulap franchise yang sukses di layar lebar menjadi serial eksklusif untuk pelanggan Disney+.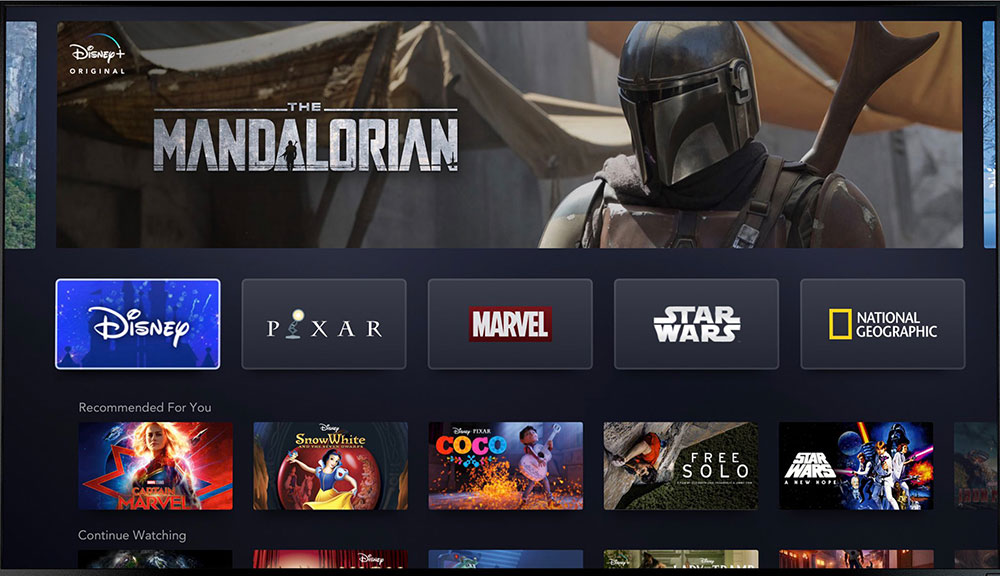 Sejumlah judul yang sudah direncanakan mencakup "WandaVision" yang mengisahkan duo superhero dari franchise Avengers, disusul oleh "Falcon and Winter Soldier", serta satu serial lain yang bakal berfokus pada sang tokoh antagonis, Loki.
Anda lebih suka Star Wars daripada MCU (Marvel Cinematic Universe)? Bersiaplah menanti kehadiran serial berjudul "The Mandalorian". Di luar dua franchise itu, Disney+ juga bakal menjadi rumah atas serial berbasiskan film animasi Monsters Inc., serta High School Musical.
Disney juga tak lupa memanfaatkan aset yang baru dibelinya dari Fox; sebanyak 30 season The Simpsons nantinya akan tayang secara eksklusif melalui Disney+. Semua ini belum membahas mengenai film-film box office yang sudah dan akan tayang di bioskop di tahun 2019 ini (Captain Marvel, Avengers: Endgame, Toy Story 4, Frozen II, Aladdin, The Lion King), yang semuanya dipastikan bakal tergabung dalam suguhan lengkap Disney+.
Sebagai raksasa di dunia hiburan, Disney memang punya bekal yang sangat mencukupi untuk melancarkan bisnis streaming filmnya sendiri. Kendati demikian, mereka rupanya juga tidak segan 'membakar uang' demi menghasilkan segudang konten orisinal. Perkiraan Disney, mereka baru akan meraup laba dari Disney+ mulai tahun 2024.
Sumber: Variety.