Lenovo Yoga Tablet 2 Pro Hadir Dengan Projector Built-in
Oki Rosgani - 13 October 2014
Jika Samsung mengawali debut perangkat smartphone yang dijejali dengan fitur Projector melalui produk Samsung Galaxy Beam, maka Lenovo kini telah mengawali debut serupa, namun fitur projector built-in tersebut dijejalkan pada produk tabletnya yang bernama Lenovo Yoga Tablet 2 Pro.
Perangkat tablet Lenovo Yoga Tablet 2 Pro merupakan versi update dari produk tablet seri sebelumnya yakni Lenovo Yoga Tablet 2 yang hadir dalam ukuran layar 8-inci dan 10-inci.
Perbaikan yang hadir pada seri Yoga tablet 2 Pro terletak pada disain kickstand (dudukan) yang dipasang pada bagian belakang tablet ini serta penambahan fitur projector secara built-in yang memudahkan pengguna untuk tidak direpotkan membawa alat projector secara terpisah.
Ada beberapa seri Yoga Tablet 2 namun yang memiliki fitur projector adalah versi 13.3 inci atau yang diberi model nama Yoga Tablet 2 Pro.
Perangkat tablet yang berjalan dengan sistem operasi Android ini hadir dengan ukuran layar 13.3 inci, yang menarik tentu kehadiran dari Pico Projector yang terpasang pada bagian samping perangkat tablet ini. Penambahan fasilitas ini membuat produk tablet Lenovo Yoga Tablet 2 Pro ini sebagai produk yang unik dan menjadikan perangkat tablet pertama yang hadir dengan kemampuan projector yang terintegrasi di dalamnya.
Info menarik: Lenovo Yoga Tablet 2 Resmi Diluncurkan, Tawarkan 2 Versi OS Android dan Windows
Layar 13.3 inci tersebut mampu menampilkan gambar dengan resolusi HD yang memiliki resolusi 2.560 x 1.440 piksel, namun sayangnya tampilan proyektor yang dihasilkan memiliki resolusi yang jauh lebih rendah dari resolusi layarnya.
Namun begitu, tablet dengan ukuran layar 13.3 inci terbilang cukup besar karena memiliki ukuran layar yang sama dengan layar notebook ultraportable, terlebih ketika perangkat Lenovo Yoga Tablet 2 Pro memiliki aksesoris keyboard QWERTY sehingga perangkat ini dapat difungsikan layaknya sebuah notebook.
Pihak Lenovo mengklaim bahwa perangkat tablet ini mampu digunakan hingga 15 jam jika pengguna hanya menggunakannya sebagai perangkat tablet saja, sedangkan dengan fitur projector dinyalakan, baterainya dapat bertahan hingga 3 jam, waktu yang cukup lama untuk melakukan sebuah presentasi tanpa terhubung dengan power.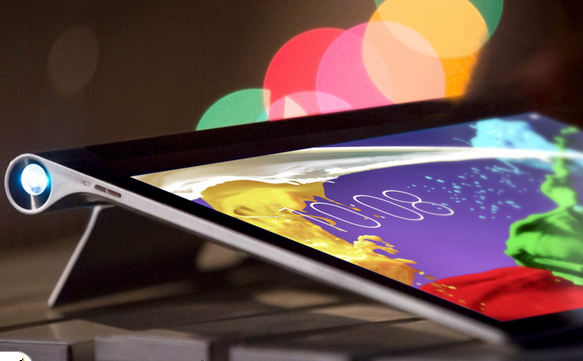 Sama seperti perangkat tablet Android lain pada umumnya, Lenovo Yoga Tablet 2 Pro memiliki fitur Bluetooth 4.0, WiFi dan LTE, menariknya perangkat tablet ini juga mendukung fitur USB On The Go. 
Untuk kamera sendiri terdapat kamera 8 megapiksel dengan lampu kilat LED di bagian belakang serta kamera 1.6 megapiksel di bagian depan yang mampu merekam video berkualitas 720p. Yang menarik tablet ini juga hadir dengan speaker dari JBL yang menghasilkan suara cukup menggelegar.
Berdasarkan informasi yang dikutip dari situs GSMArena, perangkat tablet ini akan hadir pada akhir bulan Oktober dan akan tersedia juga versi non-LTE yang ditawarkan dengan harga mulai dari $499 per unitnya.
https://www.youtube.com/watch?feature=player_embedded&v=QyZpIVFlon8
Sumber: GSMArena.
Are you sure to continue this transaction?
processing your transaction....