Lewat Bullet Train, Epic Games Ungkap Potensi Game di Ranah Virtual Reality
Bagi gamer, Epic Games sama esensialnya dengan nama-nama seperti Valve atau Nintendo. Selain dikenal sebagai developer legendaris, mereka juga berjasa menciptakan Unreal Engine yang menjadi modal dasar ratusan judul permainan. Dan buat perusahaan spesialis teknologi grafis tersebut, Epic Games tahu virtual reality akan menjadi sebuah platfrom next-gen.
Epic Games memperlihatkan kesiapan mereka menyongsong era VR dengan cara yang boleh dikatakan... 'epik'. Pada konferensi Oculus Connect 2, sang developer menyingkap Bullet Train, permainan shooter pendek dalam sudut pandang orang pertama. Demo tech ini memanfaatkan head-mounted display Oculus Rift dan controller Oculus Touch, mensimulasikan program latihan tempur seorang agen elit di stasiun kereta api modern.
Bullet Train adalah salah satu realisasi dari program pengembangan ranah virtual reality yang Epic kerjakan selama 18 bulan ke belakang. Integrasi teknologi engine game ke VR memang bukan lagi hal baru, namun mereka ingin menunjukkan kapabilitas Oculus Touch sebagai periferal input. Kombinasi keduanya memang mengagumkan, dan Anda mungkin berharap supaya semua permainan action selanjutnya sanggup menyajikan pengalaman serupa. Simak videonya di bawah.
Seperti yang bisa dilihat, Touch berperan untuk membaca gerakan tangan Anda, dan dapat diterapkan buat banyak skenario: Senapan tabur seolah-olah dikokang secara sungguhan, Anda bisa mengangkat dan menembakkan Kalashnikov di satu tangan, atau beraksi dengan pistol kaliber .50 di kedua tangan - tanpa dibebani bobot atau hentakan senjata. Pemain juga dapat melakukan aksi bela diri jarak dekat atau mengakses efek slow-mo ala The Matrix.
Info menarik: Samsung Gear VR Baru Lebih Ringan dan Lebih Murah
Namun karena Bullet Train masih merupakan demo tech, ia mempunyai banyak kekurangan, beberapa di antaranya dapat Anda lihat langsung. Grafisnya tidak sebaik game shooter di tahun 2015, mengingat visual diolah secara real-time dan virtual reality menuntut kinerja hardware yang sangat tinggi. Tekstur objek tampak kurang tajam, lalu efek partikelpun kurang detail.
Berdasarkan laporan The Verge, navigasi tidak seperti video game di mana Anda bisa bebas berlarian. Untuk pindah dari satu lokasi ke lokasi lain, karakter pemain harus ber-teleportasi, metode aman bergerak dalam dunia virtual tanpa ancaman bahaya tersandung atau terjerat kabel. Implementasi tersebut membuat Bullet Train lebih menyerupai rail-shooter ala Time Crisis ketimbang Half-Life.
Semoga saja Bullet Train dibundel bersama paket software Oculus di waktu peluncuran versi retailnya, pada triwulan pertama 2016.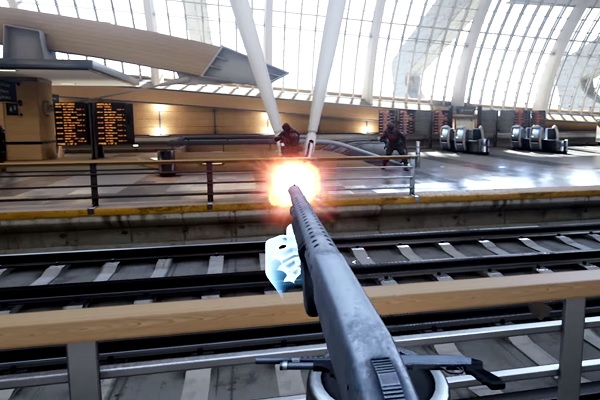 Sumber: UnrealEngine.com.
Are you sure to continue this transaction?
processing your transaction....