Lifehand 2, Lengan Sintetik yang Dapat Merasakan Sentuhan
Yoga Wisesa - 6 February 2014
Salah satu tantangan terbesar bagi para ilmuwan adalah bagaimana menghidupkan kembali saraf perasa yang terputus oleh kecelakaan tak terduga. Membuat lengan atau kaki palsu yang bisa berfungsi layaknya anggota tubuh sesungguhnya sudah sangat sulit, apalagi melengkapi mereka dengan saraf 'sintetis'. Tapi tim dokter yang tergabung dari beberapa ahli medis asal Swiss dan Itali berhasil melakukannya.
Penemuan yang dinamakan Lifehand 2 ini adalah hasil kerja keras tim yang dipimpin oleh dokter Silvestro Micera dari Federal Polytechnique School of Lausanne di Swiss. Tangan buatan ini mampu mendeteksi informasi menggunakan sinyal listrik dari otot tendon buatan yang mengontol gerakan jari.
Di dalamnya terdapat kabel halus yang mampu mengirimkan gelombang digital ke empat buah elektroda yang ditanam dalam saraf sensor ulnar dan median yang berada di lengan atas. Dan seorang pasien mendapatkan kehormatan untuk menjadi yang pertama kalinya menjajal teknologi ini.
Info menarik: True Love Tester, Bra Untuk Cinta Sejati di Hari Valentine?
Kehilangan lengan kirinya dalam kecelakaan kembang api beberapa waktu silam saat mengadakan pesta perayaan Tahun Baru di Denmark, Dennis Sorensen saat itu tidak pernah membayangkan ia bisa kembali merasakan bagaimana rasanya menggenggam dengan telapak tangan kirinya. Sejak saat itu, ia mengenakan lengan prostetik biasa untuk melangsungkan aktivitas sehari-hari.
Langan buatan yang ada sekarang sebenarnya sudah cukup canggih. Ia bisa mendeteksi gerakan otot di ujung lengan, memungkinkan penggunanya untuk membuka dan menutup telapak tangan. Sayangnya tanpa informasi sensor yang ada pada telapak tangan sesungguhnya, Dennis tidak bisa merasakan apa yang ia genggam, membuatnya susah untuk memperkirakan jumlah tekanan yang harus ia berikan.
Kemudian akhirnya ia memilih menjadi relawan dalam proyek Lifehand 2 ini yang dilangsungkan di rumah sakit Gemelli, kota Roma. Ia merasa bahwa apa yang ia lakukan ini bukan hanya akan bermanfaat bagi dirinya, tapi juga orang-orang kurang beruntung lain yang kehilangan anggota tubuh mereka.
Para ilmuwan asal Swiss dan Itali tersebut menggunakan desain tangan prostetik yang benar-benar baru untuk mengusung teknologi ini. Akhirnya setelah melakukan berbagai macam uji coba dan operasi implant, pada tanggal 26 Januari 2013, Dennis bisa kembali merasakan sentuhan dengan telapak tangan sebelah kiri.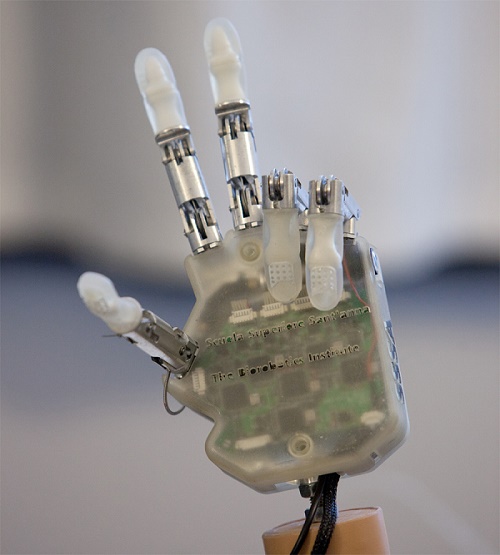 Info menarik: [Panduan Pemula] Cara Mengetahui Smartphone Android Sudah Root Atau Belum
Dokter Micera menjelaskan, "Ini pertama kalinya dalam sejarah neuroprosthetic dimana kami dapat mengembalikan kemampuan sensor saraf pasien amputasi dengan menggunakan lengan sintetis." Tapi sayangnya Dennis harus merelakan kepergian tangan buatan ini sekitar satu bulan setelah dipasang, dengan melepas seluruh elektroda yang berada di lengan atas, berdasarkan aturan uji coba klinis yang berlaku.
Menurut para ilmuwan, proyek Lifehand 2 merupakan langkah pertama menuju masa depan teknologi organ bionik yang mampu merasakan sentuhan. Ilmuwan-ilmuwan itu percaya bahwa mereka mampu mengembangkan fungsi tangan canggih ini tanpa lagi takut merusak sistem saraf dalam waktu ke depan. Dan Dennis mungkin bisa berpartisipasi kembali dalam program Lifehand 3 (jika memang ada).
Tentu saja kita harus menunggu beberapa tahun lagi hingga teknologi ini dipublikasi secara komersial. Tapi bayangkan betapa kerennya ia jika dikombinasikan dengan Titan Arm.
Via Dailymail.co.uk. Gambar header: NPR.org. Gambar lain: Discovermagazine.com.
Are you sure to continue this transaction?
processing your transaction....