Luar Biasa, Raspberry Pi Zero Ditawarkan Seharga $5 Saja
Ukuran cuma setengah dari Pi orisinil, tapi performanya malah lebih kencang
Glenn Kaonang - 27 November 2015
Sejak diluncurkan pertama kali di tahun 2012, Raspberry Pi telah berjasa memfasilitasi jutaan orang yang baru pertama kali mendapat pengalaman programming. Dengan bermodalkan hanya $20 - $35, konsumen bisa mendapatkan sebuah komputer fungsional yang siap disambungkan ke monitor, keyboard maupun internet, lalu memulai langkahnya demi menggapai impian menjadi seorang ahli ilmu komputer.
Akan tetapi menurut pihak pengembangnya sendiri, biaya $20 - $35 ternyata masih terlalu mahal buat sebagian orang. Hal ini pun membuat hati mereka tergerak untuk menciptakan iterasi Raspberry Pi yang bahkan lebih terjangkau lagi. Proyek tersebut dimulai di awal tahun ini, dan hasilnya sudah bisa kita lihat hari ini juga.
Namanya Raspberry Pi Zero. Ini merupakan komputer single-board terkecil dan termurah yang pernah mereka ciptakan. Ukurannya cuma 65 x 30 x 5 mm, atau kira-kira setengah dari Raspberry Pi orisinil. Kendati demikian, fitur beserta performanya masih mengusung standar yang cukup tinggi.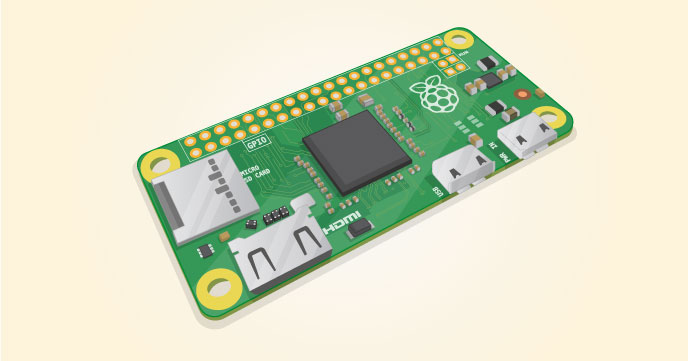 Prosesor Broadcom BCM2835 kembali menunjukkan jati dirinya di sini. Ini merupakan prosesor yang sama dengan milik Raspberry Pi orisinil. Hanya saja, clock-nya telah didongkrak menjadi 1 GHz, atau sekitar 40 persen lebih kencang daripada milik Pi 1. Menemani prosesor tersebut adalah RAM 512 MB LPDDR2.
Kira-kira sekuat apa tenaganya? Memanfaatkan port mini-HDMI miliknya, ia bisa menenagai output video beresolusi 1080p60. Kelengkapan port lainnya mencakup sepasang port micro-USB dan sebuah slot microSD. Kemudian ada pula outputcomposite untuk disambungkan ke TV lawas, misalnya.
Eits, sepertinya ada yang terlewatkan. Bagaimana dengan Wi-Fi, Bluetooth ataupun Ethernet? Well, sepertinya $5 masih belum bisa mencakup itu semua. Tapi jangan khawatir, toh masih ada cara lain supaya Raspberry Pi Zero bisa tersambung ke internet. Salah satunya adalah dengan memanfaatkan Wi-Fi dongle.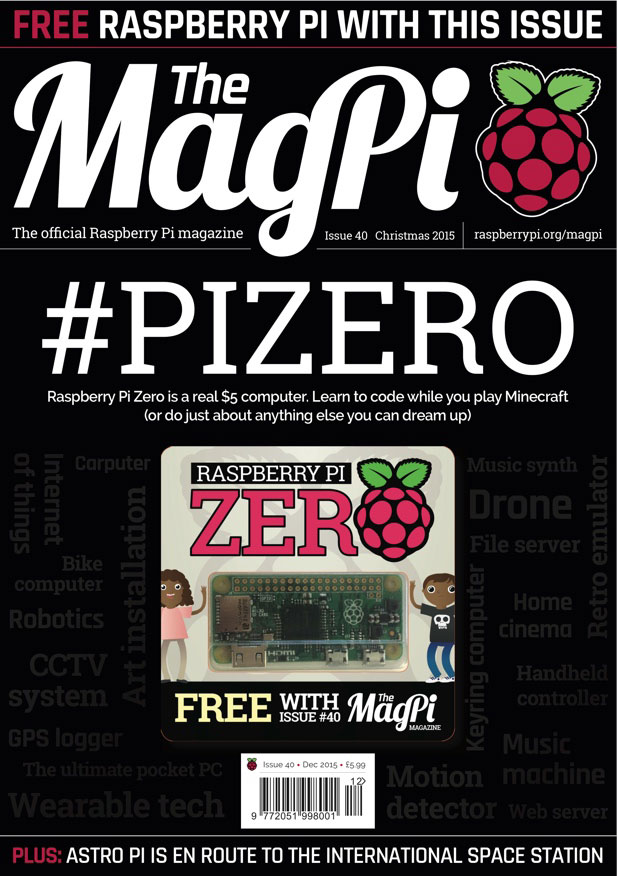 Raspberry Pi Zero menjalankan sistem operasi Raspbian yang berbasis Linux, dan ia siap menjalankan aplikasi-aplikasi populer seperti Scratch, Minecraft dan Sonic Pi. Tapi bagian terbaik dari Pi Zero tetap saja harganya. Komputer imut-imut ini cuma dihargai $5 saja – bahkan lebih murah daripada sebuah kabel HDMI standar. Saking murah dan kecilnnya, ia malah dijadikan bonus gratisan dari majalah The MagPi edisi Desember 2015.
Sumber: Raspberry Pi Blog.
Are you sure to continue this transaction?
processing your transaction....