Lucid Air Bakal Jadi Mobil Pertama yang Mengusung Integrasi Dolby Atmos
Bukan cuma untuk musik, melainkan juga untuk bunyi-bunyi indikator dari beragam fungsi
Glenn Kaonang - 18 March 2021
Ketika membicarakan mengenai mobil listrik, saya selalu mempunyai ekspektasi bahwa yang lebih modern bukan cuma sistem penggeraknya saja, melainkan juga sistem hiburan yang tertanam di dalam kabinnya. Kalau perlu contoh, kita bisa melihat Tesla Model S dan Model X versi terbaru yang sistem infotainment-nya mempunyai daya komputasi setara console next-gen.
Kedua mobil tersebut juga turut mengemas sistem audio yang sangat mumpuni, dengan 22 speaker dan total daya 960 watt, tidak ketinggalan pula teknologi active noise cancellation. Namun tentu saja Tesla bukan satu-satunya produsen mobil listrik yang serius perihal sistem hiburan. Contoh lainnya bisa kita lihat dari Lucid Motors.
Di ajang SXSW yang berlangsung secara online tahun ini, Lucid mengumumkan bahwa mobil perdananya, Lucid Air, bakal jadi mobil pertama yang dilengkapi sistem audio Dolby Atmos. Lucid menamai sistemnya dengan istilah Surreal Sound, dan nama tersebut merujuk pada pengalaman audio immersive yang mampu dihasilkan oleh 21 unit speaker yang tertanam di dalam kabin milik sedan mewah tersebut.
Integrasi teknologi Dolby Atmos berarti separasi suara tak hanya bisa dilakukan dari poros horizontal saja (depan ke belakang, atau kiri ke kanan), melainkan juga dari poros vertikal (atas ke bawah). Ini berarti distribusi suara bisa diarahkan lebih tinggi atau lebih rendah, baik itu musik maupun bunyi indikator dari beragam fungsi yang diaktifkan.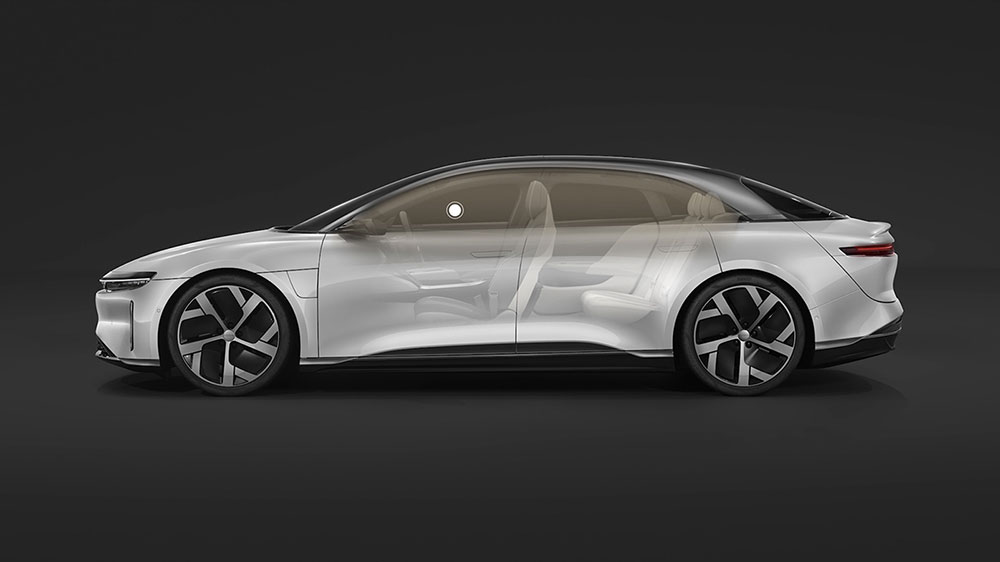 Dalam pengembangannya, tim engineering Lucid berkolaborasi langsung dengan Dolby guna memaksimalkan implementasi teknologi Atmos. Dengan begitu, Lucid pun mampu memikirkan skenario-skenario penggunaan yang spesifik, seperti misalnya ketika ada seorang penumpang yang duduk di belakang yang lupa mengenakan sabuk pengaman.
Berkat Atmos, bunyi peringatan yang terdengar bukan berasal dari dashboard, melainkan langsung dari tempat sang penumpang itu duduk di baris belakang. Skenario lainnya adalah ketika menyalakan mobil, di mana suara akan terdengar dari semua sudut ketimbang hanya dari depan sang pengemudi. Bahkan suara yang sesimpel bunyi indikator lampu sein pun juga akan terdengar berasal dari arah yang sesuai.
Seperti yang kita tahu, mobil listrik sangatlah hening jika dibandingkan dengan mobil bermesin bensin. Saking heningnya, sering kali suara yang terdengar di dalam kabin hanyalah suara gesekan ban dengan aspal saja. Mungkin itulah yang akhirnya mendorong produsen mobil listrik untuk berinvestasi lebih di bidang audio.
Saya berani berargumen seperti itu karena pada kenyataannya bukan cuma Lucid yang bermitra dengan perusahaan audio ternama dalam menggarap sound system untuk mobilnya. Belum lama ini, Audi dilaporkan telah bekerja sama dengan Sonos untuk mengembangkan sistem audio buat mobil listrik terbarunya, Q4 e-tron, yang akan menjalani debutnya pada bulan April mendatang.
Sumber: The Verge dan Lucid Motors.
Are you sure to continue this transaction?
processing your transaction....