Mainkan MiniDayZ Gratis dan Uji Kemampuan Anda Bertahan Hidup Dari Zombie
Mungkin Dean Hall tak pernah membayangkan mod sederhana yang ia buat untuk permainan simulasi perang ARMA 2 berubah menjadi fenomena di dunia game. DayZ menanggalkan tema militer, meminta pemain untuk bertahan hidup setelah merebaknya wabah zombi. Jika Anda belum pernah memainkannya, ada alternatif menarik ditawarkan Bohemia Interactive.
Via website resmi DayZ, sang publisher mengungkap MiniDayZ, versi web dari game buatan Dean 'Rocket' Hall dengan perspektif isometrik serta visual pixel art dua dimensi. Tak seperti DayZ, Anda tidak perlu berpartisipasi dalam program Early Access-nya di Steam, dan tidak diminta membayarkan uang sepeser pun karena MiniDayZ merupakan game browser gratis.
Cara menikmatinya sangat mudah. Silakan kunjungi laman MiniDayZ, lalu ciptakan akun Bohemia baru. Anda gamer veteran DayZ? Tinggal gunakan username serta password DayZ, dan permainan akan langsung mengenal Anda. Untuk user baru, jangan lupa, akun baru aktif setelah alamat email diverifikasi. Sudah beres semua? Segera klik 'Log In and Play'.
Di menu, Anda dapat memilih tingkat kesulitan dan mempelajari kontrol (menggunakan kombinasi skema WASD dan navigasi mouse) serta ada beberapa hal yang harus diketahui sebelum bermain. Andaikan ini ialah pengalaman pertama Anda, jangan malu-malu bermain di level novice; seperti sepupu Early Access-nya, MiniDayZ sama sekali tidak boleh diremehkan.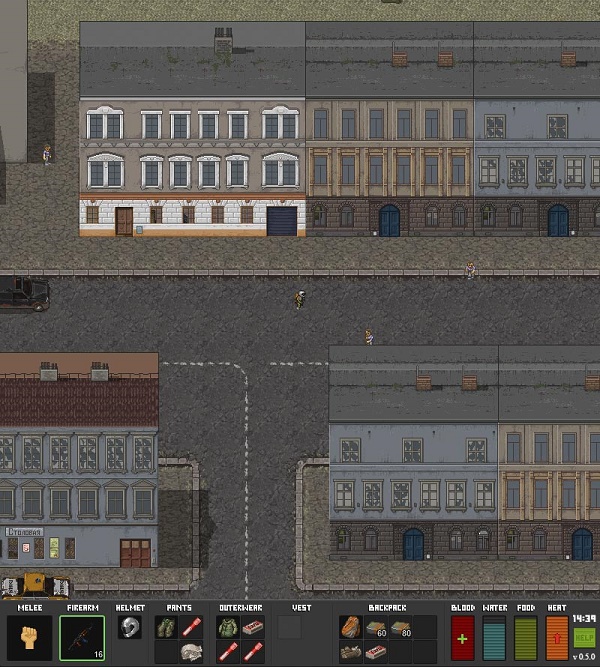 Info menarik: Simak Sejarah Perkembangan Grafis Game Dalam Seri Video Menarik Ini
Permainan hanya memberikan satu tugas: bertahan hidup selama mungkin. Memulai petualangan di negeri zombi dari pinggir pantai, Anda diajak menjelajahi kota fiktif Chernarus, bekas pecahan Soviet. Namun zombi hanyalah satu dari lusinan masalah yang harus dicari solusinya sebab karakter Anda butuh asupan makanan dan air secara konstan ditambah pakaian untuk membuatnya tetap hangat.
Pasokan makanan dan senjata biasanya bisa diperoleh di pemukiman penduduk. Problemanya, populasi zombi di sana juga semakin banyak. Mayat hidup di DayZ bukanlah tipe zombi yang bergerak lambat, mereka akan langsung berlari begitu melihat Anda. Dalam dua kali sesi bermain, saya menghabiskan beberapa puluh menit berlari-lari tak karuan tanpa senjata, dan karakter saya tewas karena kehausan.
Salah satu fitur paling menarik dalam DayZ adalah interaksi antar-pemain. Versi web game ini hanya menawarkan mode singleplayer, namun Anda akan berhadapan dengan musuh-musuh manusia yang juga mencoba bertahan hidup.
Terdapat tiga level achievement - gold untuk veteran, silver untuk regular dan bronze untuk novice. Semua dihitung dari lama karakter hidup, serta banyaknya bandit dan zombie yang Anda bunuh.
Via PC Gamer.
Are you sure to continue this transaction?
processing your transaction....