Manchester City Luncurkan Aplikasi untuk Perangkat Android Wear
Glenn Kaonang - 10 February 2015
Beberapa hari yang lalu, kita sudah melihat bagaimana tren perangkat wearable bisa menjadi bagian penting dari industri otomotif lewat versi demo dari aplikasi Apple Watch yang dapat mengontrol mobil listrik Tesla. Kali ini giliran ranah sepakbola yang menempatkan fokusnya ke perangkat wearable.
Kabar ini datang dari klub sepakbola asal Inggris, Manchester City. Klub yang bermarkas di kota Manchester ini baru saja merilis aplikasi CityMatchday Wear untuk, apalagi kalau bukan perangkat Android Wear.
Didapuk sebagai aplikasi Android Wear pertama yang datang dari klub sepakbola, CityMatchday Wear adalah salah satu bukti bahwa perangkat wearable akan mencapai titik mainstream suatu saat ke depan – sepakbola merupakan olahraga paling populer di dunia, dan Indonesia sendiri termasuk salah satu negara dengan penonton yang paling antusias.
Ini bukan pertama kalinya Manchester City merilis aplikasi untuk perangkat mobile. Tahun lalu, jawara Premier League musim 2013–2014 ini sempat meluncurkan aplikasi CityMatchday untuk smartphoneAndroid maupun iPhone.
Info menarik: Update Android Wear Resmi Diumumkan, Bawa Fitur Baru dan Bisa Berubah Wajah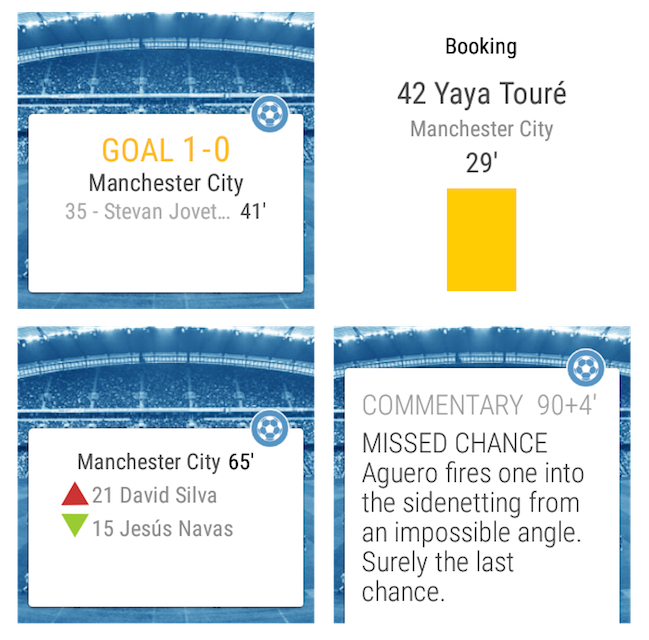 Serupa dengan aplikasi smartphone-nya, CityMatchday Wear akan memberikan update bagi para penggemar Manchester City tentang klub sepakbola idolanya melalui perangkat Android Wear. Pengguna dapat mengakses statistik pertandingan, termasuk halnya detail Man of the Match dalam suatu pertandingan.
Saat pertandingan sedang berlangsung, CityMatchday Wear akan memberikan notifikasi terkait highlight dari pertandingan tersebut, seperti gol yang terjadi, penalti maupun kartu kuning dan merah yang dikeluarkan oleh wasit terhadap seorang pemain.
CityMatchday Wear juga akan menyertakan komentar-komentar dalam sepanjang pertandingan, termasuk halnya sejumlah tweet terbaik dari para fans Manchester City di seluruh dunia.
Singkat cerita, saya melihat bahwa aplikasi ini dirancang untuk mengakomodasi gairah seorang penggemar Manchester City yang terlalu sibuk untuk membuka aplikasi CityMatchday melalui smartphone miliknya.
Anda seorang penggila bola yang kebetulan mengidolakan Manchester City dan memiliki perangkat Android Wear? Anda bisa mengunduh aplikasi CityMatchday Wear langsung melalui Google Play Store atau melalui link berikut: CityMatchday Wear.
Sumber: Manchester City via Wareable.
Are you sure to continue this transaction?
processing your transaction....