Mari Sambut Hendo Hoverboard, Skateboard Terbang Pertama di Dunia
Yoga Wisesa - 22 October 2014
Di tahun 1989, Back to the Future Part II ditayangkan di layar lebar. Selain mobil mesin waktu DeLorean, film tersebut menghadirkan satu perangkat yang tak kalah canggih: hoverboard. Berlatar belakang tahun 1985 dan 2015, berarti inventor memiliki waktu kurang lebih satu tahun untuk menciptakan skateboard terbang demi merealisasikan mimpi sutradara Robert Zemeckis.
Jangan khawatir, hoverboard atau skateboard terbang rencananya memang akan hadir di tahun depan. Teknologi tersebut dipionirkan oleh pasangan Jill dan Greg Henderson di bawah tim developer Hendo Hover. Seperti pada film yang dibintangi Michael J. Fox dan Christopher Lloyd itu, device bernama Hendo Hoverboard mampu menerbangkan penggunanya.
Berbeda dari papan luncur biasa, Hendo Hoverboard tidak memiliki roda. Ia melayang sekitar satu inci dari permukaan tanah, menyajikan sensasi frictionless - atau berkendara tanpa dihadang gaya gesek. Karena tidak terpatok pada satu poros pergerakan (maju dan mundur seperti pada skateboard beroda), hoverboard ini lebih aman dan mudah digunakan oleh semua orang.
Rahasia Hendo Hoverboard terletak pada empat buah mesin melayang berbentuk cakram di dalamnya. Rangkaian disc tersebut menciptakan medan magnet khusus yang saling mendorong, menyebabkan papan jadi terangkat. Sistem ini dimaksudkan untuk menstabilkan hoverboard saat terbang, tapi tak menutup kemungkinan juga bisa dimanfaatkan sebagai metode pendorong.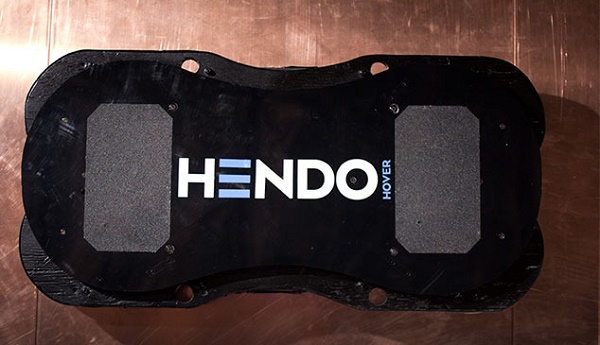 Info menarik: Desainer Asal Inggris Memamerkan Hoverbike, Motor Terbang Multifungsi Pertama di Dunia
Hendo Hover menjelaskan, model terbaru hoverboard membutuhkan konduktor non-ferromagnetic, tersedia dalam lembaran-lembaran logam sederhana. Namun tim juga sedang bereksperimen dengan komposisi dan konfigurasi baru demi memaksimalkan teknologi mereka dan meminimalisir biaya produksi.
Sang developer yakin bahwa produk hoverboard mereka bekerja layaknya seperti yang dibayangkan orang-orang, tapi tim membutuhkan lebih banyak waktu dan sumber daya untuk menyempurnakanya. Hondo Hover berupaya mengusung desain elegan dan simpel, diharapkan dapat melewati berbagai kondisi permukaan dengan mudah, terintegrasi dengan gerakan natural penggunanya, serta dilengkapi beragam fitur keamanan.
Rencananya Hendo Hoverboard akan diluncurkan melalui sebuah event besar di bulan Oktober tahun depan. Anda bisa memesannya sekarang, bentuknya kurang lebih menyerupai tipe prototype ke-18 yang mereka pamerkan di situs Kickstarter. Harganya? Hanya US$ 10.000 saja...