Mari Sulap Smartphone Jadi PC dan Console Game Dengan Andromium
Satu fakta menarik mengenai perkembangan teknologi: jumlah RAM di smartphone mungkin beberapa kali lebih banyak dibanding PlayStation 3, rumah bagi beragam judul game terbaik sepanjang masa. Dan tahukah Anda, CPU Snapdragon dalam device kita jauh lebih cepat dari supercomputer tercanggih di tahun 1996. Lalu kenapa fungsinya hanya untuk hal-hal sepele?
Demi membuka potensi yang belum terjamah itu, Gordon Zhen dan timnya memulai proyek Andromium di Kickstarter. Apa itu? Andromium adalah sebuah device unik, bertujuan memaksimalkan peran hardware di handset - mengubahnya menjadi perangkat komputasi berperforma tinggi. Dengan device ini, smartphone bisa menjelma jadi komputer desktop ataupun console di ruang keluarga.
Andromium hadir dalam bentuk dock, desainnya simpel dan elegan. Tinggal letakkan smartphone Anda di tempat yang telah disediakan, lalu sambungkan ke layar TV atau monitor. Layaknya PC, developer menyiapkan tiga buah port USB supaya bisa disambungkan ke aksesoris, termasuk controller serta periferal gaming. Karena terhubung selalu ke sumber listrik, Andromium juga akan mengisi ulang baterai smartphone.
Konsep dan kesederhanaan eksekusi Andromium memang patut diacungi jempol, tapi terobosan terbesar perangkat ini malah terletak pada software-nya. Pernah bekerja sebagai Senior Engineer di Google, Gordon Zhen berhasil menciptakan aplikasi Android canggih serta sistem operasi sebagai basis Andromium. OS Andromium terintegrasi mulus ke smartphone, dimana pengguna dapat keluar masuk tanpa kesulitan.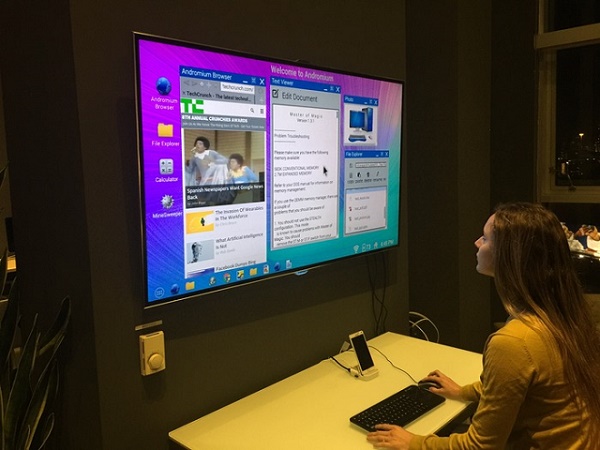 Info menarik: Microsoft Perkenalkan Surface Hub, Monitor Futuristik Berbekal Windows 10
Dock ditambah platform kustom itu menyulap handset menjadi komputer desktop tulen. Tapi bahkan dalam mode desktop sekalipun, Anda tetap dapat menerima panggilan telepon, pesan singkat, dan notifikasi. User interface-nya juga telah didesain ulang sehingga ringkas dan bersahabat bagi semua jenis konsumen. Menurut tim pembuatnya, rancangan memadukan elemen layout Windows 7 dan prinsip intuitif OSX.
Andromium dioptimalkan untuk memungkinkan pengguna menjalankan program kompleks tanpa kesulitan dan 'keterbatasan layar lima-inci'. Bawa ia di tas bersama keyboard dan mouseportable, Anda mendapatkan alternatif lebih ringan dari laptop. Atau gunakan dock unik ini untuk menikmati Super Smash Bros, GTA atau Legend of Zelda bersama teman-teman.
Saat ini Andromium sudah kompatibel ke seri Samsung Galaxy S dan Note. Device S5, HTC One M8, LG N5/G3, Motorola Nexus 6, serta One Plus One akan didukung melalui Chromecast, dan sang pengembang berjanji untuk memperluas daftarnya lagi.
Developer butuh sekitar US$ 36.000 agar kampanye penggalangan dananya sukses. Di Kickstarter, Andromium dibaderol sangat murah, hanya US$ 30.
Are you sure to continue this transaction?
processing your transaction....