Gadget
MekaMon Adalah Robot Tempur Augmented Reality yang Dapat Dioperasikan dengan Smartphone
Karena mengandalkan AR, arena pertempurannya adalah ruangan pilihan Anda, dengan objek seperti meja atau kursi yang bisa dijadikan tempat berlindung dari serangan
Perkembangan pesat teknologi augmented reality melahirkan kategori baru permainan hybrid yang melebur dunia fisik dan digital. Penggemar genre balapan bisa melirik Anki Overdrive, namun mereka yang lebih suka dengan pertempuran sengit antar robot dapat melirik MekaMon.
Dikembangkan oleh Reach Robotics, MekaMon sepintas terlihat seperti unit Dragoon milik ras Protoss di franchise StarCraft. Keempat kakinya bisa bergerak dengan lincah layaknya seekor laba-laba. MekaMon bahkan bisa jungkir balik, semuanya dengan pergerakan yang terkesan amat realistis.
Setelah tersambung via Bluetooth, MekaMon dapat dioperasikan menggunakan aplikasi smartphone. Anda bebas memilih untuk bertempur melawan AI dalam arena augmented reality atau melawan MekaMon lain. Di saat yang sama, tersedia pula mode co-op untuk menumpas gempuran AI bersama pemain lain.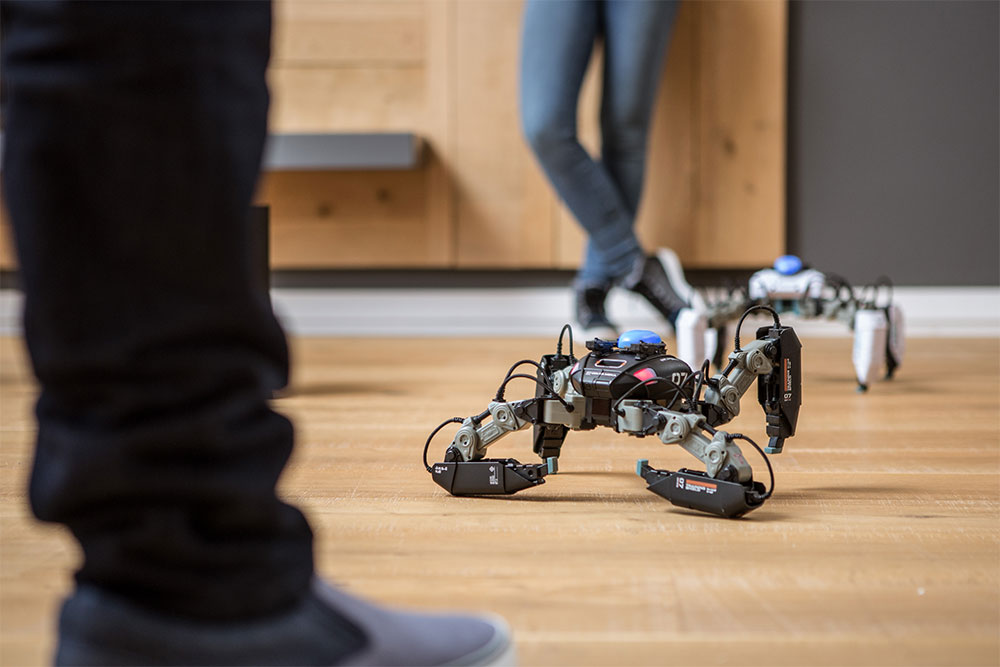 MekaMon memanfaatkan empat sensor inframerah untuk mendeteksi lawannya secara akurat. Sinyal inframerah ini merupakan cara MekaMon berkomunikasi satu sama lain, sehingga apabila salah satu robot menembakkan senjatanya dan kena, robot lawannya bakal bereaksi kesakitan di titik yang tepat.
Elemen AR merupakan sentuhan yang sangat menarik pada MekaMon. Beragam objek seperti meja atau kursi yang ada di dalam ruangan dapat dideteksi oleh MekaMon, dan bisa dimanfaatkan untuk berlindung dari serangan musuh. Dengan begitu, pemain pada dasarnya bisa menciptakan arena pertempurannya sendiri.
Modularitas merupakan aspek lain yang diunggulkan MekaMon. Konsumen nantinya dapat meng-upgrade robotnya masing-masing dengan sejumlah aksesori, macam persenjataan baru atau proteksi yang lebih baik, tanpa harus membeli robot baru. Hadir dalam dua varian warna, MekaMon memiliki dimensi 30 x 30 x 15 cm, dengan bobot 1 kilogram.
Setelah mengembangkan MekaMon selama empat tahun dan menciptakan lebih dari 27 prototipe, Reach Robotics akhrinya siap memasarkannya secara luas mulai 16 November mendatang seharga $300. Paket standarnya sudah mencakup komponen persenjataan dan proteksi mendasar.
Sumber: VentureBeat dan The Verge.
Are you sure to continue this transaction?
processing your transaction....