Melalui RoomAlive, Microsoft Bereksperimen Dengan Konsep Gaming Room Masa Depan
Sewaktu Microsoft memamerkan ide IllumiRoom dalam Consumer Electronics Show tahu lalu, banyak orang menyangka teknologi tersebut akan mereka benamkan di Xbox One. Ternyata tidak, Microsoft mengaku mereka hanya melakukan riset dan teknologinya terlalu mahal untuk dibundel bersama home console terbaru itu.
Setelah lama tak terdengar, IllumiRoom kembali menjadi sorotan, kini hadir dengan nama baru: RoomAlive. Ia adalah prototype 'proof-of-concept' yang mampu mengubah satu ruangan biasa menjadi zona bermain augmented reality. RoomAlive memproyeksikan hasil gambar interaktif dimana pemain dapat menyentuh, menembak, menginjak, menghidari dan menyetir hasil proyeksi, seakan-akan menyatu dengan ruang - layaknya sebuah game room sejati.
Berbeda dari Illumiroom, RoomAlive tak lagi membutuhkan layar: ruang kamar adalah tempat bermain Anda. Jantung utama dari perangkat prototype ini ialah rangkaian kamera berkemampuan kalibrasi otomatis, serta dapat me-mapping bentuk ruang tanpa bantuan pengguna. Dalam demo yang sebentar lagi bisa Anda simak, setidaknya mereka membutuhkan enam proyektor, masing-masing dilengkapi satu unit Kinect.
Walaupun terlihat cukup rumit untuk dipasang, Microsoft menerangkan bahwa sebenarnya RoomAlive sangat mudah di-setup pengguna awam. Anda hanya perlu menaruhnya, kemudian biarkan perangkat ini melakukan kalibrasi. RoomAlive lalu membaca ruang dalam tiga dimensi - termasuk bidang vertikal dan horisontal. Hebatnya lagi, RoomAlive sudah mendukung game engine Unity.
Info menarik: Ini Dia Game Indie Terbaru Dengan Grafis Terbaik
"Dalam beberapa tahun ini, cara orang menikmati video game sudah berubah," tulis Microsoft Research di makalah mereka. "Kini kita berinteraksi dengan dunia permainan secara lebih alami melalui gerakan (Wii Remote, Kinect, PS Move). Ditambah teknologi display baru (Oculus Rift), kita seolah-olah hadir di sana. Meski demikian, dunia permainan masih terpisah. Ia tak hadir di alam nyata." Dan alasan tersebut mendorong mereka mendongkrak ide IllumiRoom lebih ekstrim.
Walau sangat mungkin dibuat sendiri, merealisasikan RoomAlive membutuhkan modal sangat besar. Anda memerlukan enam proyektor, antara lain model InFocus IN1126, BenQ W770ST atau BenQ W1080ST. Tiap unit harus disambungkan ke sebuah PC berkartu grafis (minimal) Nvidia GeForce GTX 660 Ti. Dan jangan lupa siapkan enam buah Kinect.
RoomAlive merupakan proyek Microsoft Research yang dibantu para ahli dari University of Illinois, University of Southern California, UNC Chapel Hill, dan Georgia Tech. Anda bisa baca makalah lengkap tentang cara kerja RoomAlive di Projection-Mapping.org.
Selanjutnya, Microsoft tinggal mengaplikasikan teknologi feedback haptic di RoomAlive, dan kita akan mendapatkan sistem gaming masa depan sesungguhnya...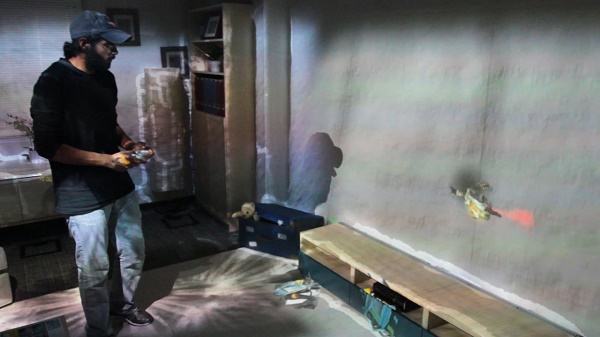 Via Polygon. Sumber: Projection-Mapping.org.
Are you sure to continue this transaction?
processing your transaction....